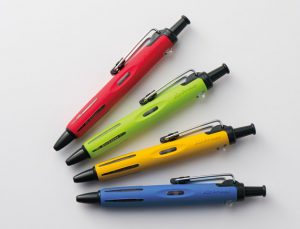 Tombow Pencil Co., Ltd. (Head office, Kita-ku, Tokyo, President, Akihiro Ogawa) is a knock mechanism -out pressure ballpoint pen " Air Press " which can write on damp paper even if it is difficult to cut up the ink easily in the upward writing. Add a new color to enhance the series.
The release date is the 4 colors of the knock mechanism 0.7 mm ballpoint pen " Air Press " (trade name) red, lime green, yellow, light blue = photo right =, and the release day is October 18. The suggested retail price is 648 yen (¥600 per tax). The replacement core is 64 yen including the part number BR-SF tax (60 yen by tax).
Four colors of the new color is the color of the outdoor taste that has been adopted a lot in the car, the clock, the camera, the backpack, full black, transparent, white, black, blue, orange in conjunction with the series will be 10 colors in total.
The " Air Press " was released in 2008 with a ballpoint pen that was supposed to be written and portable outside of the desk. The feature is that it is equipped with a mechanism to increase the pressure in the ballpoint pen refill (middle core) and accelerate the ink out by compressing the air by knocking power (see below).
By pressurizing the refill, the ink is difficult to ■ in a speedy writing, such as Memo and shorthand, ■ upward writing can. When the general ballpoint pen is written upward, the air is mixed from the nib, causing the backflow of the ink, causing the casele and choppy, but the Air Press has eliminated them become pressurized mechanism, ■ Can be written on moist paper (the ink is uninterrupted), and there are more writing characteristics.
As a result, sports scores can be used to demonstrate excellent features in active situations outside of the desk. The handling is the same as the general ballpoint pen because it is not pressurized when carrying it (not knocking).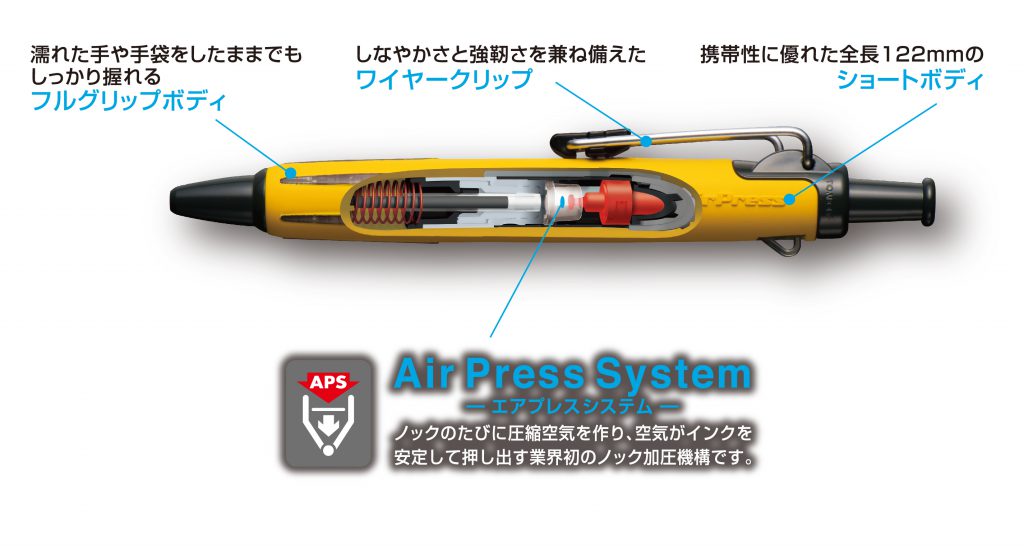 Air Press features
Strong for Speed memo, upward writing, etc.:
The mechanism " Air Press system" which compresses the air by knocking power and pressurizes ink is built into the main body. Fast writing, upward writing, and writing to damp paper can be clearly written without any blurring of ink.
Be able firm thick body:
A body of 13.7 mm diameter of about 30% thicker than the general Office pen, it takes a certain pressure. The body surface can be finished with an elastomer, and it is hard to slip with a wet hand and hold a glove well.
Clips that are hard to fall off:
Wide open with long wire clip. Most of the items, such as clothing, belts, and clipboard, were hard to fall off.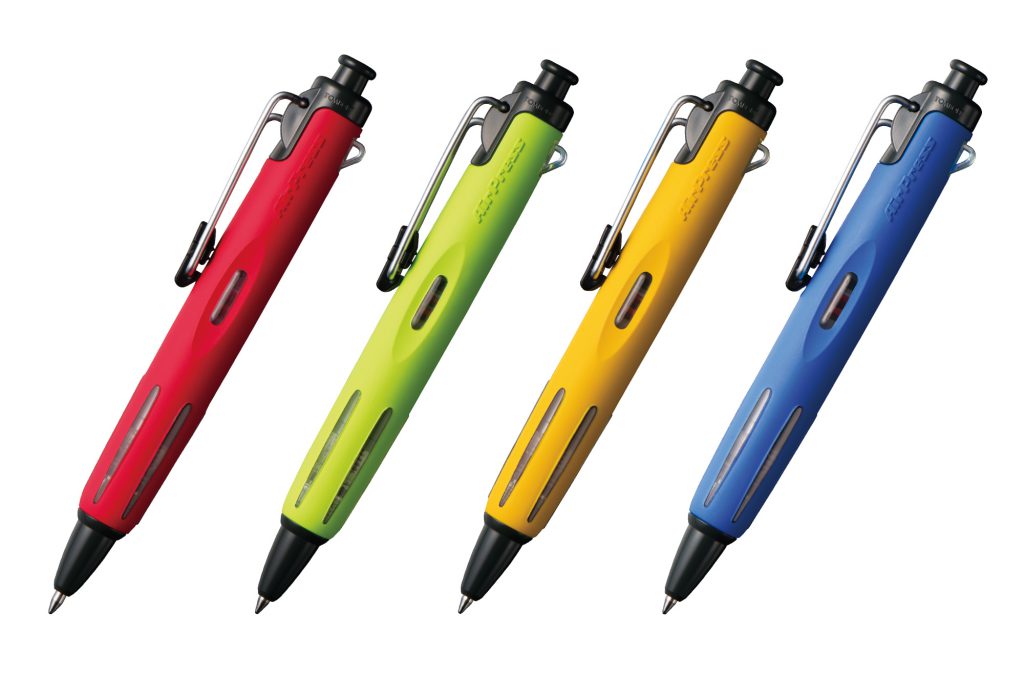 From left, red, lime green, yellow, light blue