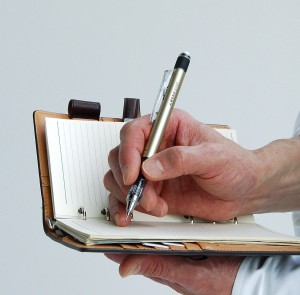 Tombow Pencil Co., Ltd. (President, Akihiro Ogawa, head office, Kita-ku, Tokyo) added a three-color metal color (only 0.5 mm core) of "silver", "gunmetal", and "gold" to the " MONO Graph/mo graph" of the sales strong composite mechanical Pencil Expands the audience from the school zone to the business scene.
The suggested retail price is 350 yen + tax (378 yen tax incl.) similar to the preceding product. The release date is April 3, 2015.
" MONO Graph", (1) sharp Pencil of the " shake-mechanism function" which can be centering when waving vertically, (2) The point that summarizes the Holder Eraser of length 26 mm (practical 16 mm) in one, " I can write boldly because the Plastic Eraser is solid, "and has gained popularity. In April 2002, the six colors of MONO tricolor (standard), blue, pink, lime, red and black were released. Sales are strong mainly in the student base.
In order to expand this hit to the business scene, three colors of new color "silver", "gunmetal", and "Gold" will be released this spring.
In addition to the new color, " MONO graph" will be a total of nine colors series. The annual sales plan for the total of nine colors is 2 million yen (retail price).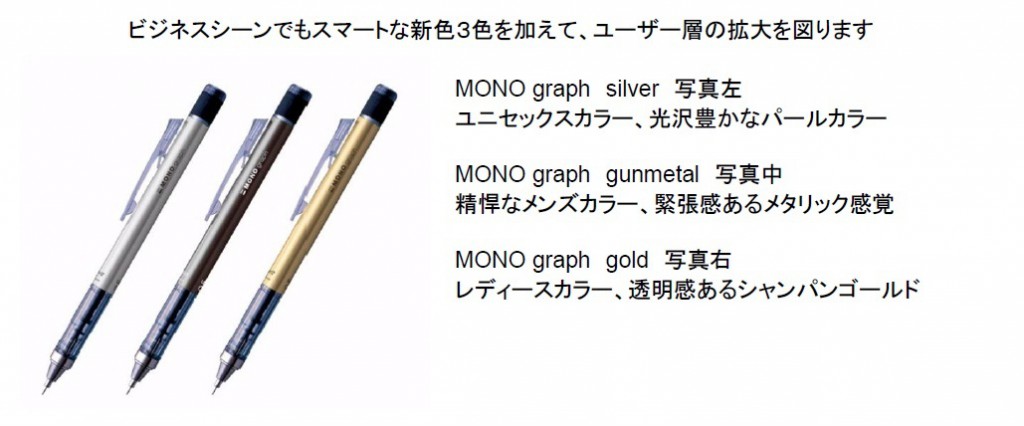 [Features of MONO Graph series]
[Writing features]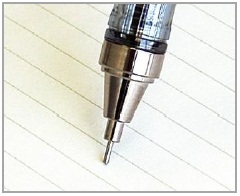 It is equipped with a " shake-mechanism " mechanism that can be ■ in a standard size of 147 millimeters. You can wick without dimensional worlds. You can stop the " shake-mechanism function" by sliding the clip in the Plastic Eraser direction (called the "Frelock function").
■-1 mm, length 4 mm ahead gold pipe = photograph. It is a pen nib specification of the mechanical pencil for traditional drafting. It is suitable for writing and drawing of small letters, making use of drawing, in order to keep the pen tip visible and the brightness of the paper.
[Erase features]


The ■ Body end is equipped with a Holder Eraser Mono with a diameter of 5.3 mm and a length of 26 millimeters. Word is perfect for erasing or erasing a line. This is a new synthetic Plastic Eraser that is difficult to crack with less deflection. Since it is possible to "erase" in a single practical use, it is possible to erase about 6.5 times the normal mechanical pencil Plastic Eraser , and always support "writing". Suitable Plastic Eraser is for the replacement Plastic Eraser MONO graph (100 yen + tax/3 pieces).
■ Low center of gravity design for stable and difficult writing
■-Core refill is a traditional way of removing the Holder Eraser
■ Grip part See-through body shake-mechanism