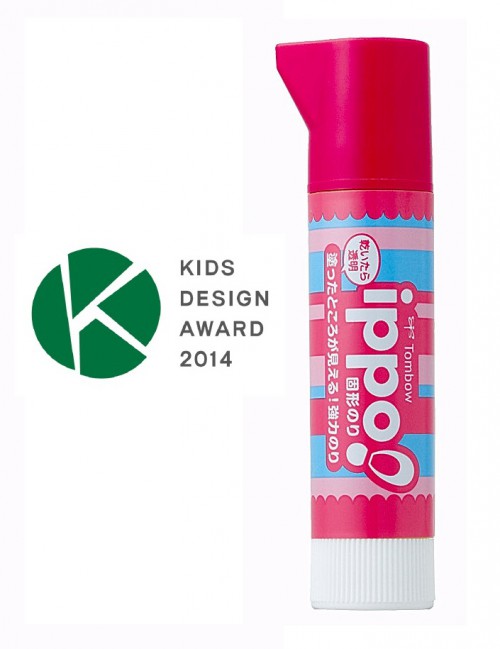 Tombow Pencil Co., Ltd. (President, Akihiro Ogawa, head office, Kita-ku, Tokyo) is easy to open even in the lower grades that were released for new admission in 2014, and the solid glues of the cap that is hard to roll was awarded the 8th Children's Design Award (2014).

Award winning "Ippo! "Solid glues " is characterized by a 5-millimeter projection on the cap. Because the shape of the water droplets is seen from the top, we called the Drop type Cap (utility model application). It is easier to pull out the cap with a thumb on the protrusion. In addition, this projection becomes rolling prevention on the learning desk, and there is no worry that the glues is dropped.
Other features include the notice color that the yellow line is visible when the cap is not properly closed. (2) A new name space to write the name with an oily marker on the CAP head was established. (3) The glues is a " blue color will disappear when glue dries out " where you can see the paint and the color disappears over time. This product is an ECO Mark Certified product, a green purchasing law compliant product, and GPN Eco products and products.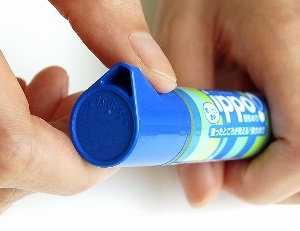 The background of the development was that "solid glues is convenient, but the (cylindrical) office cap is difficult for children to open," said the user. The cap of the solid glues may be heavy to pull the cap off for reasons such as the need to be sealed to prevent the drying of the glues . Therefore, I devised the cap shape for the school children of the lower grade.



Release date end of January 2014
Trade name Ippo! Solid glues
Suggested Retail price 120 yen + tax (tax incl. 129 yen)
Main features it is easy to open even in lower grades, and the solid glues of the cap
glues Capacity 10g
Variety Blue, Pink (2 kinds)
Part number TP-TCI M01/W01
Product Information http://www.tombow.com/press/131216_1/
2014 Kids Design Award announcement date July 4, 2014

The 8th Children's Design Awards were selected from 408 submissions (as of July 4). The award will be announced on August 4, including the "Prime Minister's Award", "the Minister of Economy, Trade and Industry Award", and the "Minister's award for declining birthrate" 2, and "Minister of Consumer Affairs Award" from the awards.
The Organizer URL ↓
http://www.kidsdesignaward.jp/2014/news/pdf/n20140704.pdf