Tombow Pencil Co., Ltd.'s will hold a seasonal illustration contest with the "Dual Brush Pen ABT" in collaboration with the contest platform "GENSEKI(https://genseki.me/)*" .
The first contest title is "ABT x GENSEKI Spring! New Life Illustration Contest", which starts in May this year. Any work that use the water-based graphic marker ABT as the main coloring can be submitted from the GENSEKI registration site regardless of whether you are a professional or an amateur.
*GENSEKI operating company:viviON, inc. (Location: Kanda, Chiyoda-ku, Tokyo) https://vivion.jp/
Furthermore, in order to support participation in the contest, "ABT Monitor Sampling" promotion will be held in parallel with the condition that the work is submitted. One set of "ABT 4-color set + 1 water brush (medium)" will be provided free of charge to 100 people by lottery (4 types of color tones). Applicants who are not yet using the ABT will be able to participate in the contest using these free samples. (Sampling is limited to those living in Japan)
Seasonal Illustration Contest Plan: The 2nd contest is scheduled to be held in August, and the 3rd is scheduled to be held in November.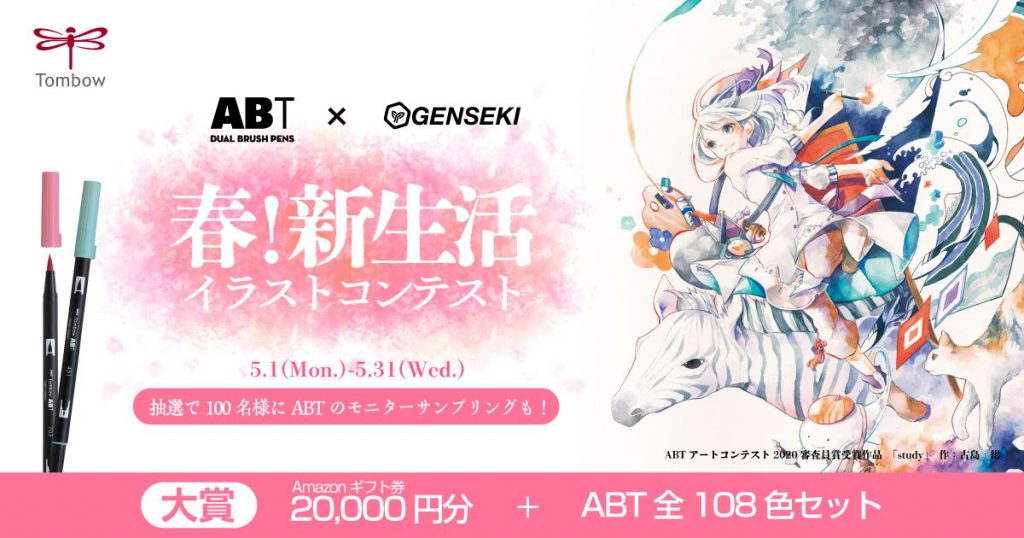 Top banner visual illustration: ABT Art Contest 2020 Jury Prize winning work "Study" by Kon Kojima
Purpose of the "ABT x GENSEKI Spring! New Life Illustration Contest"
The aim is to honor works that are recognized for their excellent ideas and techniques, pursue infinite expressive possibilities such as the "Dual Brush Pen ABT", and contribute to the promotion of hand-drawn art.
"ABT x GENSEKI Spring! New Life Illustration Contest" Outline
[Prizes]
◆ Grand Prize (1 work)
Prize money: 20,000 JPY Amazon gift card
Prize award: ABT all color set (108 colors)
◆Excellence Award (1 work)
Prize money: 10,000 JPY Amazon gift card
Prize award: ABT basic set (36 colors)
◆Twitter Award (1 work)
Prize money: 10,000 JPY Amazon gift card
Prize award: ABT basic set (36 colors)
◆Honorable Mentions (a few awards)
Prize Award: Posting work on contest announcement page plus ABT Bright set (10 colors)
【ABT Monitor Sampling Application】
Application period: April 10 (Monday) to April 16 (Sunday) 23:59 JST
* Winners to be announced when samples are shipped.
* Monitor products scheduled to ship around April 24th (Monday).
*Application for monitor sampling is optional and is not related to contest participation so you can participate with your own ABT."
【Contest registration】
Register via GENSEKI's "ABT x GENSEKI Spring! New Life Illustration Contest" banner
【Contest application period】
Public offering period May 1, 2023 (Monday) to May 31 (Wednesday) 23:59
【Announcement of contest results】
Presented at GENSEKI
ABT x GENSEKI Spring! New Life Illustration Contest
URL: https://genseki.me/compes/rOle7B9Do70/