Tombow Pencil Co., Ltd. (Headquarters: Kita-ku,Tokyo, President: Akihiro Ogawa) announced five new fragrances of scented glue sticks "Pit-Hi Power S Aroma Botanical Design" (product name), suggested retail price 132 JPY (120 JPY excluding tax) will be released on January 26*, 2023. Scented glue sticks are a perennial favorite for their therapeutic properties and new fragrances have been added.
*To be rolled out to stores sequentially. Please contact your nearest stationery store for release date details.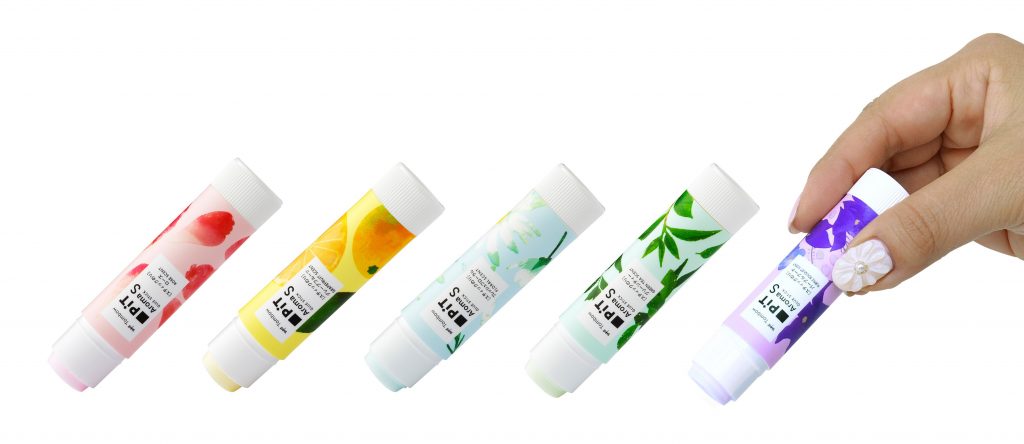 5 new fragrances: rose, grapefruit, fresh floral, green tea, and purple bouquet (from left to right in the photo). Botanical exterior design with flowers and fruits that evoke the image of the origin of the fragrance. Five glue colors; pink, yellow, blue, green and purple linked to the design color.
| | |
| --- | --- |
| Rose | Widely favored fragrance that evokes the glamor and happiness of roses. |
| Grapefruit | Refreshing, sweet and sour scent of citrus. Popular with both men and women |
| Fresh Floral | A sweet and gentle fragrance. Popular for shampoos and conditioners |
| Green tea* | Increasingly popular, slightly sweet, refreshing green tea scent. |
| Purple Bouquet* | Refreshing and elegant scent of bellflower. Attractiveness different than rose. |
*Indicates a fragrance adopted for the first time in our glue sticks.
About the fragrance. A fragrance is added to the glue. A faint scent is produced when the glue is applied to paper. Suitable for use in schools and offices as the faint scent is only noticeable at a distance of about 10 to 20 cm from glue stick body. Has therapeutic effects such as "calming by fragrance" and "mood refreshment".
■Hi-Power Pit Glue. Strongly and speedily adheres paper to paper.
■Fragrance like light colors. (Glue color is almost invisible when applied.)
■Faint scent when applied disappears in a few minutes, so can also be used on archival documents.
■Environmentally friendly products: Eco Mark certified, Green Purchasing Law compliant.
"Pit Hi-Power S Aroma Botanical Design"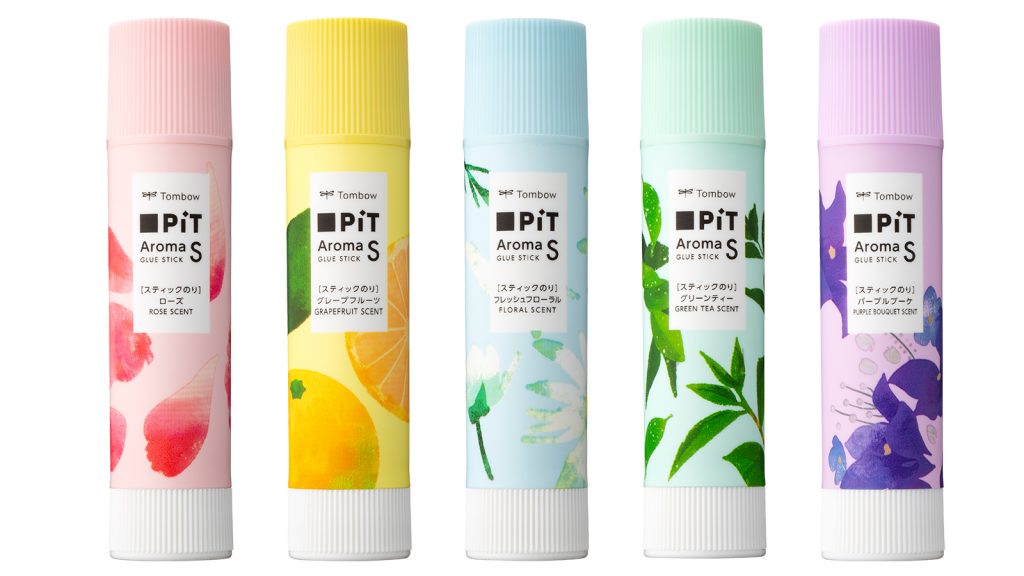 rose, grapefruit, fresh floral, green tea, and purple bouquet (from left to right in the photo)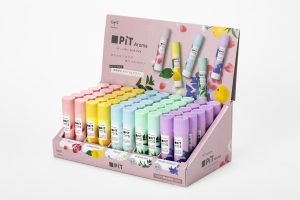 Store display
| | |
| --- | --- |
| Product type | Glue stick S size |
| Product name | Pit Hi-Power S Aroma Botanical Design |
| Release date | January 26th, 2023 |
| Price | 132 yen (120 yen excluding tax) |
| Size | diameter20㎜×length 87㎜/22g |
| Contents | 10g |