Tombow Pencil Co., Ltd. (Headquarters: Kita-ku, Tokyo; President: Akihiro Ogawa) from the "Fudenosuke" series with elastomer brush which have gained an overwhelming following for hand lettering and delicate illustration creation, will release 6 pastel colors that provide excellent coverage of vivid colors as hobby art pens. Enjoy trendy "noir art"* drawn on dark black paper to expand your range of expression.
*Noir is a French word meaning black, black chocolate, etc.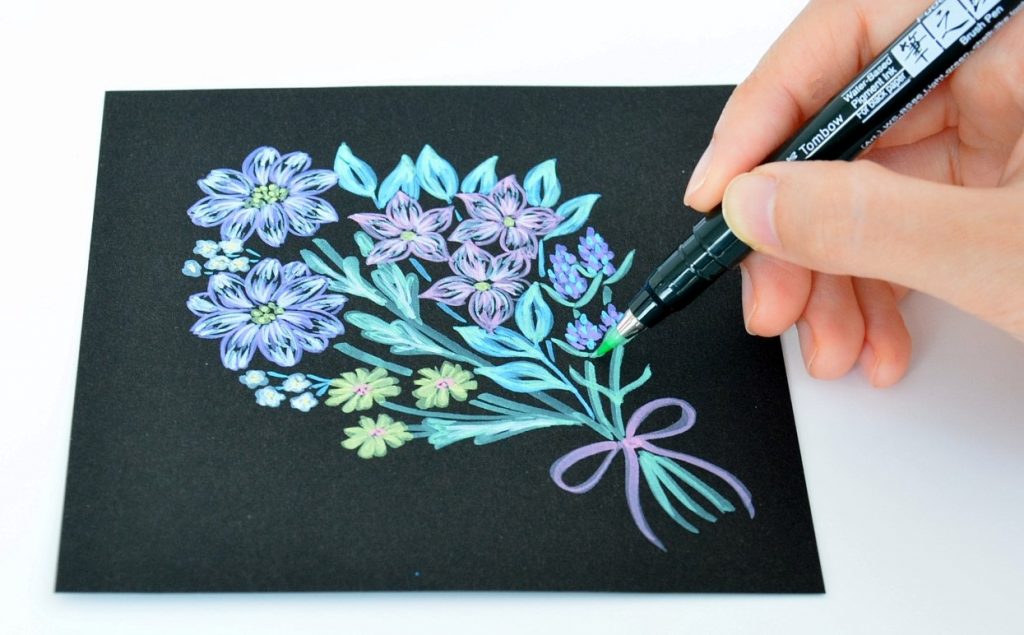 Product name is "Fudenosuke Supple Style Pastel Colors". Suggested retail price for each color is 165 JPY (150 JPY excluding tax), suggested retail price for the 6-color set (photo) is 990 JPY (900 JPY excluding tax). Release date is October 27th. *Will be rolled out to stationery stores sequentially, please contact the nearest store for the detailed release date.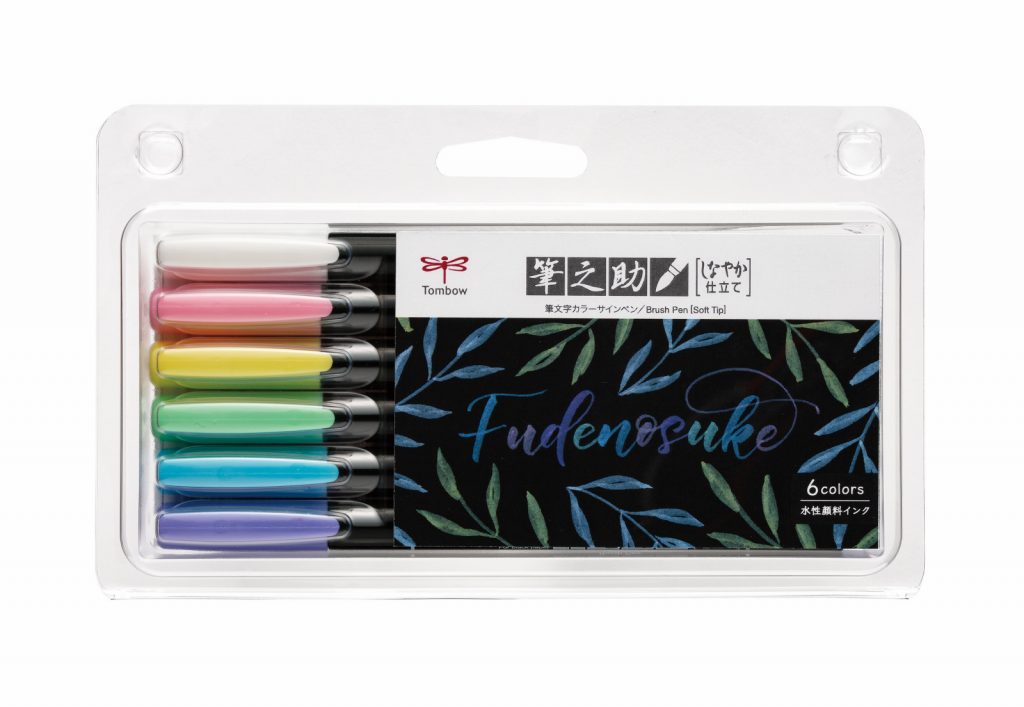 Available in six colors white, soft pink, pale yellow, light green, light blue, and lavender. Soft and delicate pastel colors are especially popular with women.
Vivid colors on white as well as dark black paper
A specially formulated resin in the ink vividly brings out the pale pastel colors. Masks (covers) base paper to create vivid colors. Create beautiful, vivid, pastel colors on white paper. Pastel colors that mask dark or black paper. All colors are water-resistant (after drying), light-resistant
water-based pigment inks.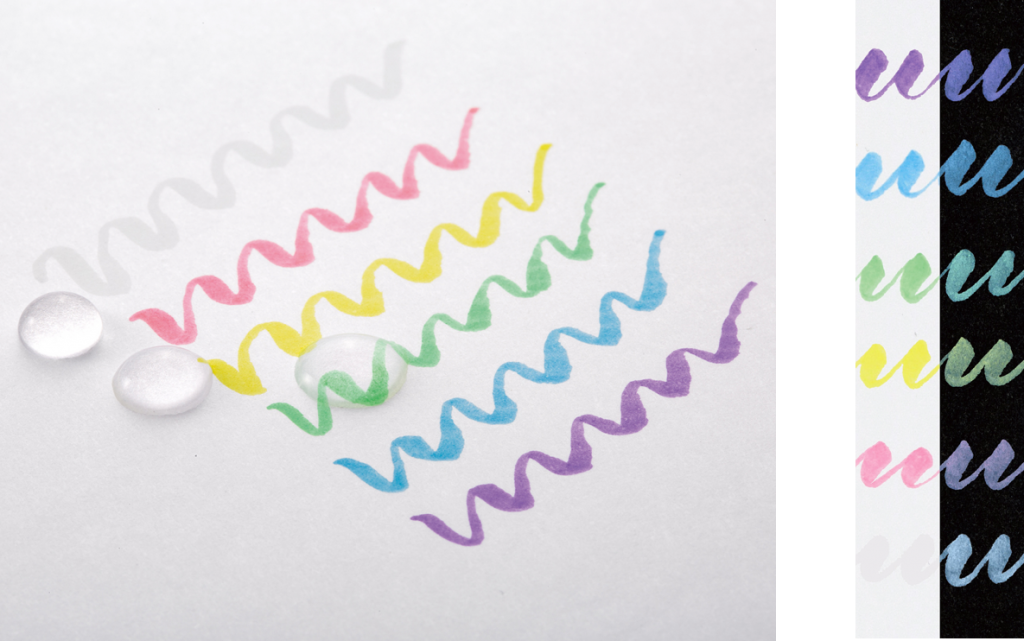 ■Pastel colors with a popular elastomer brush that mask base paper

Incorporates "hollow resin particles" to mask (cover) the paper surface and creates vivid colors. When resin is wet (ink state), it transmits light, and when it dries, it becomes opaque to mask the paper surface. This reflective property promotes color development.
Developed with the premise of satisfying the demand for a "Fudenosuke with the supple elastomer brush which has gained a following with art fans that can draw on dark colored paper". This was realized by blending hollow resin particles. In addition, in the case of dark black paper, the color develops after a few seconds when the resin becomes opaque and masks the paper.
In general, titanium oxide is used for markers designed to mask base paper, but because titanium oxide easily settles and clogs, a thicker nib and a fiber or rubber core with a high ink flow rate is needed.

Body shaft diameter 10 mm (maximum width 15 mm) x total length 141 mm (with cap) / 8 g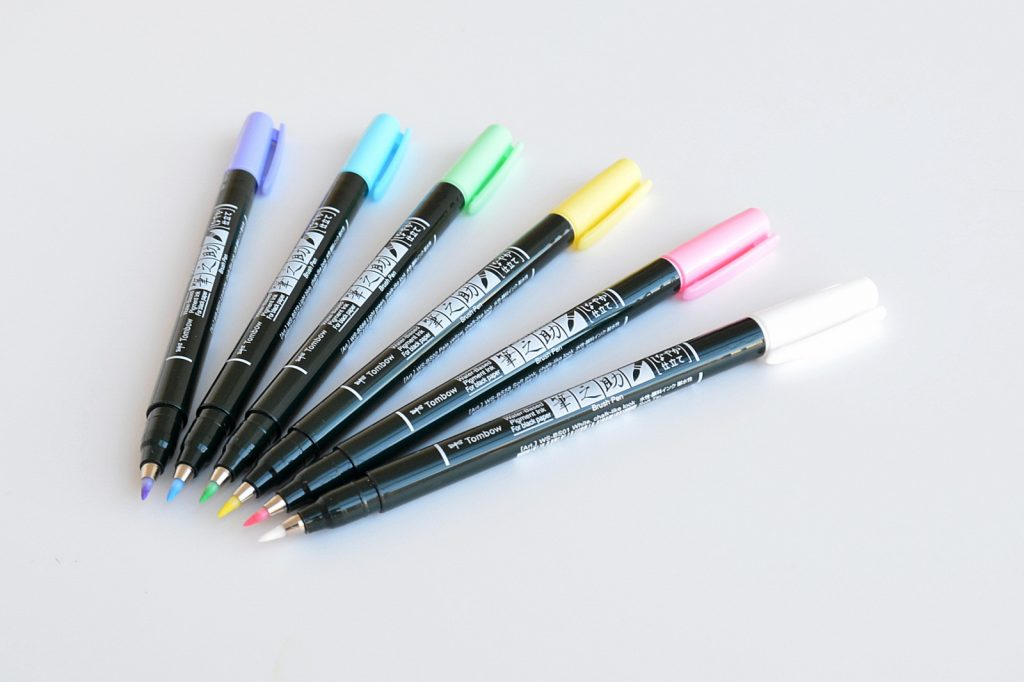 An example of noir art created with the Fudenosuke Pastel

Product type
Brush pen Water-based pigment ink
Product name<1>
(Singles) Fudenosuke Supple Pastel Color
White, pale yellow, light green, light blue, lavender, soft pink (6 colors)
Product name<2>
(Set) Fudenosuke Supple Pastel 6 Color Set
White, pale yellow, light green, light blue, lavender, soft pink (6 colors included)
Release date
October 27th, 2022
Price
<1>Singles 165 JPY (150 JPY excluding tax)
<2>6-color set 990 JPY (900 JPY excluding tax)
Horizontal storage is recommended for this product.