Tombow Pencil Co., Ltd. announced eight, fun to coordinate smoky colors will be added to the "Monograph Lite Ballpoint Pen" lineup on September 1st*; originally released in spring 2021 and whose unique nib design allows fine characters to be easily and precisely written.
*Since it will be rolled out sequentially in stores, please contact your nearest stationery store for details.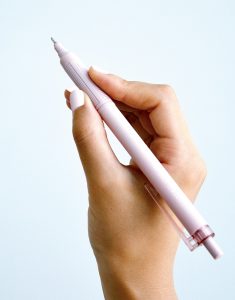 The product name is "Monograph LiteBallpoint Pen Smoky Color" (suggested retail price 198 yen including tax). The new colors to be added are (from the left in the photo) smoky pink, smoky brown, smoky blue, smoky white, and smoky purple. In addition to this, dark gray, beige, and green will be added as limited edition colors; for a total of eight colors. Coordinate with clothing style and nail color of the day to enhance your fingertip fashion.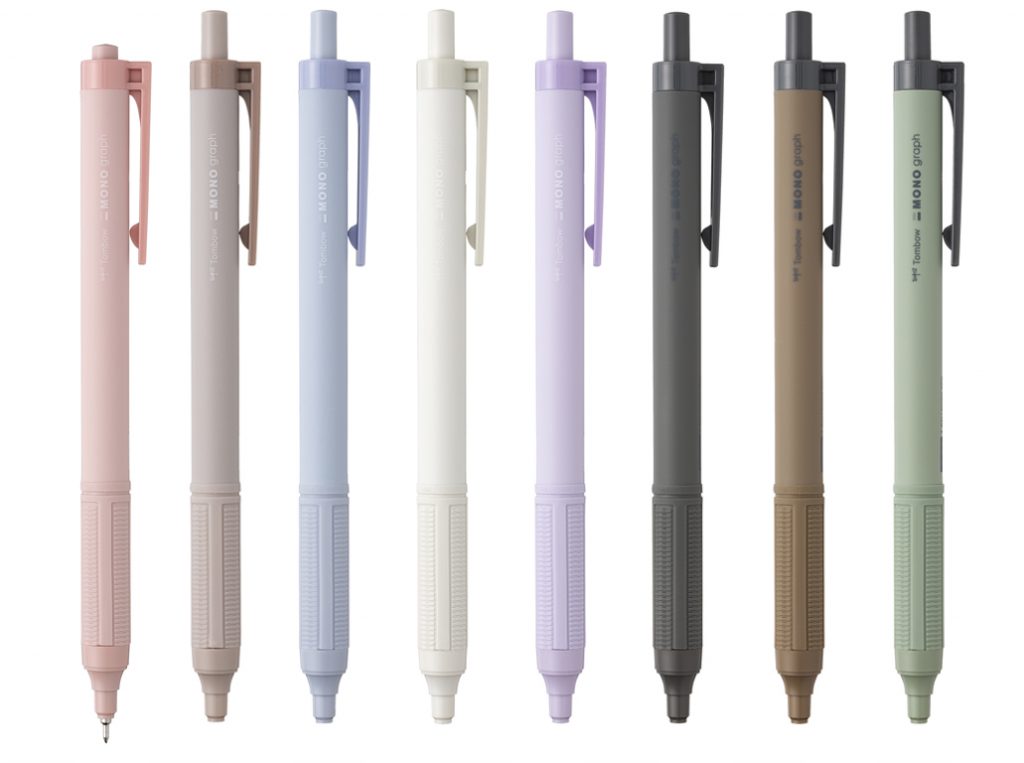 The Monograph Lite Ballpoint pen features a smooth writing extended 5.2mm nib. The nib is a slim needle so the area around the nib is easy to see and so small letters, numbers, marks, emoticons, etc. can be written precisely and cleanly. Perfect not only for study and office notes, but also for writing in diaries and memos in narrow spaces like sticky notes.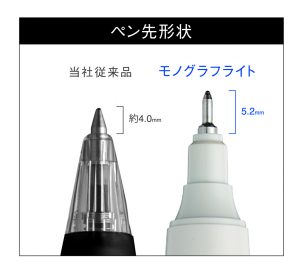 There are two ball diameters, 0.38 mm and 0.5 mm. The ink color is black. Suggested retail price is 198 yen (180 yen excluding tax).
■ Industry's longest needle tip ideal for precision writing
When knocked the tip of the pen is extended 5.2mm from the tip of the body. This length is 30% longer than our conventional cone type product and the longest in the industry (according to internal research).The slim, long needle tip (1.2 mm in diameter) ensures a clear and wide field of vision around the pen tip. Precise writing is possible and more information can be entered in a limited space on notebooks or planners. It also meets the needs of users who prefer fine writing.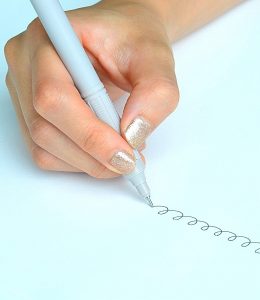 ■Frictional resistance is about 20% lower than the industry standard for a light and smooth writing feel
This product has approximately 10% less frictional resistance than our conventional products and is approximately 20% lower than the industry standard, allowing for light and smooth writing. This lightness is due to the elimination of the spring that presses the ball. In addition we have developed a new technology (Patented) that makes the inside of the tip closer to a true sphere. As a result we were able to dramatically reduce frictional resistance during writing.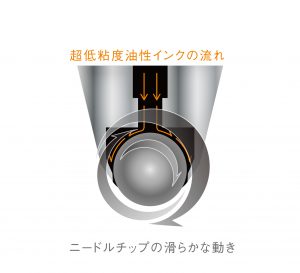 ■Uses smooth, ultra-low-viscosity lubricant oil-based ink
Ultra-low-viscosity lubricating oil-based ink for smooth writing. Combined with a newly designed springless tip, achieves smoothness that exceeds the industry standard. In addition, the amount of ink that adheres to the paper surface during writing has been reduced by about 1/2 compared to our conventional products, and about 1/3 compared to standard low-viscosity oil based ink ballpoint pens (For 0.5mm pen based on internal investigation).
■Machined needle tip with excellent durability
An integrated needle tip made by machining a single piece of material, so the tip has excellent strength and is resistant to bending. It can be used in the same way as a standard cone tip, and can also be used to write on carbon copy paper.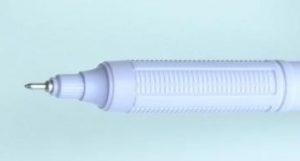 ■High-density textured grip adopted
A high-density textured grip 33 mm long in the same color as the body fits fingertips to reduce slippage and can be held firmly even with light pressure. In addition, it reduces the sticky feel and provides a dry and comfortable grip.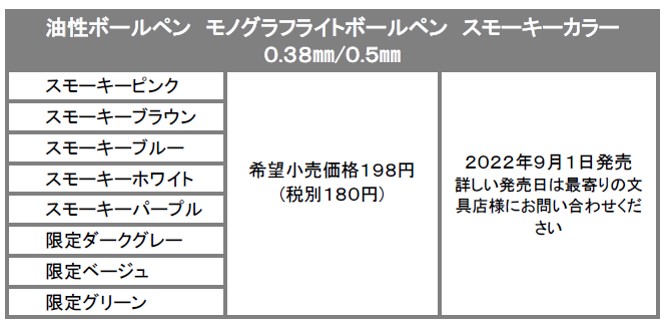 MONO graph Lite ball-point pen
SMOKY COLOR