For those of you who are thinking of starting comic illustrations this summer we recommend the Tombow Pencil water-based marker set "ABT 6-color Illustration Set" (1,980 yen including tax). Four popular illustrators give advice on how to illustrate. On sale from July 22nd* in limited quantities.*To be rolled out store by store. Please contact your nearest stationery store for further information.
Each seasonal illustration set has 6 colors for spring, summer, autumn and winter chosen from the 108 ABT color range. Colors in each set can be mixed with "Water Brush", lightened, and focused.
Use the colors of each season with the coloring sheet template illustrations drawn by comic illustrators Ri-Rin, Ashiya Maki, Natsume Lemon, and Shigure. The accompanying guide provides detailed information for coloring order and selection as well as a QR code to access the lesson video.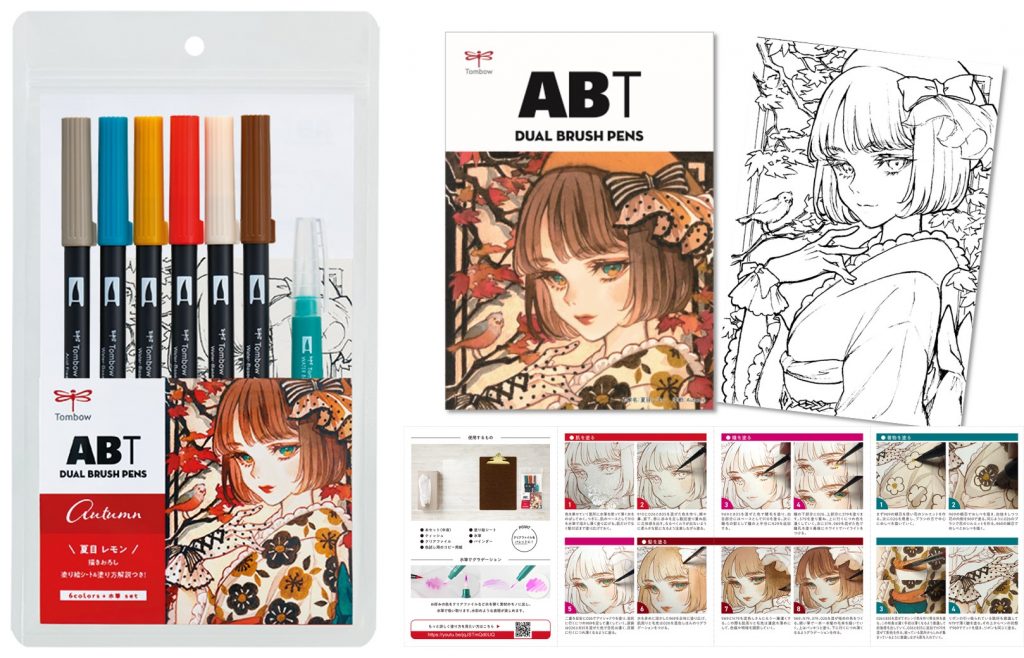 Lesson 1
Match an ABT with the guide's cover color illustration.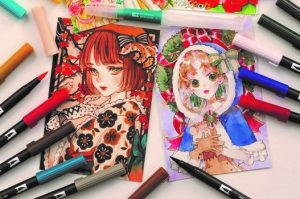 Lesson 2
Color the postcard-sized sketch according to the guide. Make a few extra copies of the sketch in case you need to redo.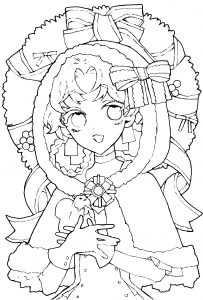 Lesson 3
Access the video via the QR code on the left page of the guide for detailed advice on how to illustrate. Take lessons as many times as you like, until you can master the technique.


"ABT 6-color Illustration Set" 4 Advisors and 4 ABT Seasons
Spring
Ri-Rin
From Chiba prefecture.Illustrator
Ri-Rin primarily draws girls mainly using analog coloring materials. A book summarizing Ri-Rin's work is also on sale.
Twitter:@ichidanmepile
Instagram:@ichidanmepile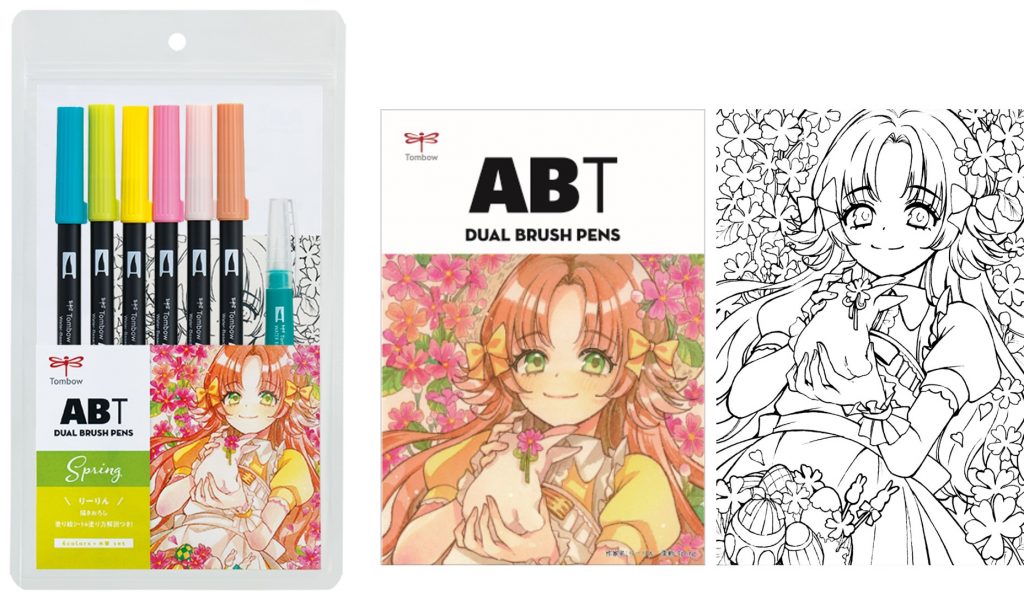 Ri-rin's video lesson https://youtu.be/HjNONviedyY
Summer
Ashiya Maki
Illustrator/writer
who cherishes light and temperature and is also active as an online class workshop instructor.
Twitter:@a0z0o0
instagram:@p0azo0q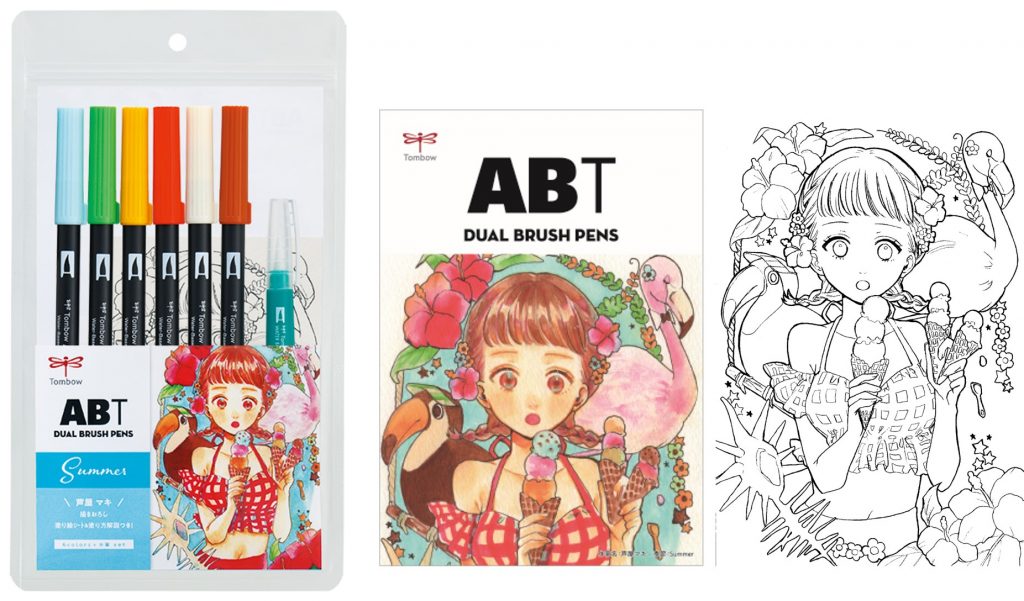 Video lesson by Ashiya Maki https://youtu.be/DKhy7P8nQmo
Autumn
Natsume Lemon
Active in both analog and digital, focusing on coloring materials such as transparent watercolors and color inks. Mainly creates aesthetic women.
Twitter:@remon101121
Instagram:@remon10112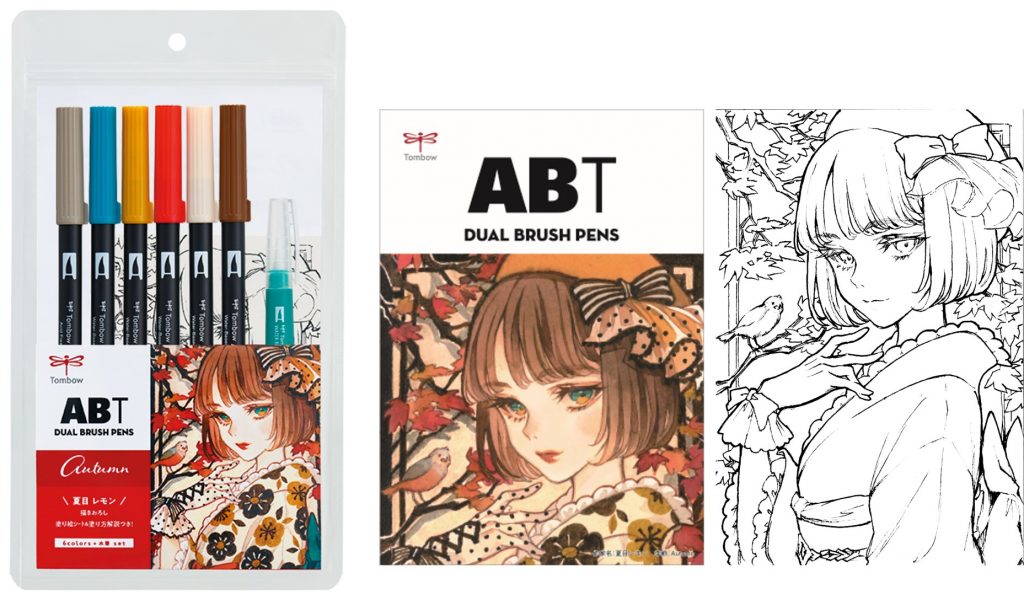 Natsume Lemon's video lesson https://youtu.be/jqJSTmQd0UQ
Winter
Shigure
Born in Miyagi prefecture. Shigure primarily uses transparent watercolors and is active mainly on SNS. Treats blue and boys and adolescents as motifs and draws a fantasy world view.
Twitter:@shigure0528
Instagram:@sh0_gu_nh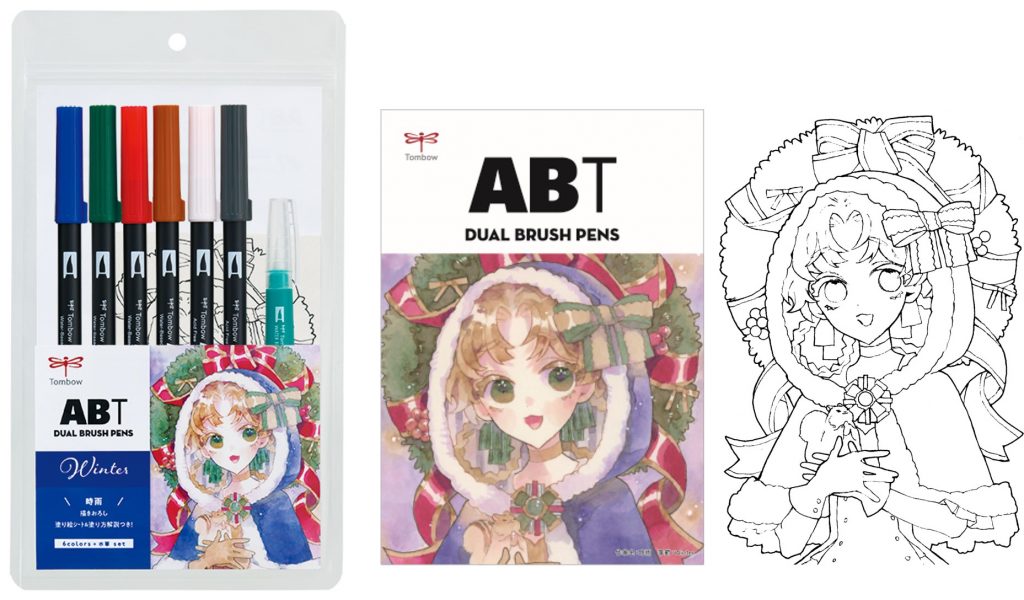 Shigure's video lesson https://youtu.be/oalKChAujiE
---
ABT 6 color illustration set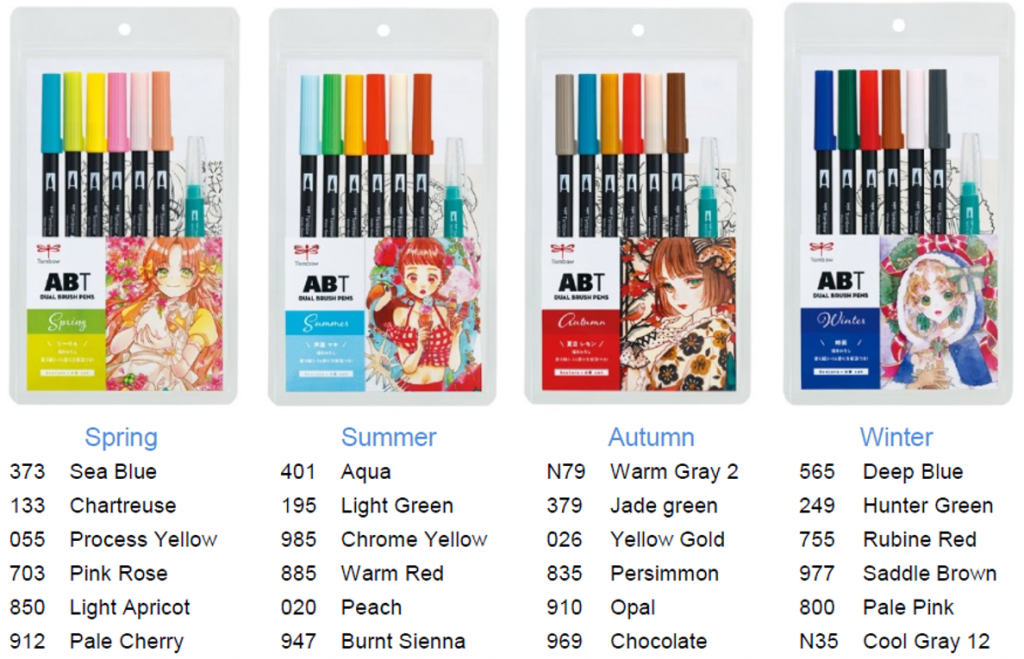 * Each set comes with a "Water brush pen". * The color number is the official name. English names are supplementary.

Sold at stationery specialty stores and specialty corners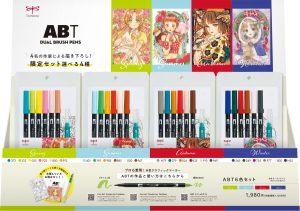 ---
<About the water-based marker dual brush pen "ABT">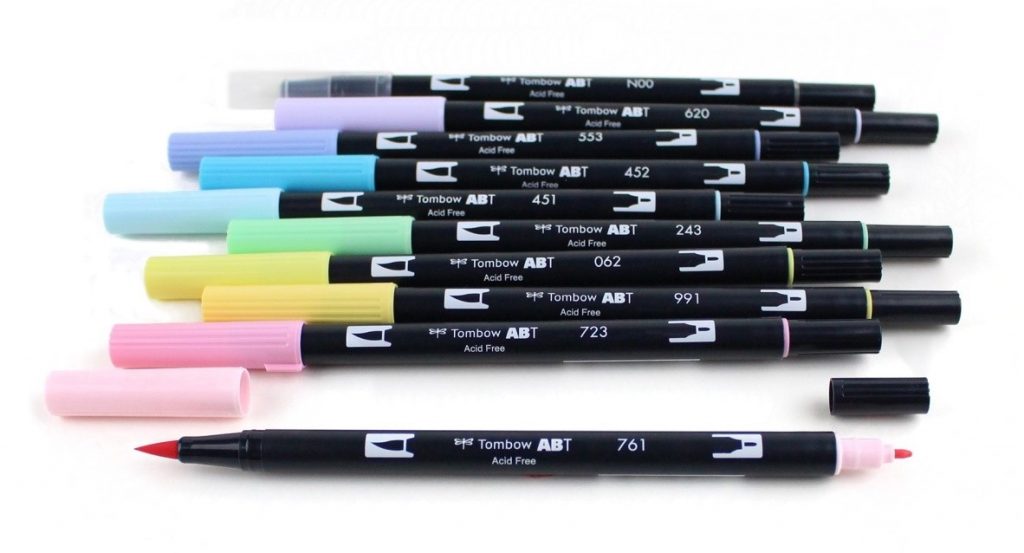 "ABT" is a twin pen equipped with two tips, a brush tip and a fine tip, released simultaneously in Japan, the United States and Europe in 1984. It is used by artists and graphic designers around the world. The brush tip is nylon fiber that does not easily lose shape, and can dynamically express rhythm and intonation like a brush. The fine tip is polyester that can stably draw ultra-fine 0.8 mm lines and is suitable for expressions and writing when you want to make use of highlights and edge feeling. Ink is water-based dye that develops vivid colors and allows an expanded range of expression by mixing or blurring colors. Currently 108 colors are available. In recent years, the art boom posting of hand lettering and illustration works on interactive SNS sites such as Instagram has become popular worldwide. In addition the number of artists who "color everyday life" is rapidly increasing in the new "Corona pandemic" lifestyle. The number of ABT users is ever growing as influencers and others recommend various ways of expressions by ABT.
■ABT special site: https://www.tombow.com/sp/abt/
Tombow Pencil's Art Promotion Activities
Tombow Pencil started "FUN ART STUDIO" in 2018, a platform to disseminate information to make art more accessible. Artist content is posted daily. The Instagram site currently has 66,000 followers. A website was created in 2019. A wealth of hand-colored works such as hand lettering and illustrations using the ABT dual brush pen ABT are posted and information on familiar hand colored art such as coloring processes and points, recommended tools, etc. is posted.
■FUN ART STUDIO
・web : https://tombow-funart.com
・Instagram:@tombow_art_official