The platform "FUN ART STUDIO" operated by Tombow Pencil Co., Ltd. to promote art (Headquarters: Kita-ku, Tokyo, President: Akihiro Ogawa) will hold a gift campaign where famous popular artists draw your "smile picture". "# FUN ART Smile" from November 22, 2021.
Three popular artists, Hisashi Eguchi, Keiko Sootome, and Cotoh Tsumi, will draw a "smile picture" from the winner's smile photo. Winners will receive the original picture as a gift.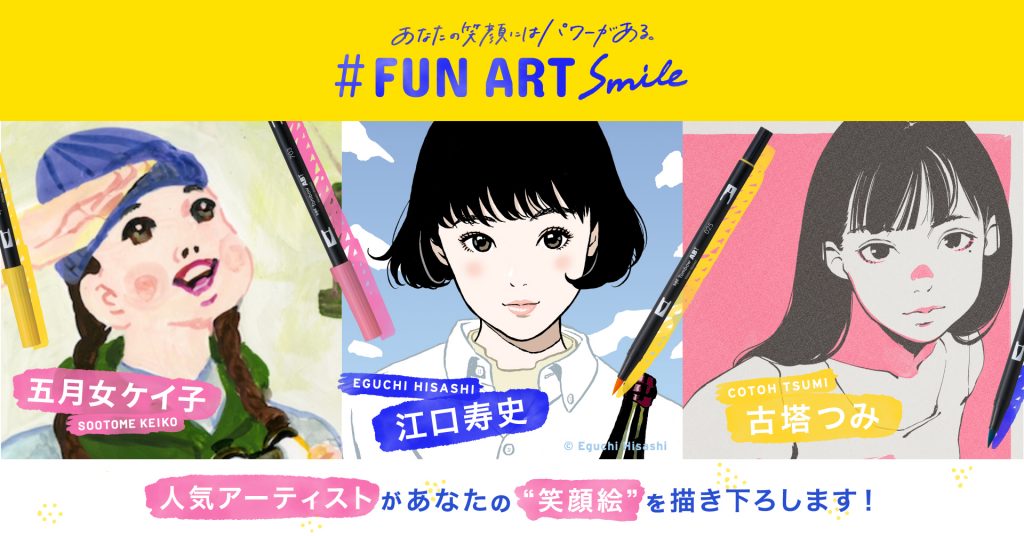 Campaign site URL
https://tombow-funart.com/sp/funartsmile/
To apply, follow FUN ART STUDIO's Instagram account* and comment on the artist's name and smile episode * that you want to have a "smile picture" drawn. Hisashi Eguchi, Keiko Sootome, and Cotoh Tsumi will draw 6 "smile pictures" submitted by the applicants chosen by lottery using the water-based graphic marker ABT. The original picture will also be presented to the winners. Smile pictures will also be posted on the FUN ART STUDIO account.
※1 FUN ART STUDIO Instagram account ( https://www.instagram.com/tombow_art_official/ )
※2 Episode example: "I enjoyed chatting with my friends at the cafe for the first time in a long time!", "I can smile a little when my favorite menu comes out for lunch at the school cafeteria."
In addition, to those who missed the smile picture gift, we will hold a double chance to win a "water-based graphic marker ABT 12-color set (portrait)" to 30 entrants by lottery.
---

#FUN ART Smile Present Campaign Overview
・Campaign name "#FUN ART Smile"
・Application period November 22nd to December 1st, 2021
・How to apply
(1) Follow FUN ART STUDIO's Instagram account (@tombow_art_official)
(2) Comment on the post for the artist who you to draw a smile episode and a smile picture, and complete the application.
・Prize
FUNART smile prize: 6 smile pictures (2 per artists)
ABT Award: ABT 12 color set (portrait) 30 winners
・Winners Announcement In early December 2021 the winners will be contacted by Instagram DM from @tombow_art_official.
---

Artist profile
Hisashi Eguchi
Born in Kumamoto prefecture in 1956. Debuted in 1977 with "Weekly Shonen Jump". Masterpiece is "Recommended!! Pirates"," Stop!! Hibari-kun! ", Etc.
He is currently active in many fields as an illustrator. Recent publications include art books such as 2015 "KING OF POP" (published by Genkosha), 2018 "step", 2020 "RECORD" (both published by Kawade Shobo Shinsha), and 2021 "She" (published by Shueisha International).
Keiko Sootome
Born in Yamaguchi Prefecture. Grew up in Yokohama. After graduating from college, she self-taught and became an illustrator. Her current style from illustration that shows what's going on in the other rooms of "Tetsuko's Room". Her book "New Unit", which she worked on the illustrations, became a bestseller. Since then she has been active in various fields such as manga, columns, and acting, as well as her illustrations, with a style that once seen has an impact and vulnerability that you will never forget. Her latest work is "The Maiden's Survival Notebook" (Heibonsha)
Cotoh Tsumi
Started activities on SNS from around 2017.
With the catch phrase "Oh, only girls can draw. Only nice people can draw"; CD artwork, music video production, and collaboration with apparel brands. She recently also worked on YOASOBI's key visuals.
---

FUN ART STUDIO
"FUN ART STUDIO" is a platform that disseminates information with the concept of "making art more familiar". We post artists content daily. Opened Instagram account in 2018, currently have 61,000 followers. A website was also created in 2019. We publish a wealth of hand-painted works such as hand lettering and illustrations using the water-based graphic marker ABT, and provide information on familiar hand-drawn art in general, such as drawing processes and points, and recommended tools.
web : https://tombow-funart.com
Instagram : @tombow_art_official (https://www.instagram.com/tombow_art_official)