We are happy to announce the launch of MONO×MIDDLA Polo Shirts (photograph below) for the 2022 summer collection of MONO×MIDDLA, a brand collaboration between the stationery brand MONO and the fashion brand MIDDLA. This is the fourth offering* from the MONO×MIDDLA brand collaboration.
Perfect as traditional golf wear and townwear, these original polo shirts bearing the MONO stripe are made with highly functional, absorbent and quick-drying materials. They are available in three colors—White, Charcoal, and Navy—and five unisex sizes—XL, L, M, S (equivalent to a ladies' L), and XS (equivalent to ladies' M). The suggested retail price is ¥17,600 (with tax; shipping fees extra).
The polo shirts will be available in the online shop of Alddim Co., Ltd. (SALON.MIDDLA), with pre-sales starting from noon (JST) on August 9 (Mon./bank holiday). Purchases are expected to arrive in mid-September.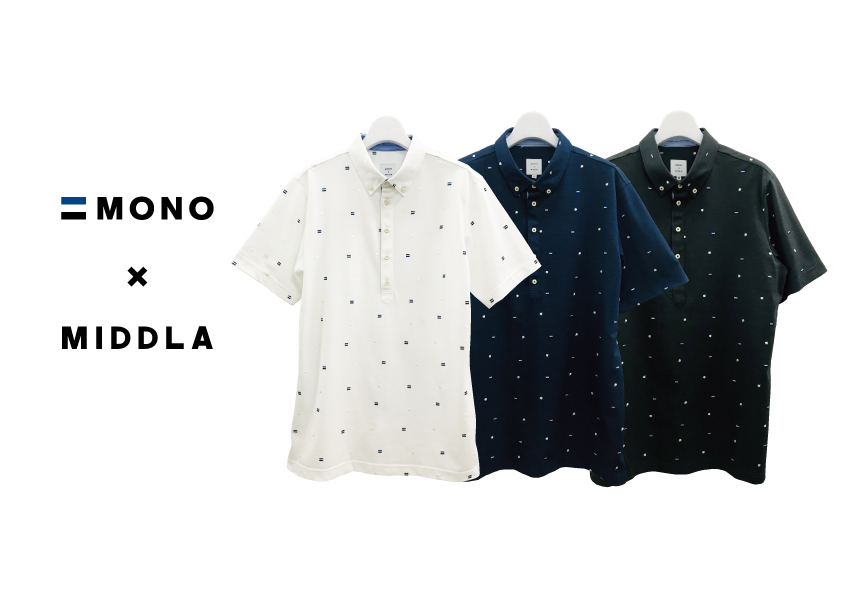 MONO×MIDDLA Polo shirt
Made from an original textile with the blue, white, and black tricolor MONO stripe and MIDDLA's MIDDLAPPLE (mid-air apple) motif embroidered in an irregular dot pattern. The richly expressive MONO stripe lends a fashionable touch, as different colors stand out or blend in depending on the background. The blue and black stand out against white material, the blue and white against charcoal, and the black and white against navy.
The base material is a water-absorbent and quick-drying piqué fabric with a melange tone that brings depth and intensity. The shirts also incorporate traditional details, including a button-down collar, a deep five-button placket, small mother-of-pearl buttons, and striped shirt fabric even on the inner collar band and inner placket. Designed to balance feel and detail, these polo shirts are perfect for playing golf or going out on the town. (MIDDLA designer Oharu Ando)
*The fourth, following shirts/blouses (Nov. 2020), masks (Feb. 2021), and neckties (Apr. 2021).
Colors: White、Charcoal、Navy
Materials: 100% polyester
Sizes: XL, L, M, S (equivalent to ladies' L), XS (equivalent to ladies' M)
Available for purchase from the SALON.MIDDLA online shop (pre-sales start from noon (JST) on Aug. 9, 2021)
https://salon.middla.jp/categories/3134896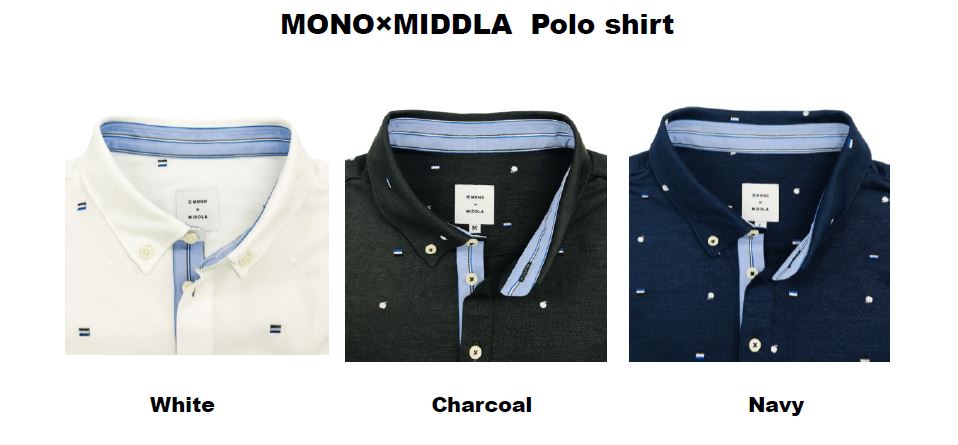 「MONO×MIDDLA」brand statement
Oharu Ando's statement regarding the fashion brand MONO×MIDDLA
MONO's tricolor stripe is one of the most iconic and celebrated examples of tricolor imagery in Japan.
The MIDDLA brand was built on the visual concept of stripes and blueish colors. The fusion of these two styles will give rise to the unisex brand MONO×MIDDLA.
Under the concept "Make a new heritage," the brand will create wearable items with the MIDDLA aesthetic that incorporate the universally recognized MONO stripe, a piece of Japanese heritage.
Tombow Pencil's vision
The value promised by MONO brand stationery products is to serve as a simple and smart right-hand man at your desk, offering total support for your everyday intellectual pursuits. Spirited designer Oharu Ando will utilize this symbolic MONO tricolor stripe to rebuild ONE TOKYO USUAL for the MIDDLA brand. The company hopes that this collaboration will give the MONO brand new life force as a fashion icon and that it will also allow both brands to shine and create new value going forward.
■about MONO×MIDDLA Polo Shirts
ALDDIM CO., LTD. 03-6280-8563 Chinami Hara hara@middla.jp