Tombow Pencil Co., Ltd. (Headquarters: Kita-ku, Tokyo, President: Akihiro Ogawa). To commemorate the 50th anniversary of the release of the glue brand PiT, "Secret Pit" (132JPY including tax/pcs), a reprint of nostalgic package designs, will be released sequentially from June 22 at stationery stores, mass retailers, etc. nationwide.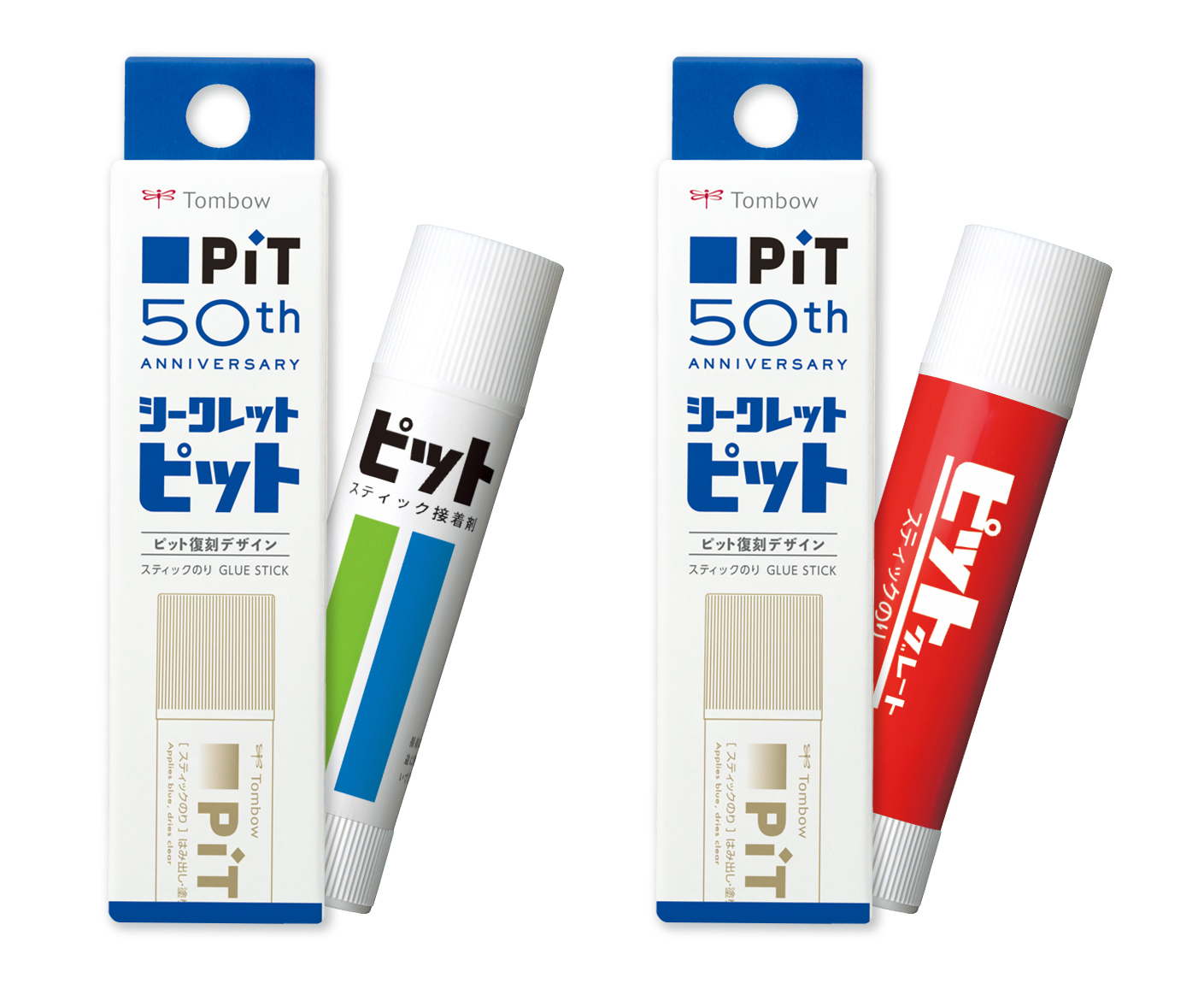 There are 6 reprint designs with a retro feel.Sealed box specification = Photo below, left.Look forward to discovering which design was purchased.Five of the six designs are as shown below, and the one on the right is a secret design.We plan to create excitement when shopping.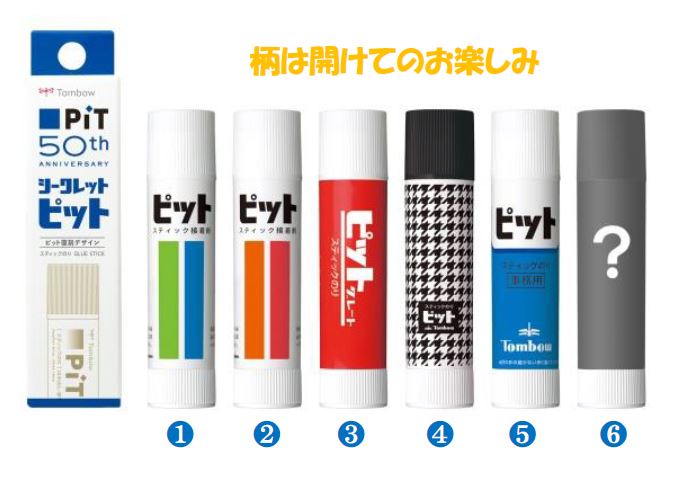 The reprinted designs are the first two PiT designs ❶ ❷released in 1971, PiT Great ❸ released in 1972, PiT Long ❹ released in 1974, PiT Office ❺ released in 1977, and popular designs released in the 1970s (Including Secret ❻ there are a total of 6 designs.)These 6 designs are reproduced with S size glue stick (DIA: 20mm x H: 87mm, Size: 10g).The suggested retail price is 132JPY (120JPY excluding tax) in an individual paper vanity box. About 220,000 pieces will sold for a limited time. "Disappearing PiT" type glue that goes on blue and disappears over time.
"Kieiro PiT" type glue that goes on blue and disappears over time.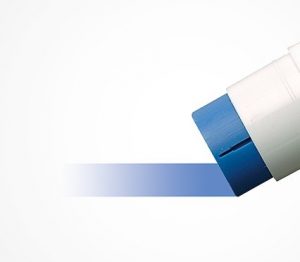 PiT is the first domestically produced glue stick (solid glue) released in 1971.Features such as no messy hands and quick drying eliminate the hassle and make gluing enjoyable. The brand name PiT derived from the Japanese for "painting" and "sticking", has grown into a long-life brand for 50 years. Currently, PiT has leapt forward to become the top share brand for glues (based on company research).

Product name: "Secret PiT"
Release Date: June 22, 2021
Suggested retail price: 132JPY (120 JPY excluding tax)
Made of paper (individual box) in a vanity case. Size: W: 25mm x D: 25mm x H: 105mm
Glue size (S): DIA: 20mm x H: 87mm, Size: 10g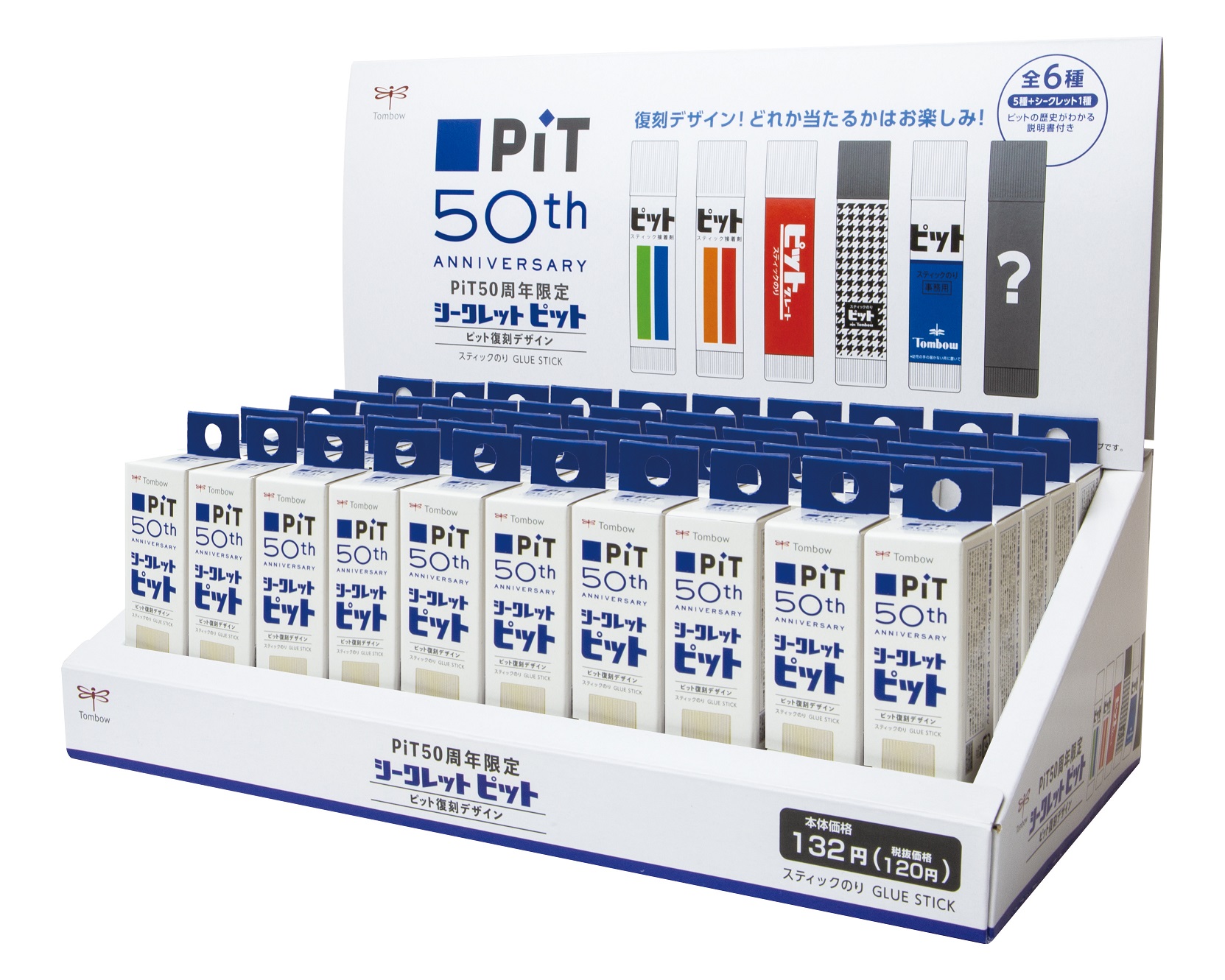 Store display
---
PiT 50th Anniversary special site
https://www.tombow.com/cp/pit50th/