Launching a necktie (photograph below) from MONO×MIDDLA, a brand collaboration between the stationery brand, MONO, and the fashion brand, MIDDLA. The neckties will be sold by Aldim Co., Ltd. This is the second round in a crowdfunding campaign for the collaboration brand, following on from the shirts and blouses that were announced in November 2020.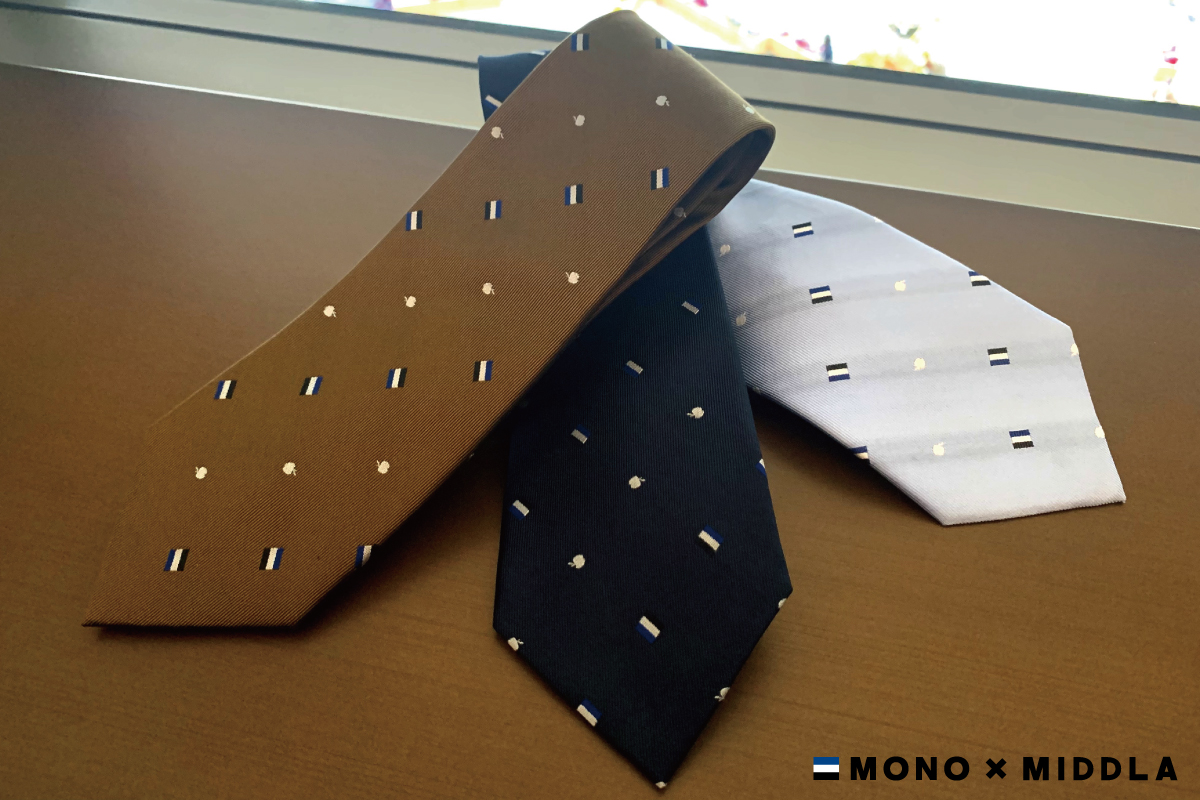 Pre-sales of the neckties with special discounts will be offered on the crowdfunding platform, CAMPFIRE, between April 25 and May 8 (link below). The retail price will be ¥6,600 (including tax), with pre-sale discounts of 5% for one tie, 15% for two ties, and 20% for three ties (details on next page). Purchased items will be delivered progressively from around mid-June. Recommended as a gift for Father's Day (June 20).
MONO×MIDDLA EMBROIDERY TIE
Silk necktie with the 3-color MONO logo and MIDDLA's MIDDLAPPLE (mid-air apple) motif embroidered in a dot pattern. Available in three colors – Saxe, Navy, and Brown (photos below from left). The luster of the silk and the luxurious colors make all three color variations easy to coordinate and suitable for the business scene.
We will be able to deliver just in time for Father's Day of this year on June 20, making these neckties an ideal gift for Dad.
*If intended as a gift, please select the Gift option when purchasing and we will remove the price label. Each necktie will be delivered in its own box.
Color: SAXE、NAVY、BROWN
Material: 100% silk
Size: Large blade: approx. 8 cm / Small blade: approx. 4 cm / Length: approx. 147 cm
CAMPFIRE : https://camp-fire.jp/projects/view/387805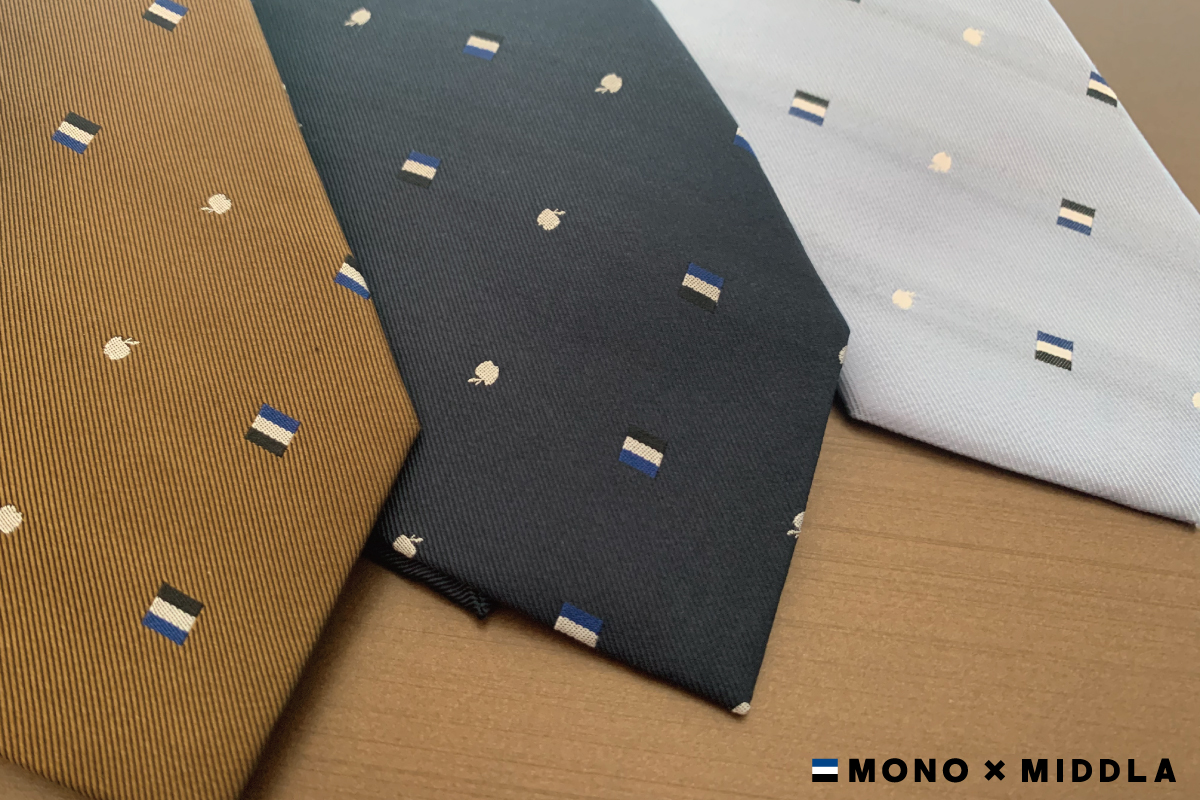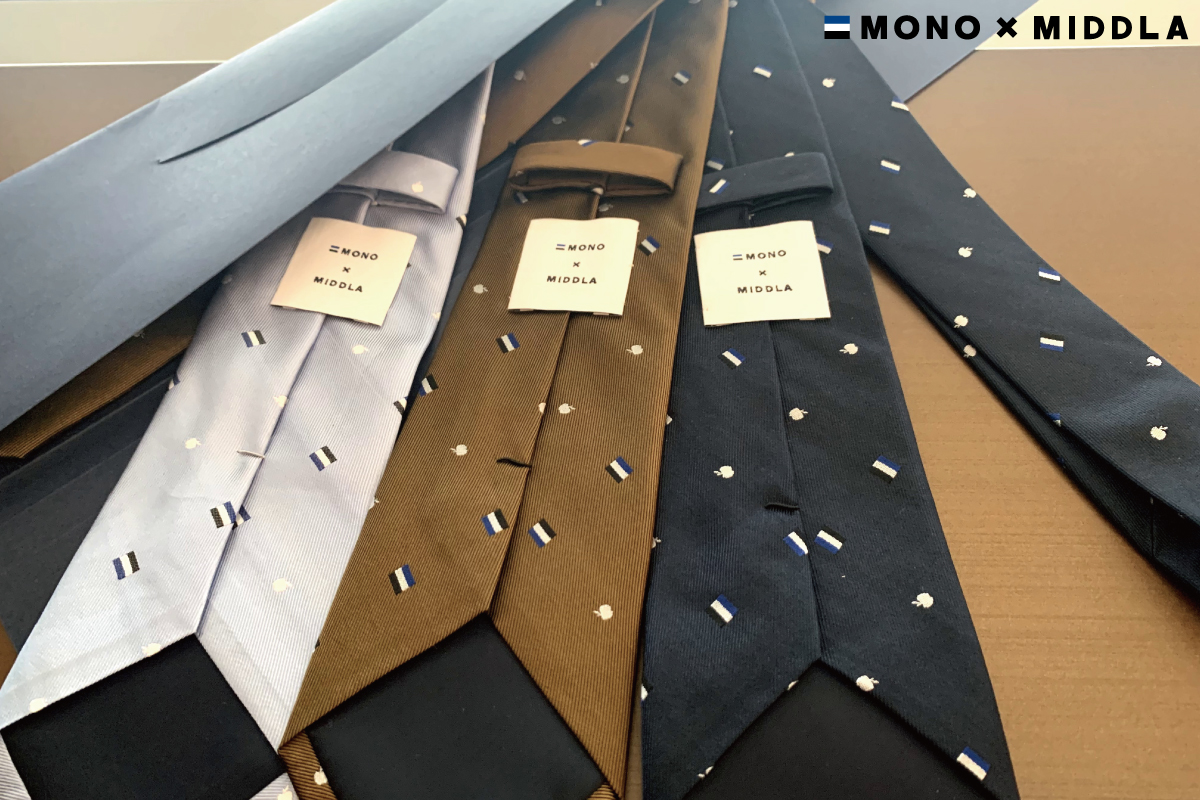 「MONO×MIDDLA」brand statement
Oharu Ando's statement
MONO's tricolor stripe is one of the most iconic and celebrated examples of tricolor imagery in Japan.
The MIDDLA brand was built on the visual concept of stripes and blueish colors. The fusion of these two styles will give rise to the unisex brand MONO×MIDDLA.
Under the concept "Make a new heritage," the brand will create wearable items with the MIDDLA aesthetic that incorporate the universally recognized MONO stripe, a piece of Japanese heritage.
Tombow Pencil's vision
The value promised by MONO brand stationery products is to serve as a simple and smart right-hand man at your desk, offering total support for your everyday intellectual pursuits. Spirited designer Oharu Ando will utilize this symbolic MONO tricolor stripe to rebuild ONE TOKYO USUAL for the MIDDLA brand. The company hopes that this collaboration will give the MONO brand new life force as a fashion icon and that it will also allow both brands to shine and create new value going forward.
■about MONO × MIDDLA necktie
ALDDIM CO., LTD. 03-6280-8563
Chinami Hara hara@middla.jp