Tombow Pencil Co., Ltd. (headquarters: Kita-ku, Tokyo; President: Akihiro Ogawa) is pleased to announce the launch of new clear colors of its MONO graph mechanical pencils, which have a clear pen tip and offer precise writing. The new colors will be available at stationery stores and mass retailers nationwide starting March 4.
The company plans to launch the MONO graph Clear Colors (product name). The series is available in two types, with 0.5 mm and 0.3 mm cores, both for a suggested retail price of 385 yen (350 yen without tax).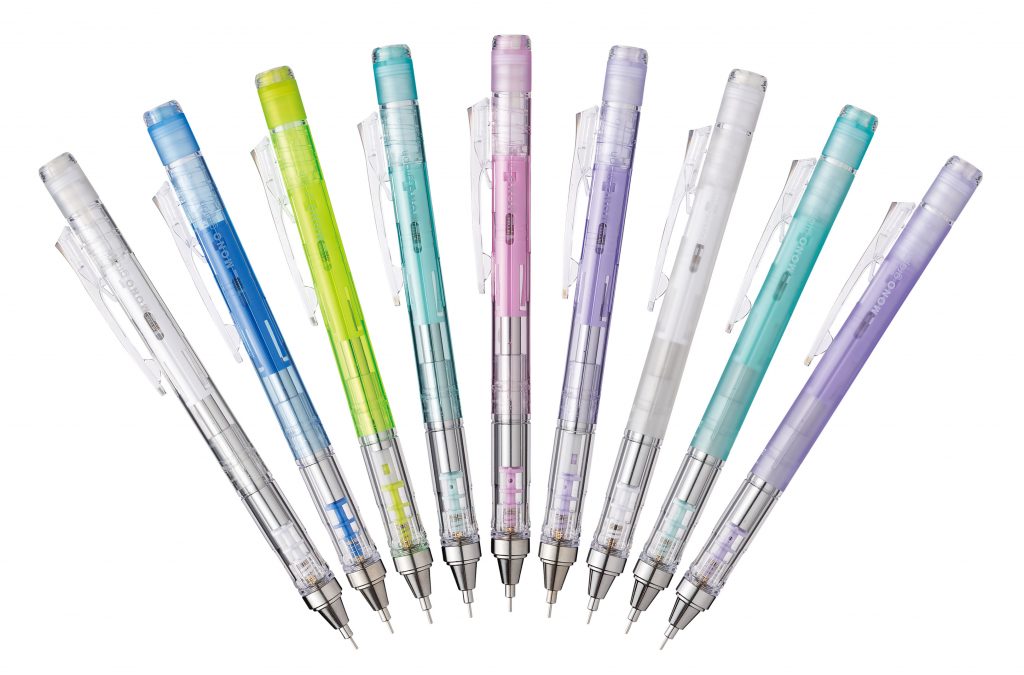 Photo (from left): The six 0.5 mm colors and the three 0.3 mm colors
The new colors to be added are Clear Colors, a lineup of light colors inspired by the transparent skeleton. The 0.5 mm product is available in six colors: Clear, Clear Blue, Clear Lime, Clear Mint, Clear Pink, and Clear Purple. The 0.3 mm product is available in three colors with a matte-finished surface: Clear, Clear Mint, and Clear Purple. The transparent skeleton also shows off the distinctive internal mechanism of the MONO graph.
The MONO graph features a clear tip with drafting specifications to enable smooth, precise writing. It also has a long holder eraser and a mechanism that advances the lead when the pencil is shaken, making it a great asset in learning and testing scenarios. Since its launch in 2014, it has been made into a series with several new products, resulting in double-digit annual growth for the brand.
It has also won the 2014 Good Design Award and the 2016 reddot design award.
Features of the MONO graph Mechanical Pencil
■ The tip part is a fixed pipe type with drafting specifications, and it uses a metal tip pipe that is about 4 mm long and about 1 mm in diameter. The pen tip is clear and offers stable, precise writing. The letters come out clear, making it suitable for writing small text, drawing charts, and using a ruler.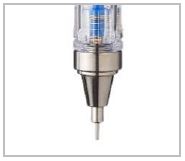 ■ A standard size mechanical pencil with a total length of 147 mm, equipped with a shake mechanism that advances the lead when the pencil is shaken back and forth. This allows you to advance the lead with no need to re-grip. The shake mechanism can be locked by sliding the clip toward the eraser. (This is called the "shake lock mechanism.") You can also advance the lead by sliding the clip.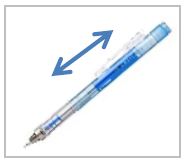 ■ With a low center of gravity, the design offers a stable, fatigue-resistant writing experience.
Features of the Eraser
■ A twist-type holder eraser is attached on the top. The 5.3 mm diameter makes it ideal for erasing letter by letter or line by line. Synthetic erasers are less prone to bending and breakage. The eraser is 26 mm long in total, with a usable length of 16 mm. The replacement eraser is the MONO graph Replacement Eraser, priced at 110 yen (100 yen without tax) for a pack of three.
About half of users of conventional mechanical pencil erasers complain that they have insufficient capacity or that it is hard to erase large areas
*According to a 2012 survey by Tombow Pencil / Online survey / Subjects: 330 adults and junior high, high school, and university students who use mechanical pencil erasers.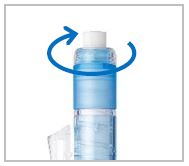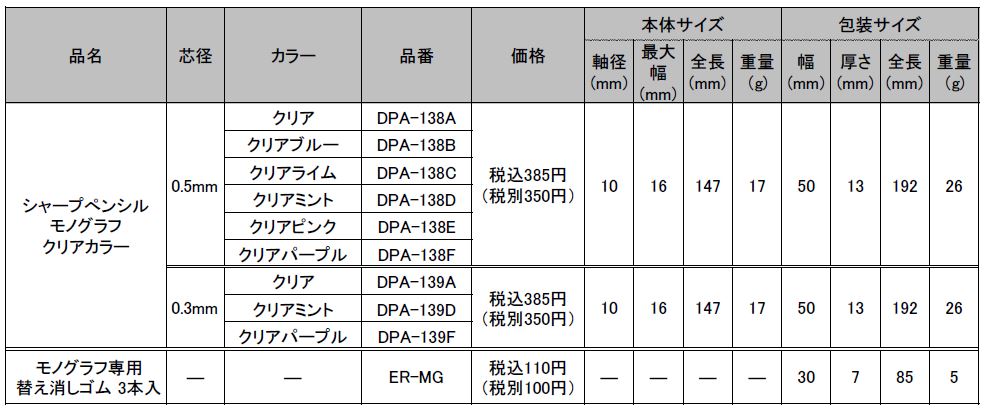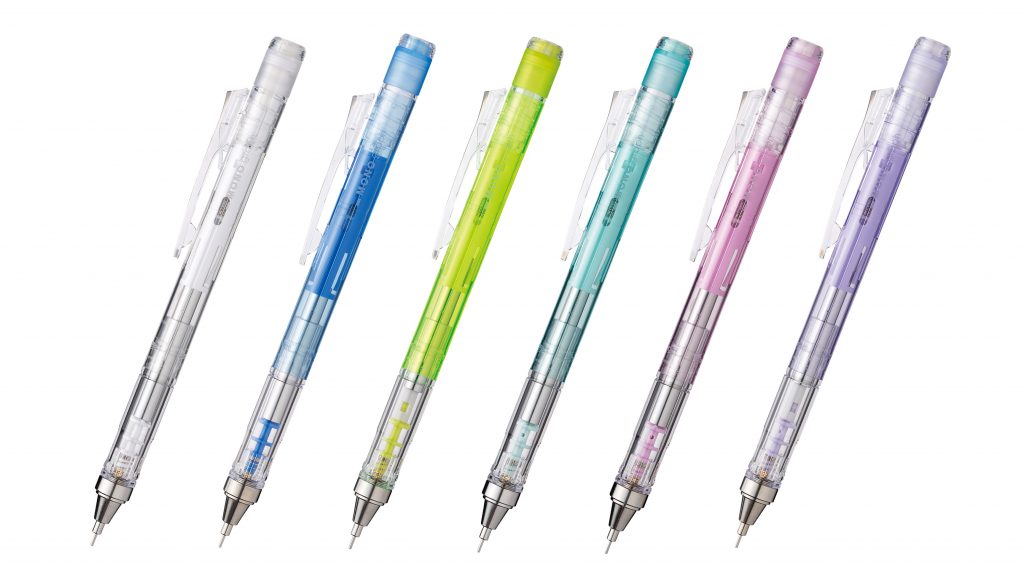 MONO graph Clear Colors 0.5㎜
Clear, Clear Blue, Clear Lime, Clear Mint, Clear Pink, and Clear Purple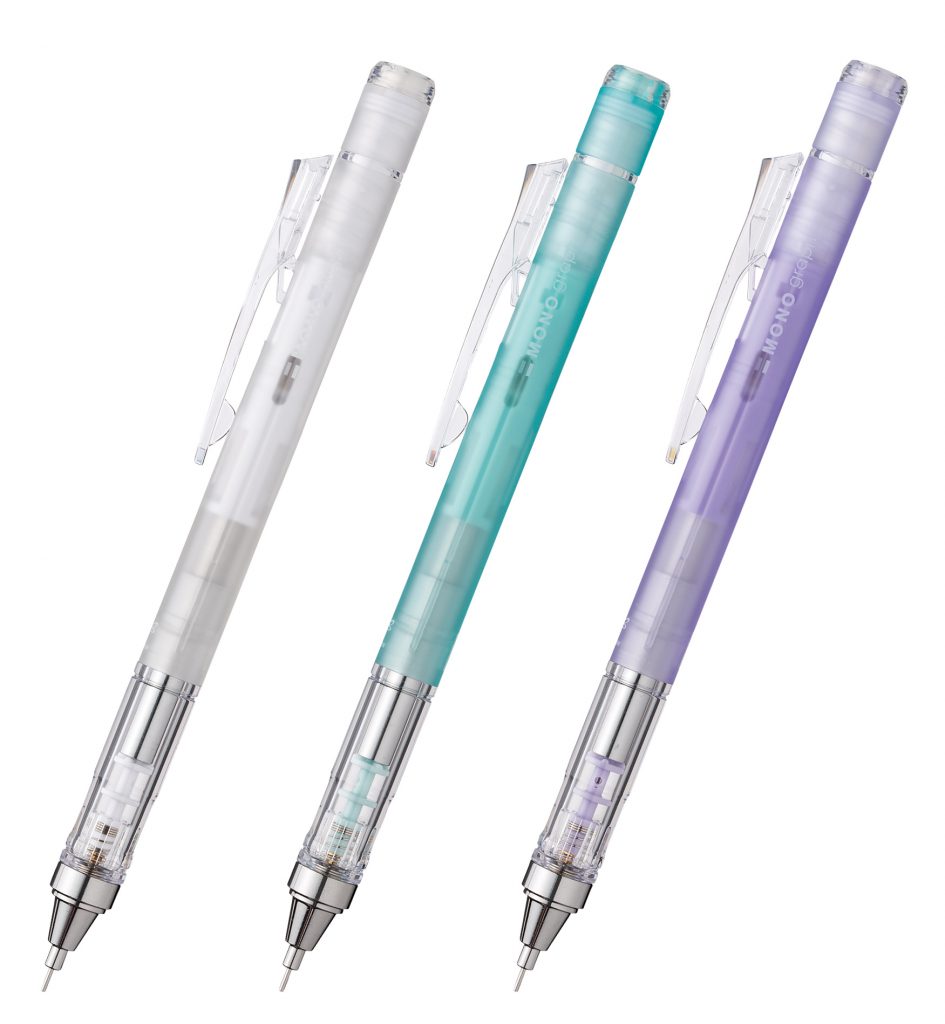 MONO graph Clear Colors 0.3㎜
Clear, Clear Mint, and Clear Purple.(with a matte-finished surface)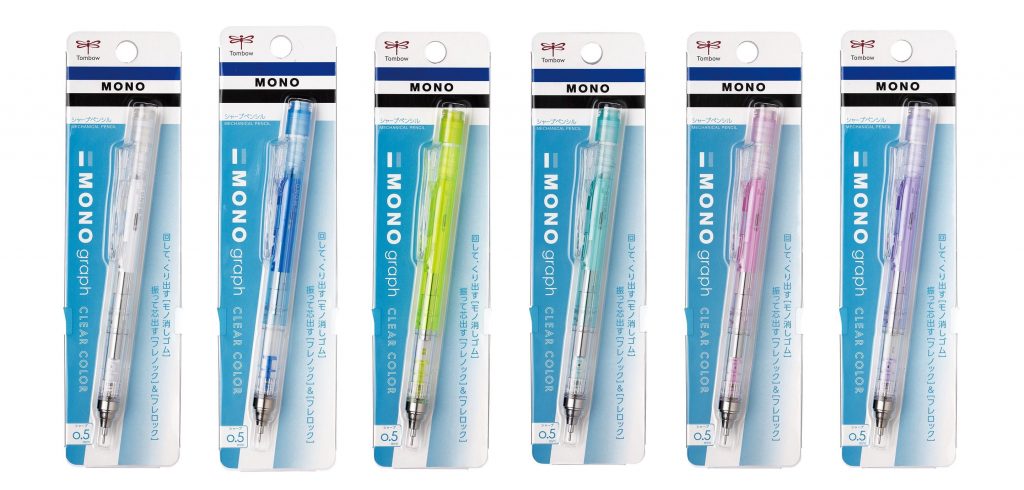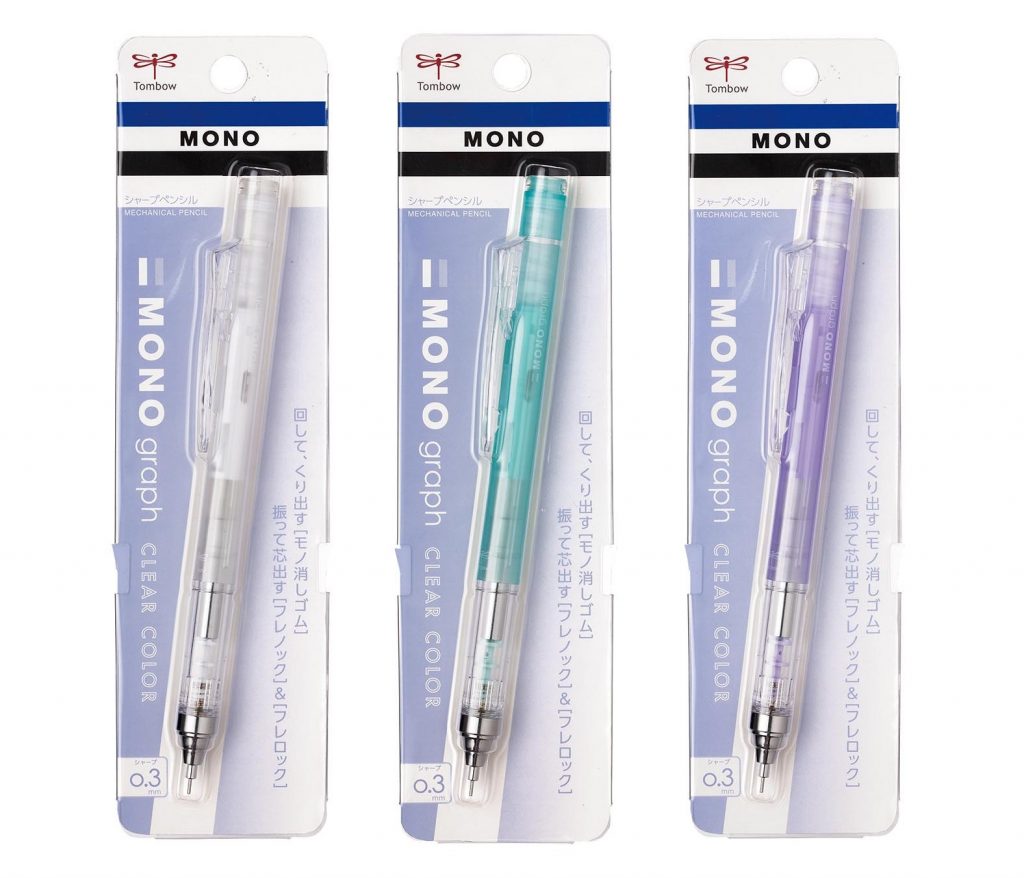 Package design