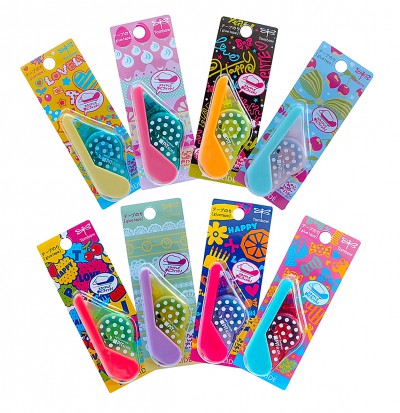 Tombow Pencil Co., Ltd. (President, Akihiro Ogawa, head office, Kita-ku, Tokyo) will release the limited color of the portable glue tapes " PIT Slide " (trademark) from June 20.
The PIT Slide is a portable glue tapes that accommodates almost 8m of tape in a compact body of nearly Plastic Eraser size. It is ideal for "pasting" in schools and cram school, and it is popular with students released in March 2012. Among them, aqua mint, honey lemon, etc. were popular, and we planned a limited color that enhanced the fashionable sensitivity.

<Girly taste>

The following eight colors are limited to be released additionally. 1 sweet purple, 2 sweet mint, 3 girly yellow, 4 girly pink, 5 neon orange, 6 neon pink, 7 pop grapes, 8 pop blues. The color pattern is a girly taste and is designed for small and middle school girls in the main layer of pit slides. [Standard color is standard, aquamint, honey lemon, peach cooler, cranberry 5 colors].

Manufacturer's suggested retail price 189 yen (body price 180 yen), it is the same as a standard product.
<Happy print>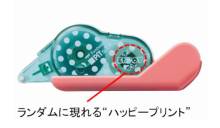 This product is "Happy print". To apply paste, slide the body. I made a happy print on the surface that appears when I slide it. The message is 4 kinds of "Smile, Lucky, Fight, Enjoy". It's fun to have, every time you use it is a fun project.
The features of the PIT Slide are as follows:
■ The shape of this product is 22 mm × 29 × 65mm (all maximum), the weight 13g, the size feeling when it is in the hand is almost equivalent to the medium Plastic Eraser = Photo right = and a small pencil sharpener. It is easy to carry in a pen case (pencil box). It does not occupy space even on the desk.

When glues you paint the ■, slide the body. The roller that applies the glues protrudes, and the body is about 20% elongation 76mm, so it can be applied with stable nigiri.
■ The contents of this product have a standard glue tapes with a width of 8.4 mm to 8m. This length can be pasted over 40 pieces of B5 print (257 × 182mm) on a note. We made it compact by thinning the adhesive tape and the base tape of the PET.

※ You can put 43 sheets when applying a glues in a straight line of 180mm to B5 print short-scale surface (182mm).
It is a structure that slides the ■ body and uses it, and covers it back (the coating port). When used, the body stretches, it is easy to paint, and it returns and covers the coating port. There is no sticky tape in the pen case.
The adhesive tape adopts our "flat tape". It has the feature that it is good, pasted neatly, and is cut well.
The adhesive tape glues is acid free which is difficult to discolor by oxidation of the discoloration and the bonded part by oxidation of the paste itself.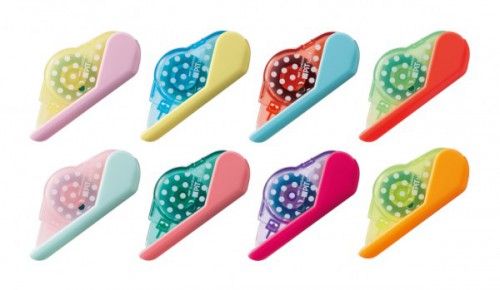 Suite purple, Garlee yellow, pop blue, neon pink, sweet mint,
girly Pink, pop grape, neon orange (upper left)