Tombow Pencil Co., Ltd. (headquarters: Kita-ku, Tokyo; President and CEO: Akihiro Ogawa) is pleased to announce the launch of the "red&blue 70:30," a dual-color pencil with a good balance throughout its use life. Developed from the company's marking pencil with a striking red core, which since its 2009 launch has enjoyed popularity among children and their parents and guardians, as well as steadily increasing sales, the new product will be rolled out sequentially at stationery stores, volume sellers, and other retailers across the country starting November 12.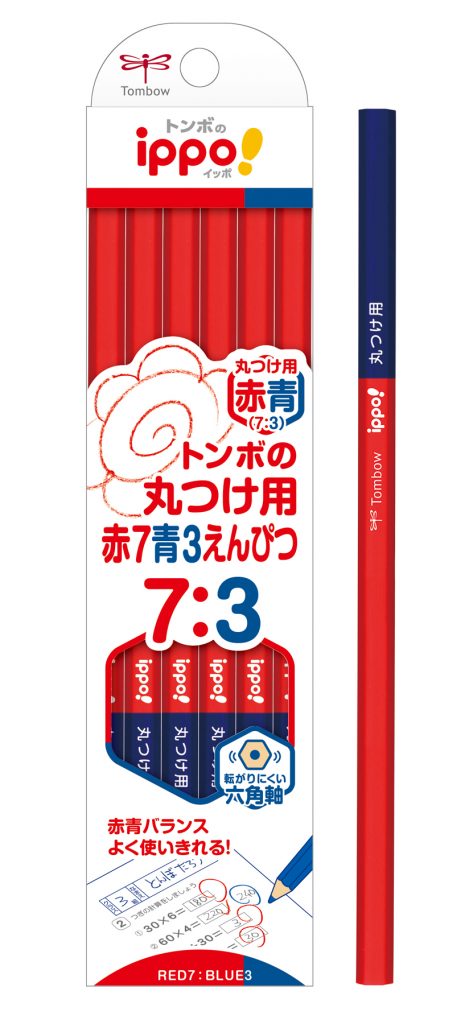 Called "ippo! MARUtsukeyo red&blue 70:30 Pencil," the suggested retail price is ¥720 (¥792 incl. tax) per dozen box and ¥120 (¥132 incl. tax) per two pack.
It uses Tombow Pencil's distinctive red core for student products, and its clear, strong color shows up vividly on notebooks and recycled paper with a low whiteness level. The red pencils used to date have actually been closer to the color vermilion, but this is a new, slightly brighter color that is closer to red. It was launched (in 2009) under the name "ippo! MARUtsukeyo red" as a product for students. It is popular with young children and their parents and guardians alike.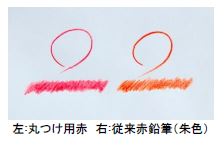 Left: MARUtsukeyo Red  Right: A conventional red pencil (vermillion)
The new addition to the series is a dual-color red and blue pencil with a ratio of 70% of this MARUtsukeyo red and 30% MARUtsukeyo blue (Persian blue/indigo). Many customers had requested a 70:30 ratio for marking schoolwork, as this allows a good balance throughout the pencil's use life. Also, having a dual-color red and blue pencil means fewer writing implements for young children to carry
Other features
■ Hexagonal casing to prevent rolling. According to feedback, standard red and blue pencils are generally round, making it easier for them to roll off the classroom desks.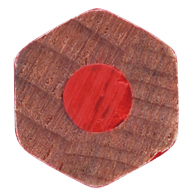 ■ Space on the casing to write your name.