Tombow Pencil Co., Ltd. (headquarters: Kita-ku, Tokyo; President and CEO: Akihiro Ogawa) is pleased to announce the launch of the "ippo! Easy Erase KAKIKATA Pencil," a dark pencil for schoolchildren that erases cleanly and completely with an eraser. It will be rolled out sequentially at stationery stores, the stationery sections of volume sellers, and other retailers across the country starting November 12. Available in dark lead of 2B, 4B, and 6B, this pencil is an industry first for its ability to erase cleanly and completely, leaving notebooks clean.
Children use 2B, 4B, and other dark pencils (see down page for consumer trends). One common complaint from parents and guardians is that repeated writing and erasing leaves their children's school notebooks looking dirty.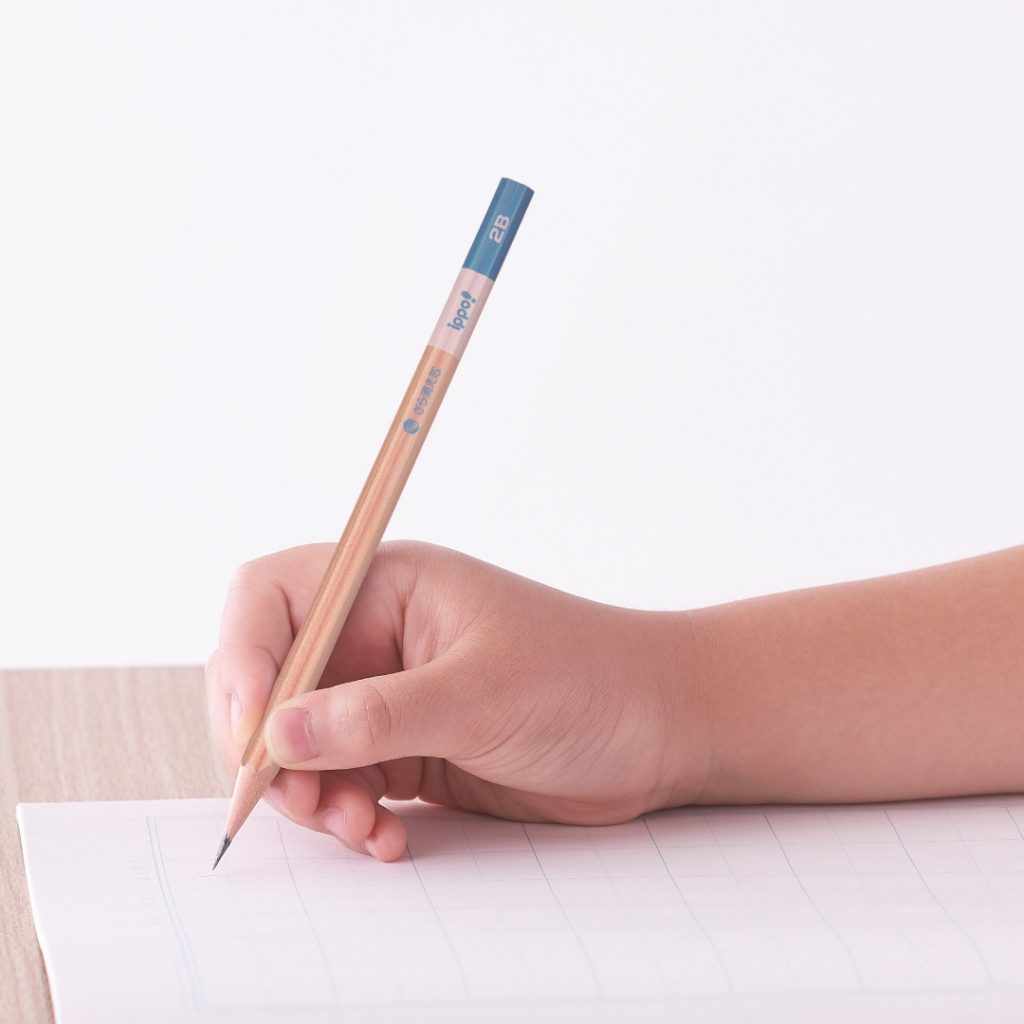 This pencil is available in three hardness levels (2B, 4B, and 6B) and three casing colors (blue, pink, and natural). The suggested retail price is ¥720 (¥792 incl. tax) per dozen box and ¥120 (¥132 incl. tax) per twin pack (natural color only). The company plans to sell a volume of about 1.7 million annually, totaling about 100 million yen (retail price).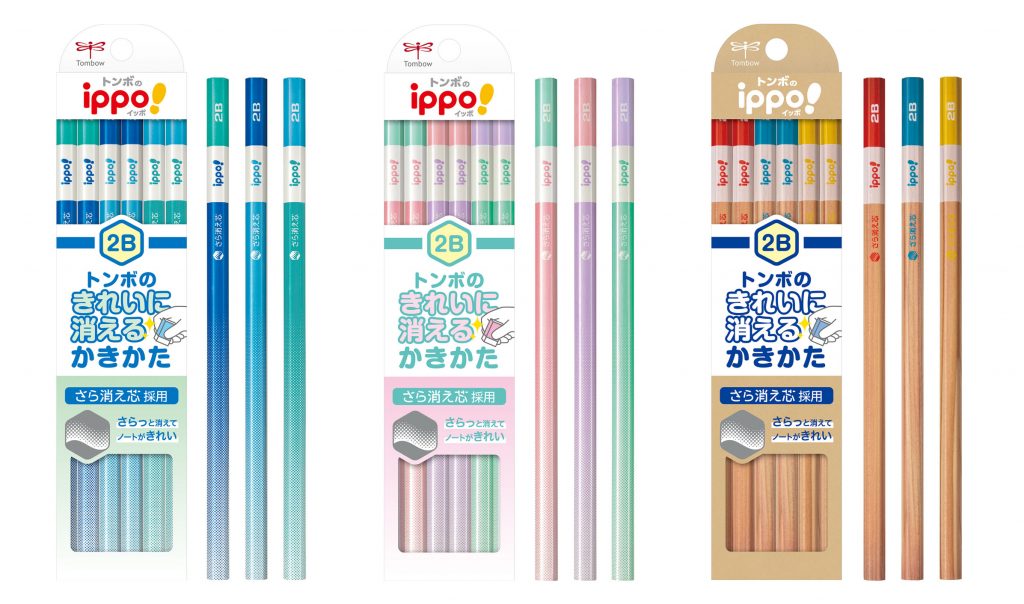 What makes this pencil distinct is how easily its characters, pictures, and other writing can be erased with an eraser.
Compared to the conventional product with the same hardness level, the KAKIKATA Pencil (by Tombow Pencil), this product has better erasability when erasing with a MONO Eraser.
5% better erasability with 2B lead
10% better erasability with 4B lead
15% better erasability with 6B lead
In the results above,* the higher the hardness, the greater the improvement in erasability, meaning a lower likelihood of black smudges in your notebook.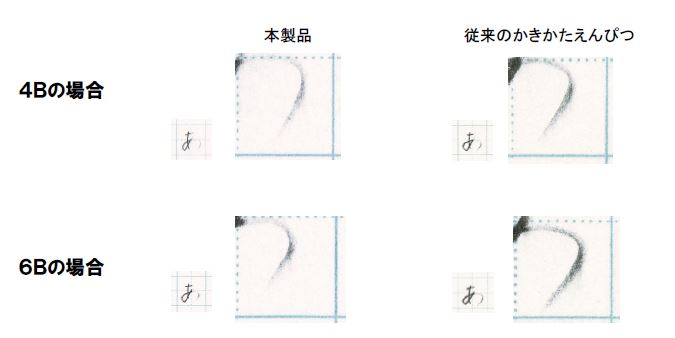 *All figures in comparison with Tombow Pencil's KAKIKATA Pencil. The values represent the difference in erasability. These results were achieved by a testing method of rubbing (wearing away) a specified spot with a Tombow Pencil MONO Eraser PE-04A. *Erasability was measured with an in-house test based on the erasing test for erasing capability (erasability) from Japanese Industrial Standard S 6050:2002. These are measured values and cannot be guaranteed.
Tombow Pencil uses the Easy to Erase Lead mark on product packaging and promotional materials to draw attention to products with good erasability. Easy to Erase Lead was developed with a special blended formulation that erasers can absorb thoroughly.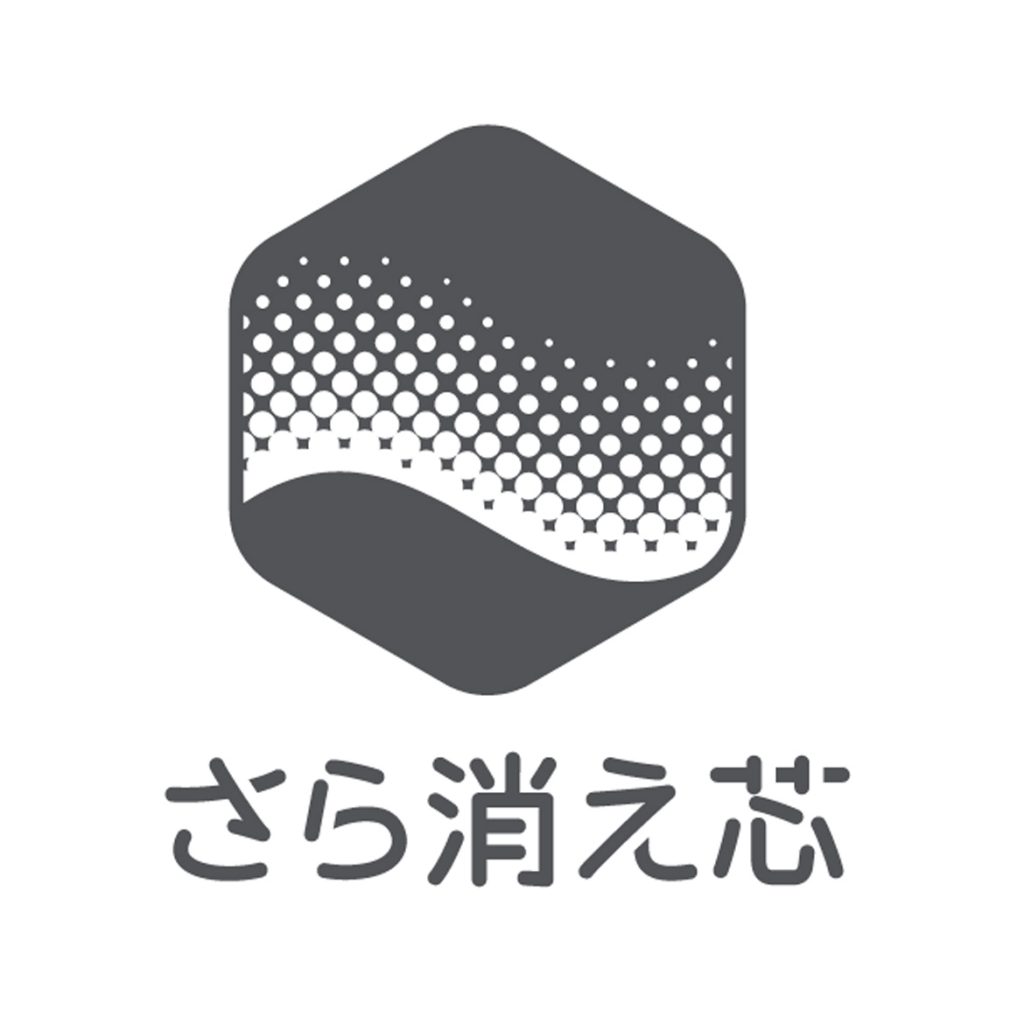 Many elementary school students study with pencils with 2B lead or higher, or use 4B and 6B lead for writing (penmanship). Frequent repetition of the process of writing and erasing helps to improve their writing ability. By making the pencil lead easy to Erase, instead of relying solely on the eraser, Tombow Pencil has developed an Easy to Erase Lead that helps students to learn comfortably and to use and re-use their notebooks.
Reference: Children Use Dark Pencils
(Consumer trends among young children / Composition ratio of the company's pencil shipments for schoolchildren)