Tombow Pencil Co., Ltd. (headquarters: Kita-ku, Tokyo; President and CEO: Akihiro Ogawa) is pleased to announce the launch of the American version of the 10-color set of "ABT" water-based markers (currently sold in the U.S.) in five different themed packs. They will be available for sale in Japan from October 23.
"ABT" is a water-based marker popular among art enthusiasts in Japan, the U.S. and Europe and is sold in the largest art & craft chain in North America and on the largest e-commerce sites. The 10-color set, a best-seller in this product range, will be available in Japan in the same packaging used in the United States.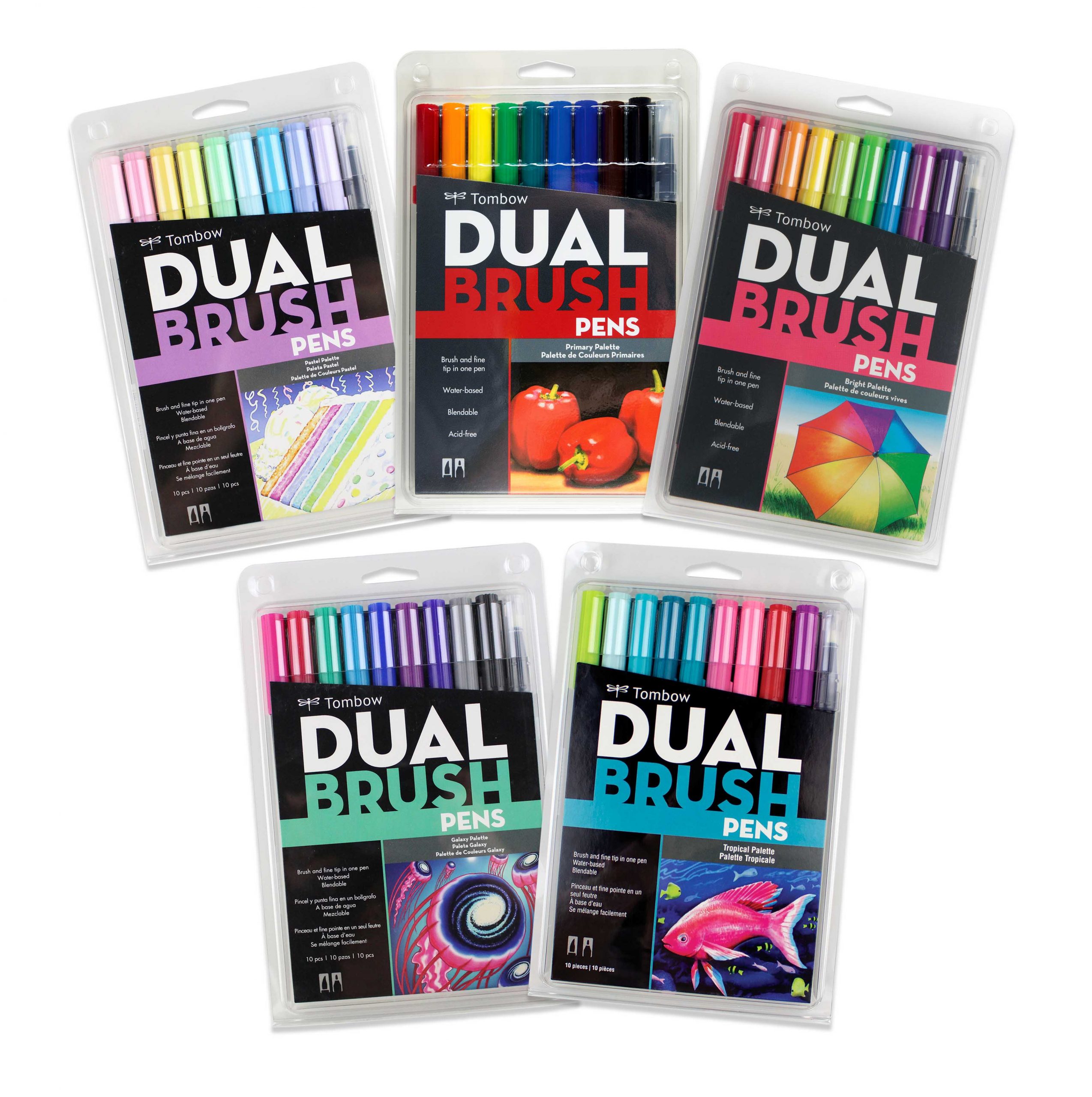 The product will be named, "Water-based marker ABT 10C" (in Japan) and will comprise a 10-color set with a suggested retail price of \3,000 yen (\3,300 yen including tax). They will be available for purchase at stationery stores, stationery retailers, and art supply stores around Japan. (Product name in the U.S.: TOMBOW DUAL BRUSH PENS)
The product will come in five color combinations, including pastel, primary, bright, galaxy and tropical colors. Each pack will include a set of nine color pens coordinated in their respected series names and a "colorless blender" that can be used to freely blend colors and create gradations.
Although Tombow does currently sell the ABT markers in individual colors and in sets of up to 36 colors, sales of these color coordinated sets have been strong, with the 10-color sets making up 70% of all shipments in the U.S. While 6-color, 12-color, 24-color and 36-color sets have been available in Japan, we are now expanding our range to include the 10-color sets. Tombow has now broadened its product range to include sets that make color choices easier for the more casual and entry-level artists.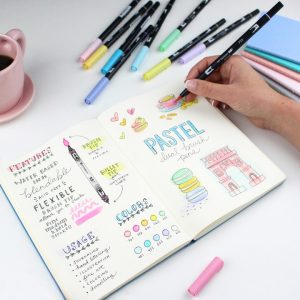 pastel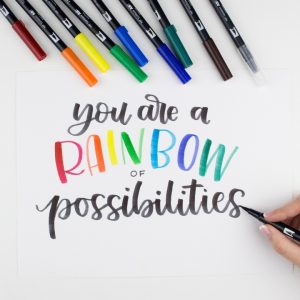 primary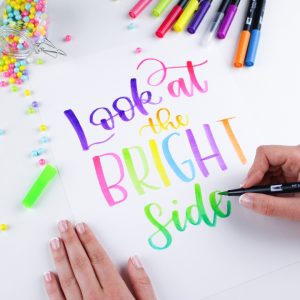 bright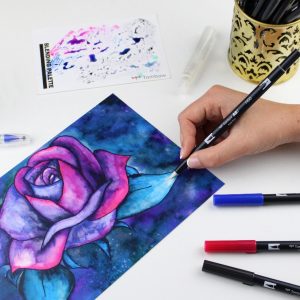 galaxy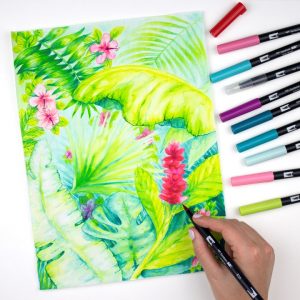 tropical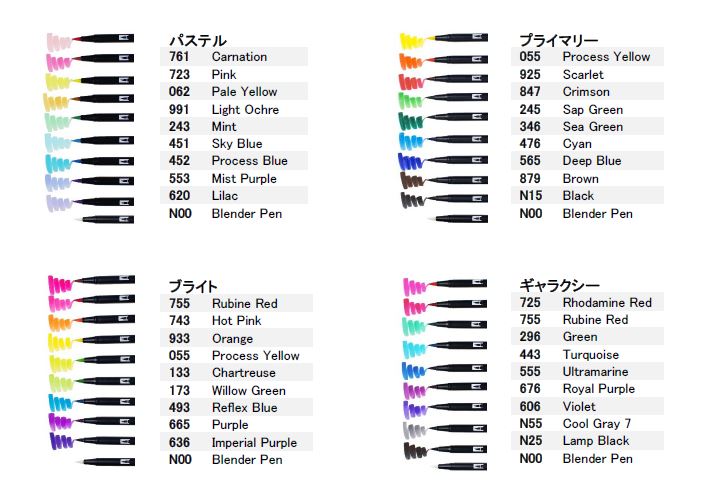 pastel, primary, bright, galaxy and tropical colors(photo from left).

About "ABT" Graphic Markers
The name "ABT" refers to twin-tipped marking pens, featuring both a brush tip and a fine tip. They were first introduced 36 years ago (in 1984), with a simultaneous launch in the Japanese, American and European markets. Today, they are beloved by artists and graphic designers all over the world. The brush tip is made of resilient nylon fibers that retain the brush point so you can express yourself dynamically, with the natural rhythm and inflection of a traditional brush. The fine tip is made of polyester, providing the stability to draw incredibly thin lines of 0.8 mm. This makes it perfect for lettering, as well as pieces that require highlighting and edge work. The water-based dye ink comes in vivid colors and lends itself to a wide variety of expressive techniques, including grading with a colorless blender (optional). There are currently 108 colors available in total. For the last five or six years, a worldwide art boom has gripped Instagram and other social media platforms, where people connect by posting their hand lettering and illustrations. And this year, as the world adjusts to a new way of life, there has been a sharp increase in artists who depict scenes of daily life. The circle of ABT users is continuing to widen thanks in part to the influencers who recommend them for their diverse expressive capabilities.
https://www.tombow.com/sp/abt/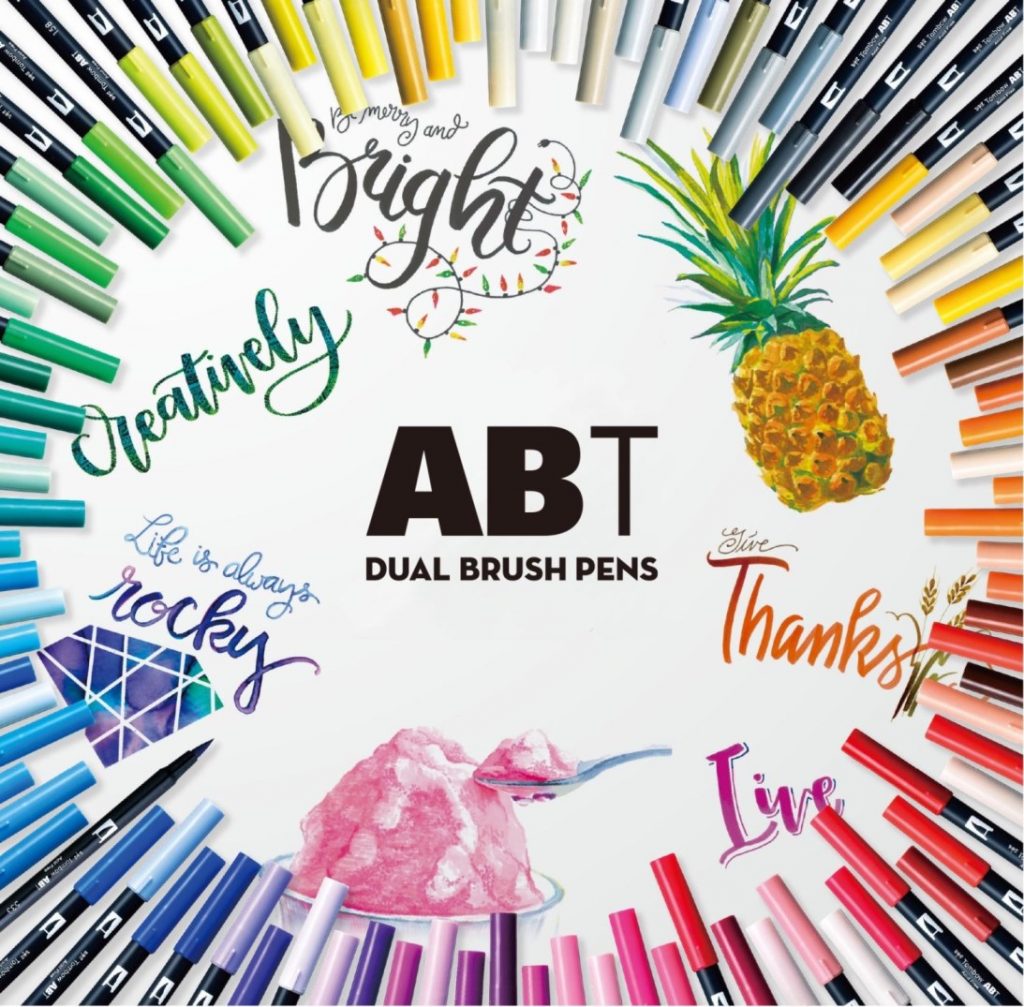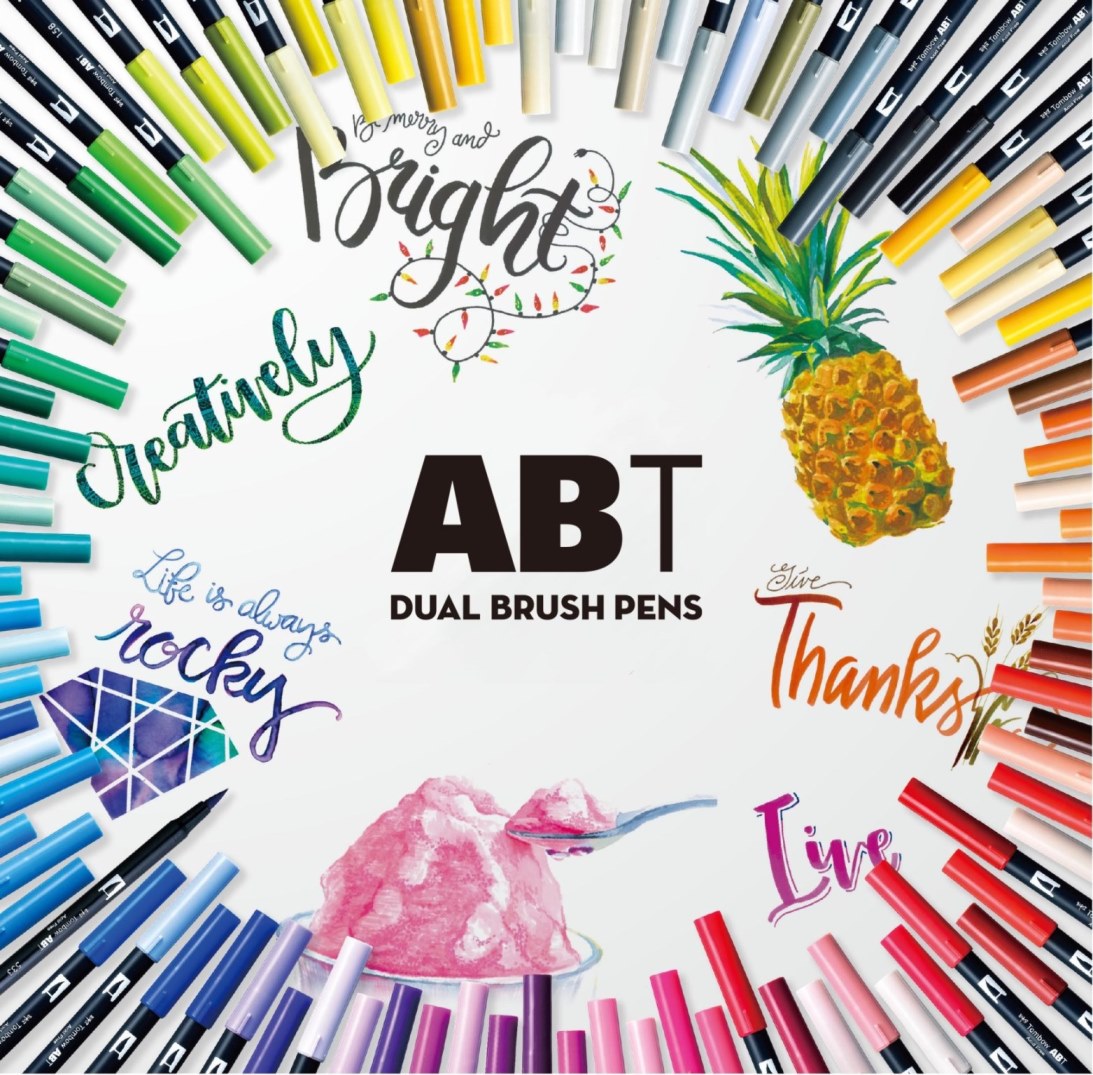 Tombow Pencil's Art Promotion Activities
In 2018, Tombow Pencil launched its information-sharing platform "Fun Art Studio" under the concept of making art more accessible. The company is working together with artists to post new content from day to day. Fun Art Studio currently has about 47,000 followers on Instagram. In 2019, Tombow Pencil also launched a website where they post a rich variety of hand lettering and illustrated works using ABT brush pens, as well as process notes and key points on drawing techniques, recommended supplies, and other relatable general art and drawing content.
FUN ART STUDIO
・web:https://tombow-funart.com
・Instagram :@tombow_art_official(https://www.instagram.com/tombow_art_official)