Tombow Pencil Co., Ltd. (headquarters: Kita-ku, Tokyo; President and CEO: Akihiro Ogawa) is pleased to announce the launch of a limited edition special set comprising of water-based markers from our "Playcolor K" and "Playcolor Dot" ranges and "IKEMEN Sticky Pads," popular among females from all age groups."IKEMEN" means good looking guy. The sets will be available for sale on November 11. The Hunk Sticky Notes are essential for smooth, day-to-day communication where "hand written messages make it easier for you to get your message across."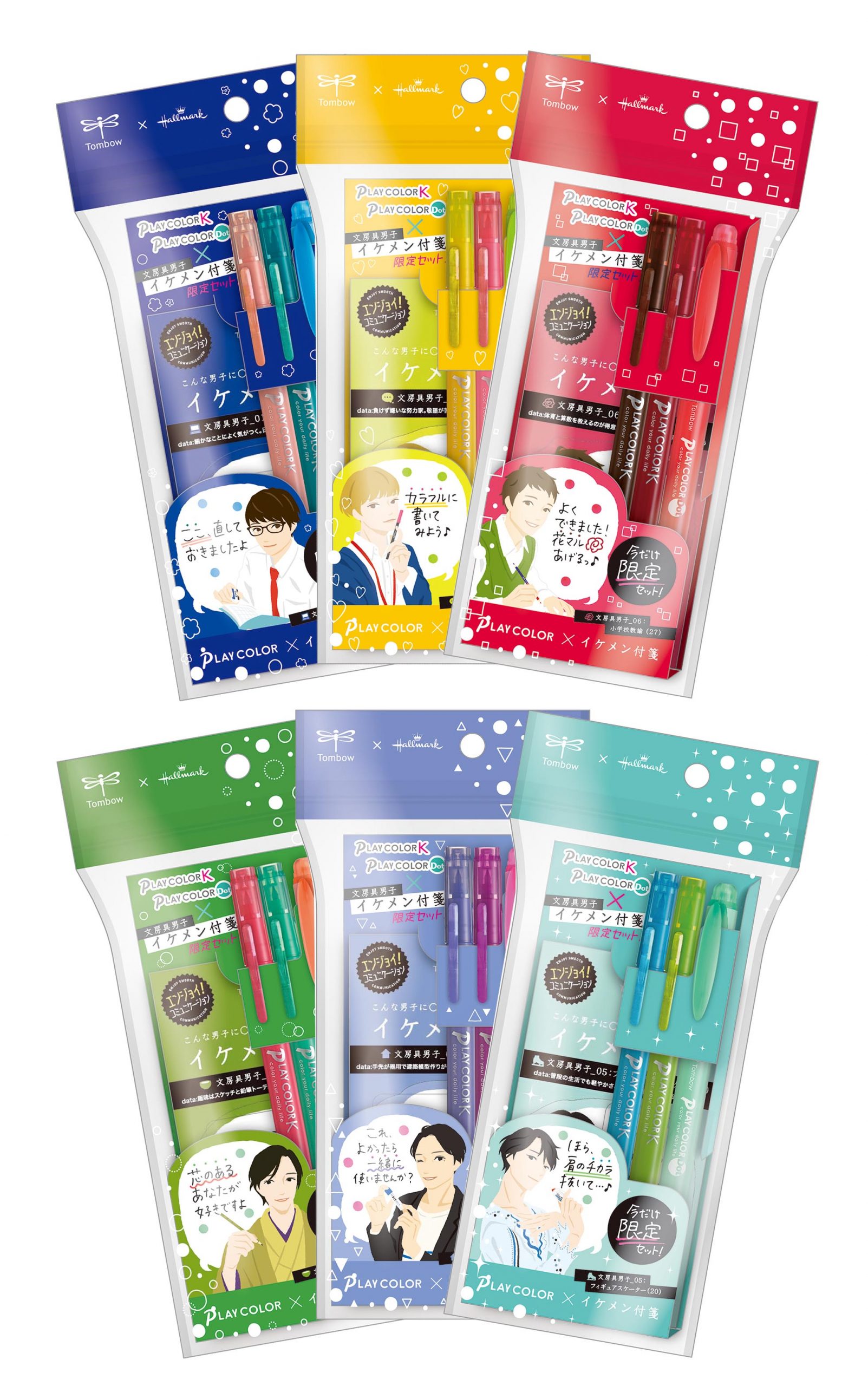 The sets will be named, "Limited Edition Playcolor x IKEMEN Sticky Pads Set " and will come in a total of six different varieties. The sets will consist of a pack of two Playcolor K pens, one Playcolor Dot pen and the Hunk Sticky Notes (pad of 20).
The suggested retail price will be ¥500 for a set excluding tax (¥550 including tax).
"IKEMEN" Sticky Pads included in the set are a compilation of "male stationery enthusiasts" created by Nihon Hallmark K.K. (Akasaka, Minato-ku, Tokyo). They are made up of six different characters; a 30-year old manufacturer employee who loves the MONO eraser, a 38- year old architect who depends on Kieiro PiT for his work, a 33-year old tea master pictured with a pencil in his hand, a 25-year old editor who relies on ABT, a 20-year old figure skater who prefers the smooth feel of the MONO AIR and a 27-year old school teacher who knows everything there is to know about the children's stationery range (ippo!). They are all original characters.
The "IKEMEN" Sticky Pads first came out in July 2015. They were based on the concept that all women love a good looking guy and would love such a guy to come up to them and say ○○! Let these charming hunks based on people from a variety of ages, characters and vocations relay your messages. The sticky notes are garnering popularity as a playful product that makes day-to-day communication more enjoyable.
*Ikemen Fusen (IKEMEN Sticky Pads) is a registered trademark of Nihon Hallmark K.K.
"Limited Edition Playcolor x IKEMEN Sticky Pads Set" All 6 Types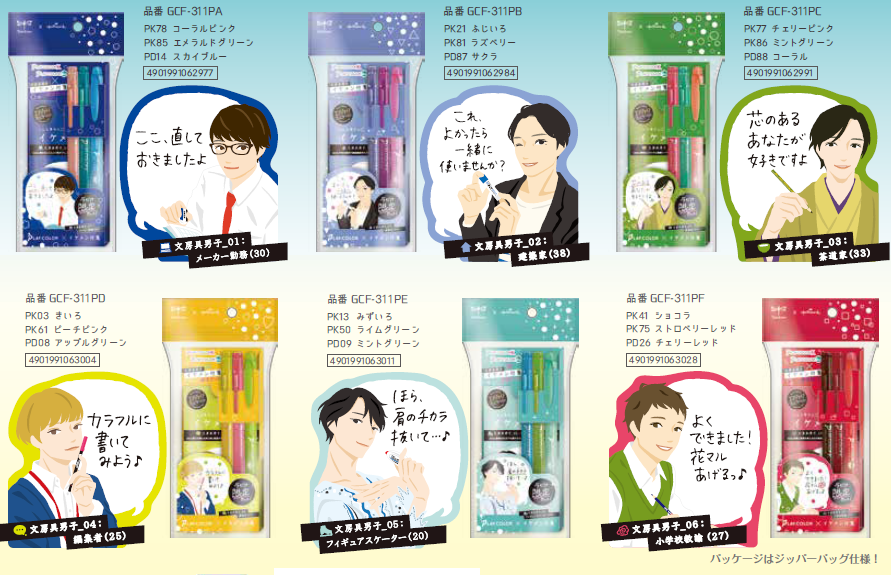 IKEMEN Sticky Pads
W Approx. 60 mm x H Approx. 70 mm x 20 sticky notes
The underside comes with a temporary strip of glue Approx. 15 mm wide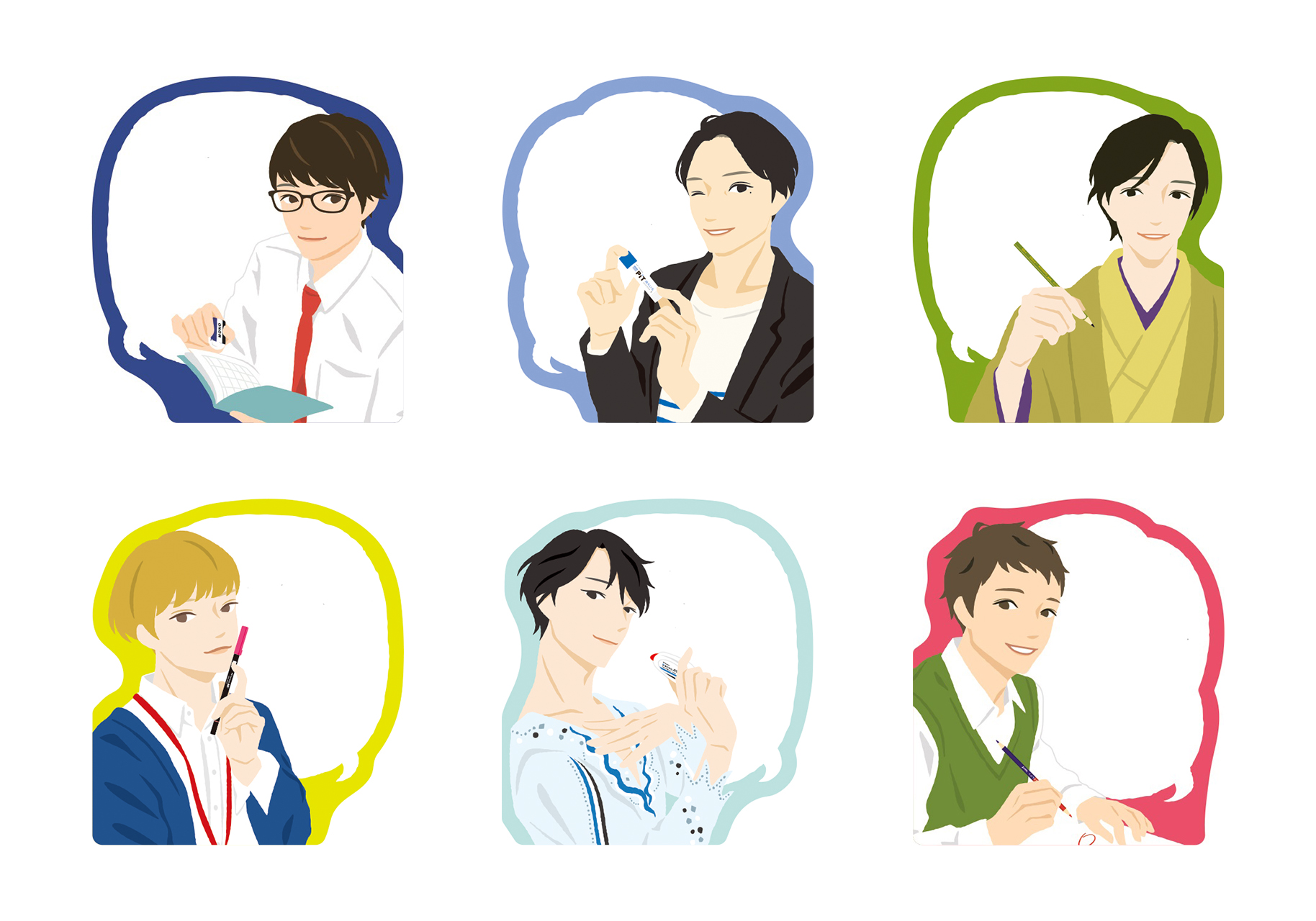 A Twitter campaign is launched to commemorate the release of the collaborative Tombow Pencil-Nihon Hallmark products
We are running a Twitter campaign in commemoration of the release of this collaboration set.
See below for how to apply. 10 people will be drawn to win a luxury assortment of products from Tombow Pencil and Nihon Hallmark!
[Period] Monday, November 16, 2020 – Tuesday, December 15, 2020
[How to apply]
(1) Write a message on the included IKEMEN Sticky Pads using Playcolor pens from the "Limited Edition Playcolor x IKEMEN Sticky Pads Set" and take a picture showing how you are using them.
(2) Post your photo on Twitter with the hashtag "#プレイカラーとイケメン付箋"
[Number of winners] 10
[Prize] Assortment of Nihon Hallmark and Tombow Pencil products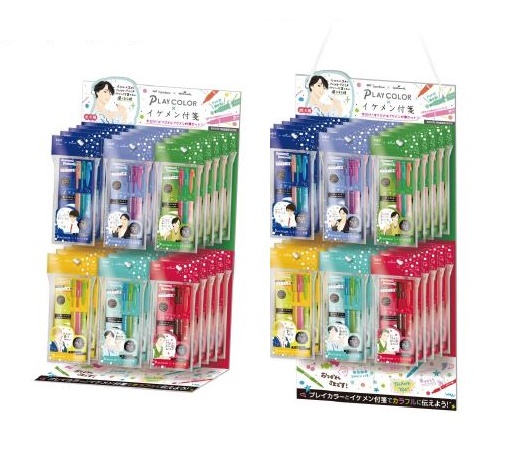 Store display
■The Playcolor Series
Launched in 1981 (24 colors), "Playcolor" led the industry as the first color marking pen boasting the same diverse range of colors as pencils.
In 1982 the color range was increased to 36 colors. In 1994 the product was improved to incorporate a dual tip, boasting both a fine and fat tip under the name, "Playcolor 2".
In March 2016 we launched the "Playcolor K," a dual tip pen with an ultra-fine and fat tip and in October 2017, broadened this product range to include the "Playcolor Dot" with a built-in round stamp core.
This product is gaining popularity, primarily among female junior high and high school students.
■Playcolor K
Double tip marker featuring ultrafine 0.3mm tip of 0.3 mm diameter and 0.8mm bold tip.The 36 colors include popular shades of pink and blue. Enjoy choosing colors according to your mood.¥100 excluding tax.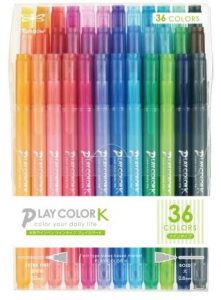 ■ Playcolor Dot
Double tip water-based ink marker featuring a round stamp tip (5 mm diameter) to draw dots and 0.3mm ultrafine tip.Featuring a round stamp tip of 5 mm in diameter. Use it vertically against the paper to draw dots or use the side of the tip to draw thick lines. The ultrafine tip allows detailed drawing and writing small letters neatly. The color used for this tip is darker than that of the round stamp tip.Enjoy combining dots and lines of different colors.¥160 excluding tax.