Tombow Pencil Co., Ltd. (headquarters: Kita-ku, Tokyo; President & CEO: Akihiro Ogawa) is pleased to announce the launch of its limited-edition Smoky Color series of products, with coloring inspired by trends in interior notions. The three items―mechanical pencils, erasers, and glue sticks―will be rolled out to stationery stores and stationery sections of major retailers across Japan starting June 10. Tombow's beloved MONO and PiT products have been stylishly reimagined for the demographic of women and girls. The company plans to stimulate sales with a Buy-One-More (additional purchase) campaign.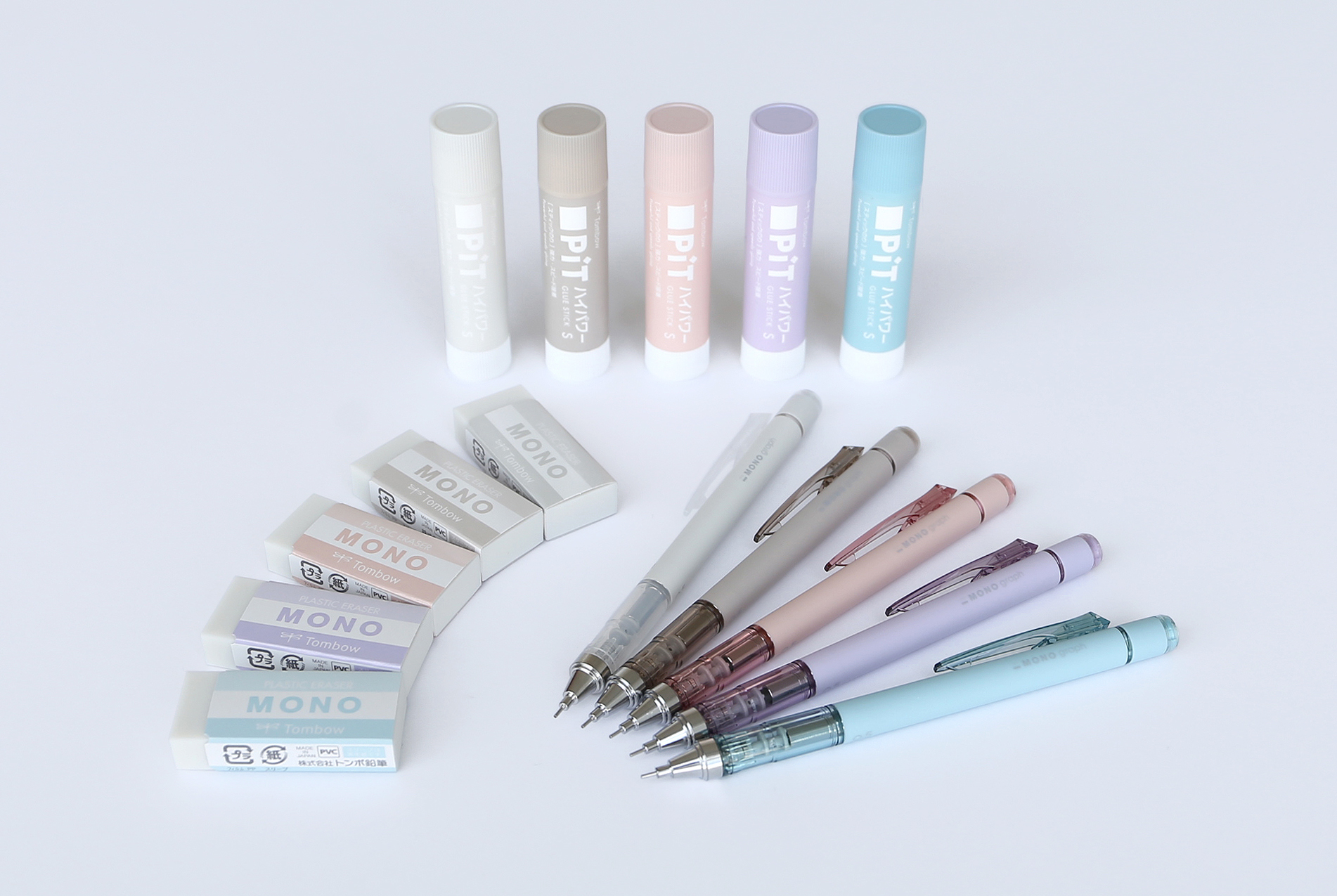 Applicable products include the MONO graph mechanical pencil (¥350), the MONO eraser (¥100), and the PiT High-Power S glue stick (¥120) (all prices tax exclusive). All these popular items rank at or among the top sellers in their categories.
The five-color lineup includes Smoky White, Smoky Brown, Smoky Pink, Smoky Purple, and Smoky Mint (from left in the color chart).
The name will be "Limited-Edition Smoky Color Series," and the suggested retail price and packaging will be the same as for standard colors (sold in single units).

The Smoky Colors have a fresh yet understated tone, as if covered with a veil of grey. These trendy, sophisticated shades have been attracting attention recently, and are widely used in fashion and interior notions. The lineup consists of five coordinated, harmonious colors.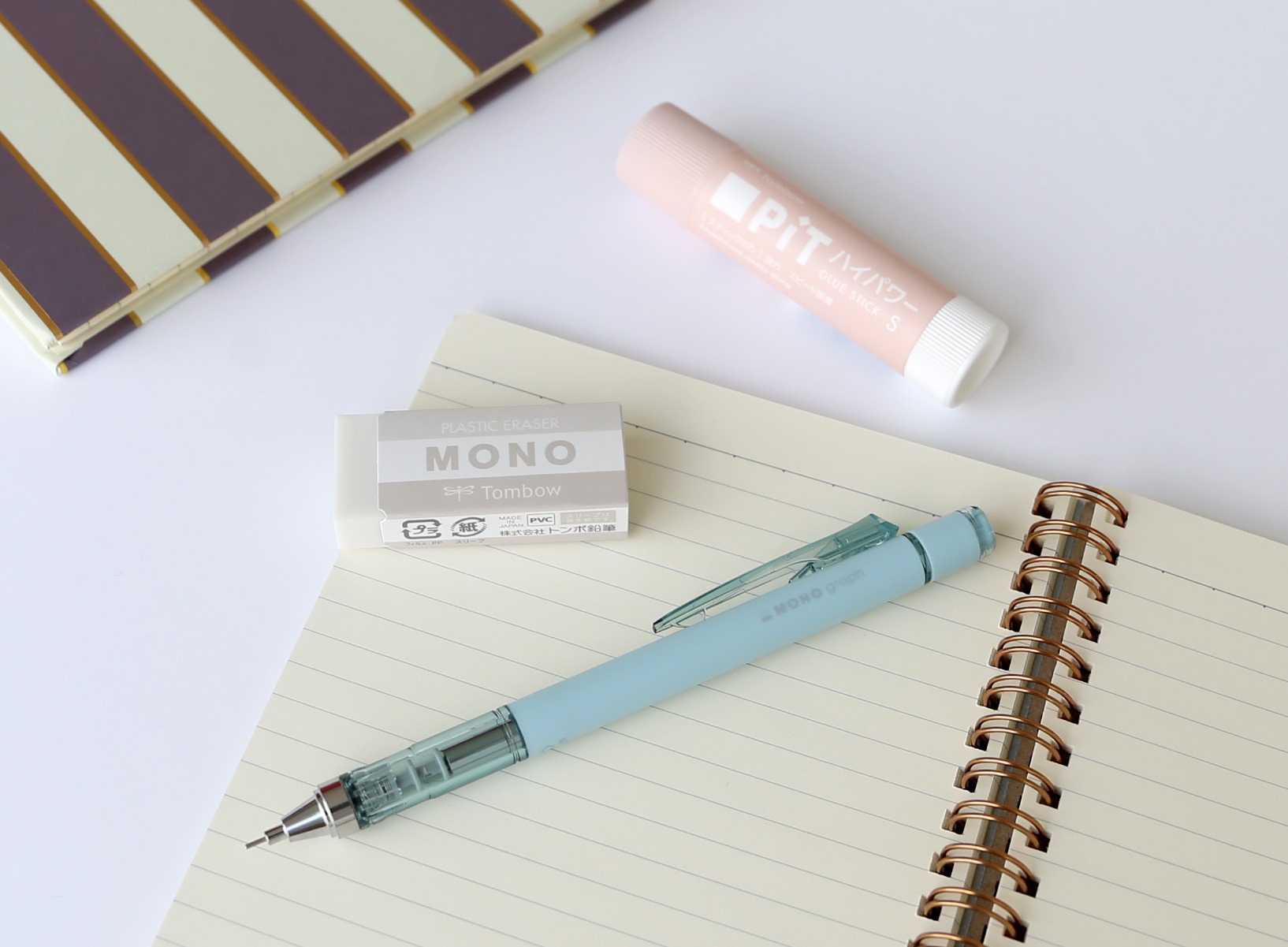 MONO graph     Limited-Edition Smoky Colors
A mechanical pencil with a twist-type 26-mm (usable length: 16-mm) MONO eraser attached at the top. This highly dependable and popular mechanical pencil allows you to write and erase, then erase and write over. It is a traditional mechanical pencil, suited for both studying and work, with features like the Shake Mechanism, which advances the lead by shaking the pencil back and forth, and an advanced pipe-style pen tip for precise writing and drawing.
The 0.5 mm version is available in five body colors. The body is 10 mm in diameter and 147 mm in total length, and it weighs 17 g. The suggested retail prices are ¥350 (¥385 with tax) for the pencil and ¥100 (¥110 with tax) for replacement erasers (pack of three).
MONO eraser     Limited-Edition Smoky Colors
This widely beloved and depended eraser has a symbol-like status. Now available in rare variations with tricolor stripes. Create a more sophisticated living space with coordinated mechanical pencils and glue sticks.
It is 23 mm wide, 11 mm thick, and 55 mm in total length, and it weighs 19 g. The suggested retail price is ¥100 (¥110 with tax).

PiT High-Power S     Limited-Edition Smoky Colors
Fast-drying, strong, adhesive! PiT is the standard for glue sticks. This high-power glue stick can be used for various materials, including envelopes, drawing paper, and cardboard. Its affordability is also part of its appeal.
It is 20 mm in diameter and 87 mm long, and it weighs 20 g. It contains about 10 g of glue. The suggested retail price is ¥120 (¥132 with tax).

The Limited-Edition "Smoky Color Series," Stylishly Reimagined Mechanical Pencils, Erasers, and Glue Sticks
Store Display