Tombow Pencil Co., Ltd. (headquarters: Kita-ku, Tokyo; President and CEO: Akihiro Ogawa)On March 12th the "Mono Air Pen Type" correction tape will launch at stationery stores and mass retailers nationwide. This pen type correction tape is compact with a surprisingly light application effort .
This product requires 23% less tape application effort compared to our conventional pen-type products and is refillable to conserve resources and reduce waste.

The refillable tape is 5mm in width and 6m in length. Applicator suggested retail price is 250 yen (275 yen including tax), and the refill tape is 130 yen (143 yen including tax). There are five body colors.
Pen-type correction tape is used by students because it can be used to correct written notes and is easy to carry.
The annual sales plan for this product (approximate number) is 1,000,000 units and 500,000 refillable tapes. At retail prices the amount is 250 million yen for the applicator and 65 million yen for the refill.
A pen type correction tape equipped with the Air Touch System * 1 for effort free application from beginning to end.
Tape application effort is reduced 23.1% (with 6m of tape remaining) and 22.7% less (with 2m of tape remaining) than our conventional pen type (Mono PGX). Smooth and stress free application!
The surprisingly light tape application uses our original "Air Touch System". This mechanism "operates" when the correction head contacts the paper and "locks" when lifted, eliminating the need to increase rotation to prevent tape sagging. This is the first time that the "Air Touch System" has been used for the pen type correction tape.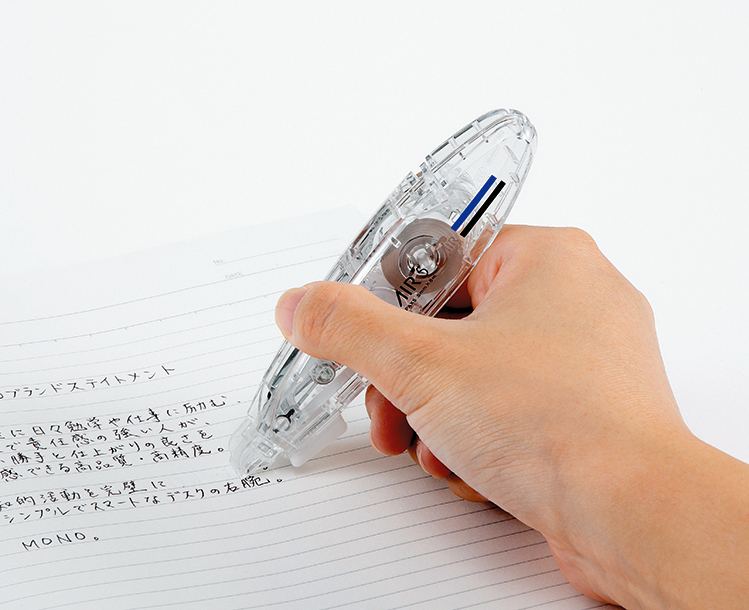 Reduce waste and improved economy with newly designed Air Touch System
Adopting the "Air Touch System" to control tape application and incorporating most of the mechanisms into the applicator we worked to reduce the number of refill parts, reducing waste and using resources effectively. Along with this the retail price of the refill was set at 130 yen (excluding tax), which is 13% less than our conventional pen type (Mono PGX refill tape 150 yen excluding tax), thereby saving resources and improving economic efficiency.
Mono Air pen type product features
■ Body size
Streamline 112mm length body, 25mm height (maximum) and body width of 21 mm. Easy to carry in a pen case and easy to remove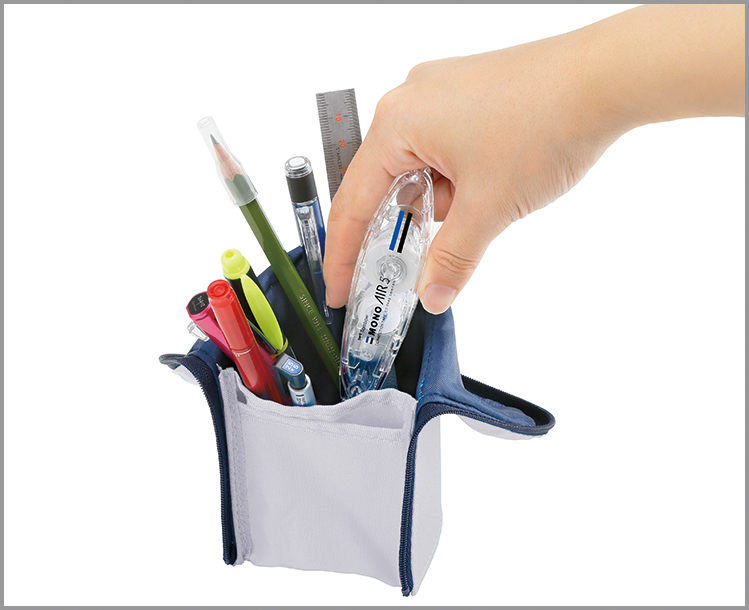 ■6m tape length with slim body
■Easy cartridge replacement
Just open the applicator body and insert the cartridge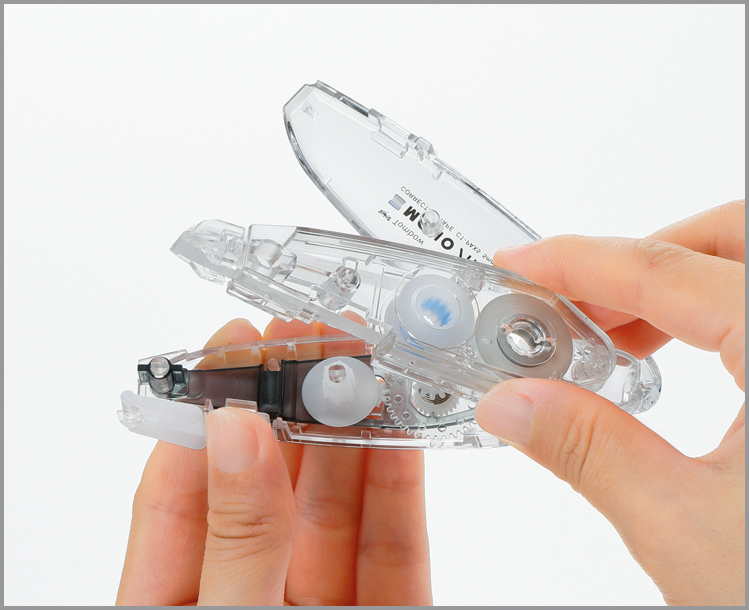 ■Applicator head stabilization
Transparent head makes it easy to see area to be corrected.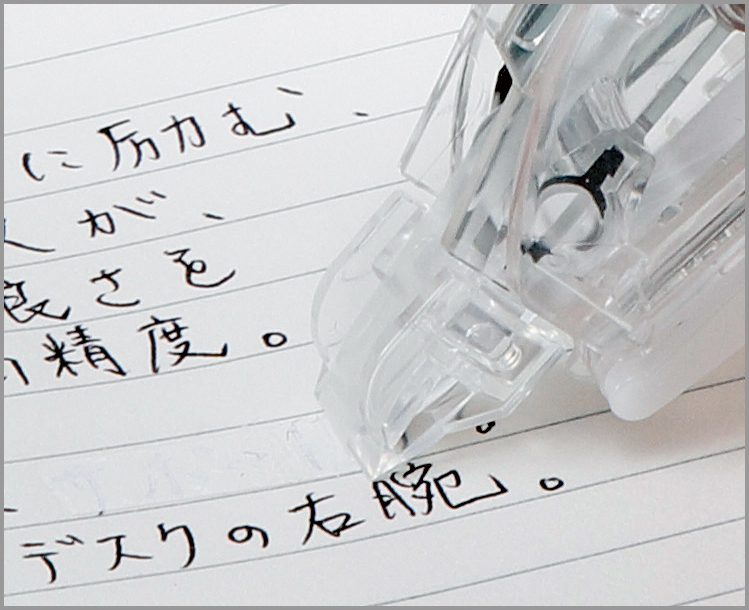 ■Easy open head cover
Easy to open head cover keeps tape clean when not in use. One hand operation.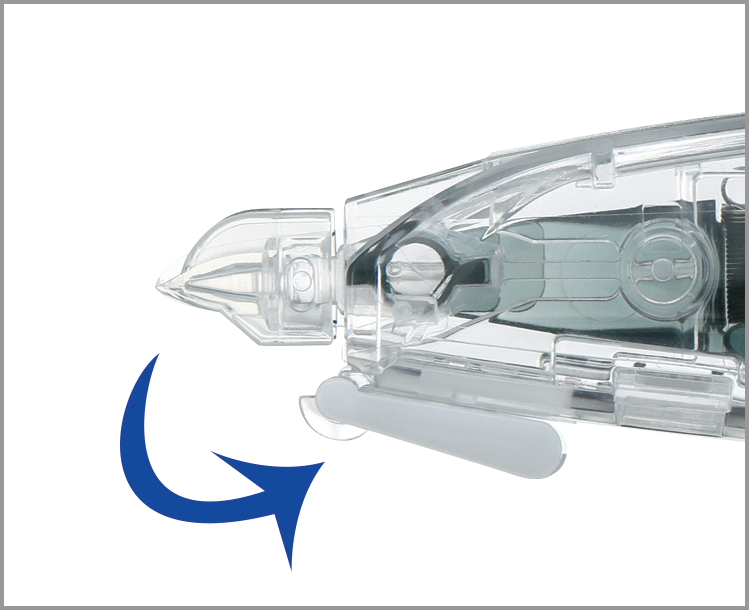 ■Silent design for use in quiet places
■5 Colors
Standard type (transparent), translucent color type (black, blue, lime, pink)
■High adhesion tape
Correction tape adheres to the paper surface even with light force and resists cutting even when over written.
※1 What is "Air Touch System"?
The "Air Touch System" is a proprietary mechanism that controls the tape application using the force that presses and releases the correction head against the paper. It switches to "run" when in use and "stop" when not in use. Specifically, (1)light force of the correction head on the paper moves the arm to unlock the supply reel. (2) When the head is released from the paper, the arm returns and the supply reel is locked, and tape stops running.
This mechanical control of tape running eliminates the load on the reel (the force that makes it difficult to rotate) in order to prevent slack, making it possible to reduce tape application effort from the beginning until it is completely used. The Air Touch System was commercialized in June 2016 with a single-use correction tape. Since it has gained a solid market reputation and sales are growing at an annual rate of about 10%, a refillable pen type model has also been launched.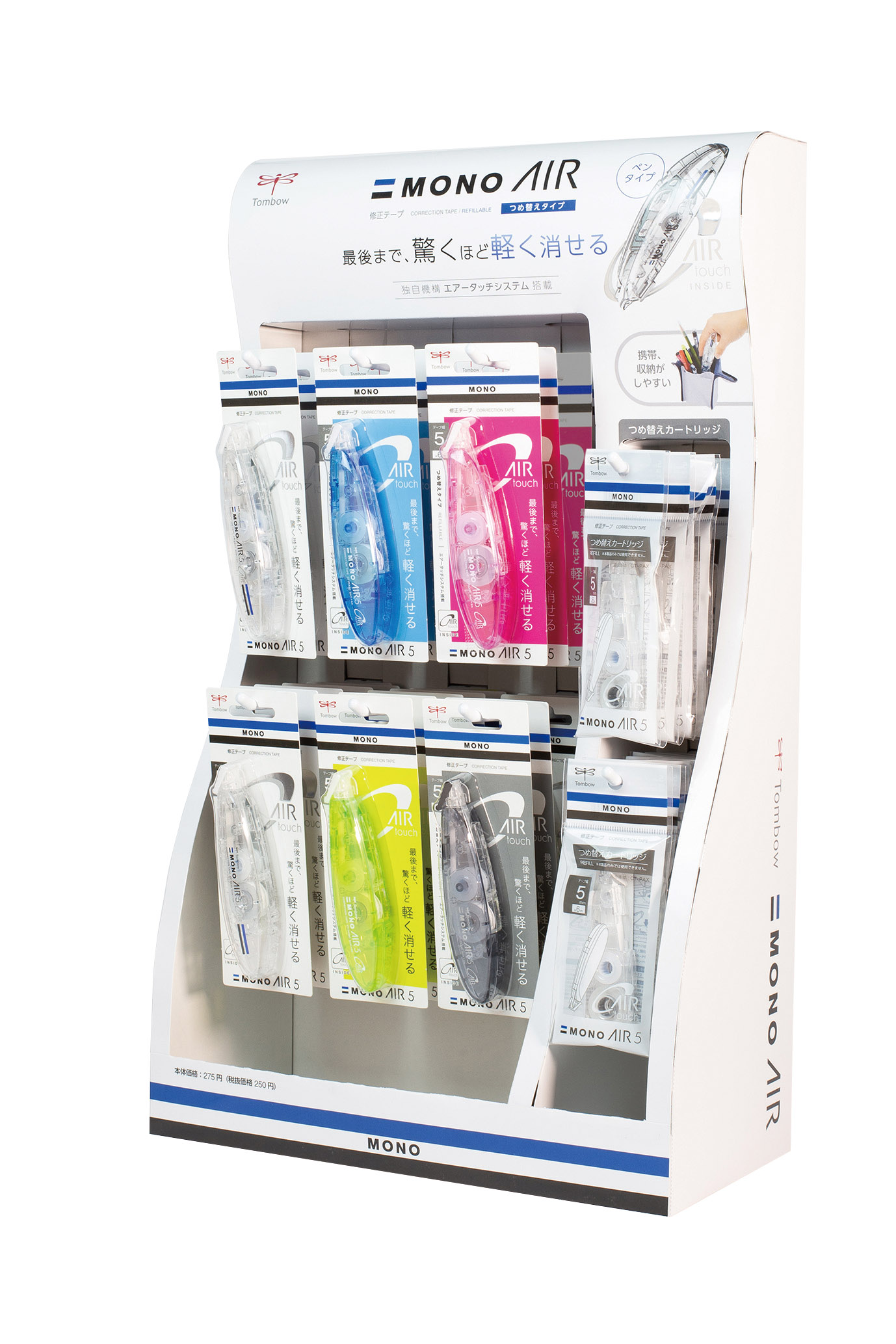 From start to use up, surprisingly lightly erased!
"Monoair" series has a lineup of 4 types to meet various needs.