Tombow Pencil Co., Ltd. (Headquarters: Kita-ku, Tokyo, President: Akihiro Ogawa) announced the Pit Air Mini (trade name), a high adhesive strength glue tape that is surprisingly easy to apply (50% less effort*). Available at stationery stores and mass retailers nationwide from November 1st.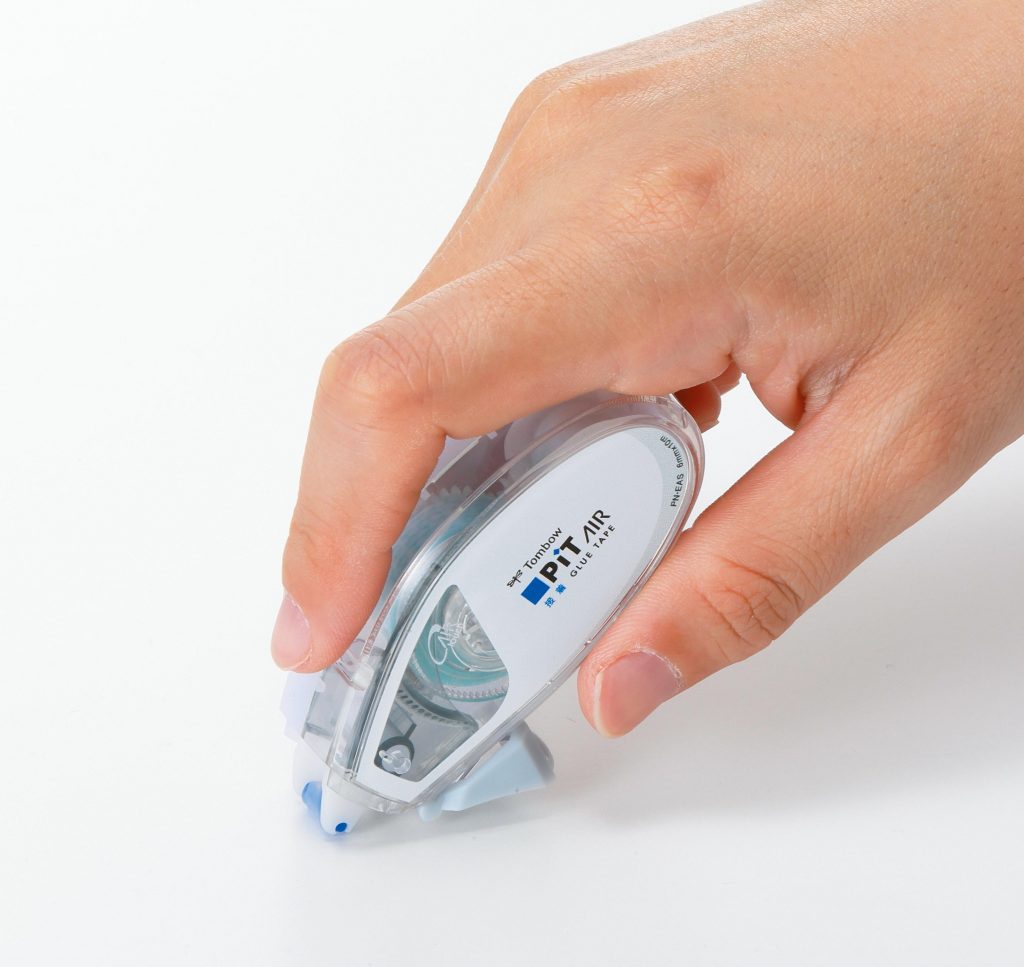 In addition to the popular "Pit Air" (400 yen + tax), equipped with a revolutionary tape control mechanism for surprisingly easy tape application which was released on June 1st of this year, we will release a new compact version to enhance the "Air Touch" series.
* Compared to our conventional products, the tape pull-out effort required when using the remaining 10m of tape.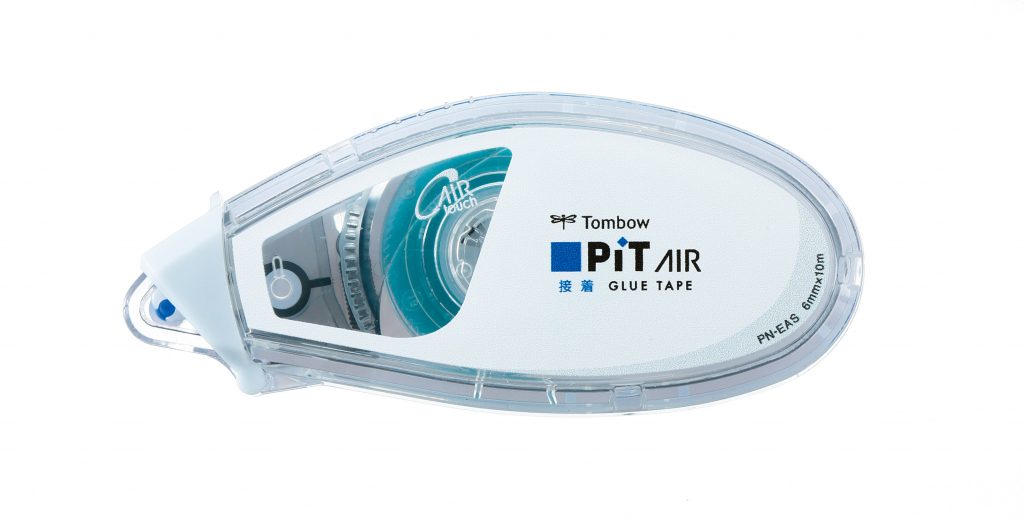 The "Pit Air Mini" to be released as a single-use type with a tape width of 6mm and length of 10m. The suggested retail price is 220 yen (242 yen including tax). The external dimensions are 32mm (H) x 20mm (W) x 73mm (L), is palm size and can be carried in a pen case.
Available in a wide range of color patterns to match students' individual preferences. All 10 patterns = Photo right = will be released (including the 5 patterns = bottom = in limited quantities).
Annual sales plan for this product is 1.28 million units (280 million yen at retail prices).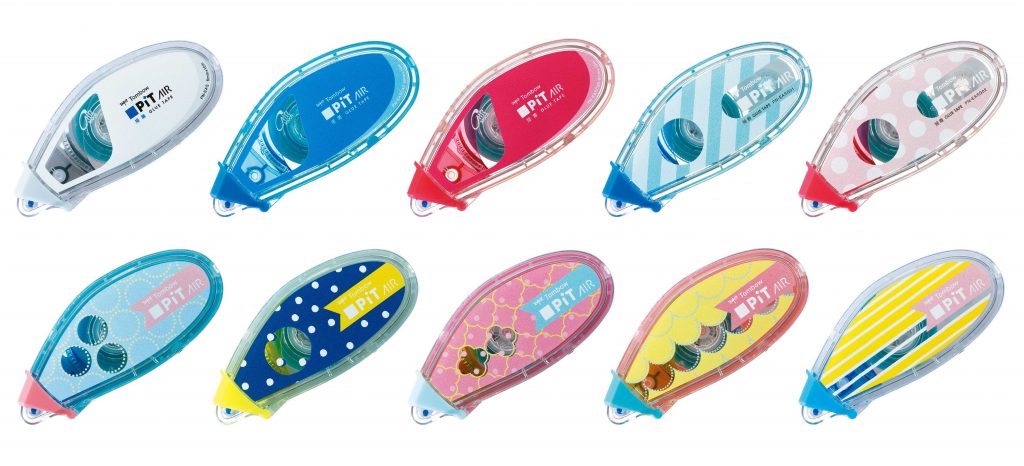 Mini-size product is equipped with the "Air Touch" system
That reduces tape application effort; surprisingly 50% less with 10m of tape remaining and 13% lees with 2m of tape remaining when compared to our conventional product.The effort required for tape application is the lowest in the industry both at the beginning and end of use when compared to similar products from other companies (our survey).An effortless sensation; glue applies quickly & easily without stress.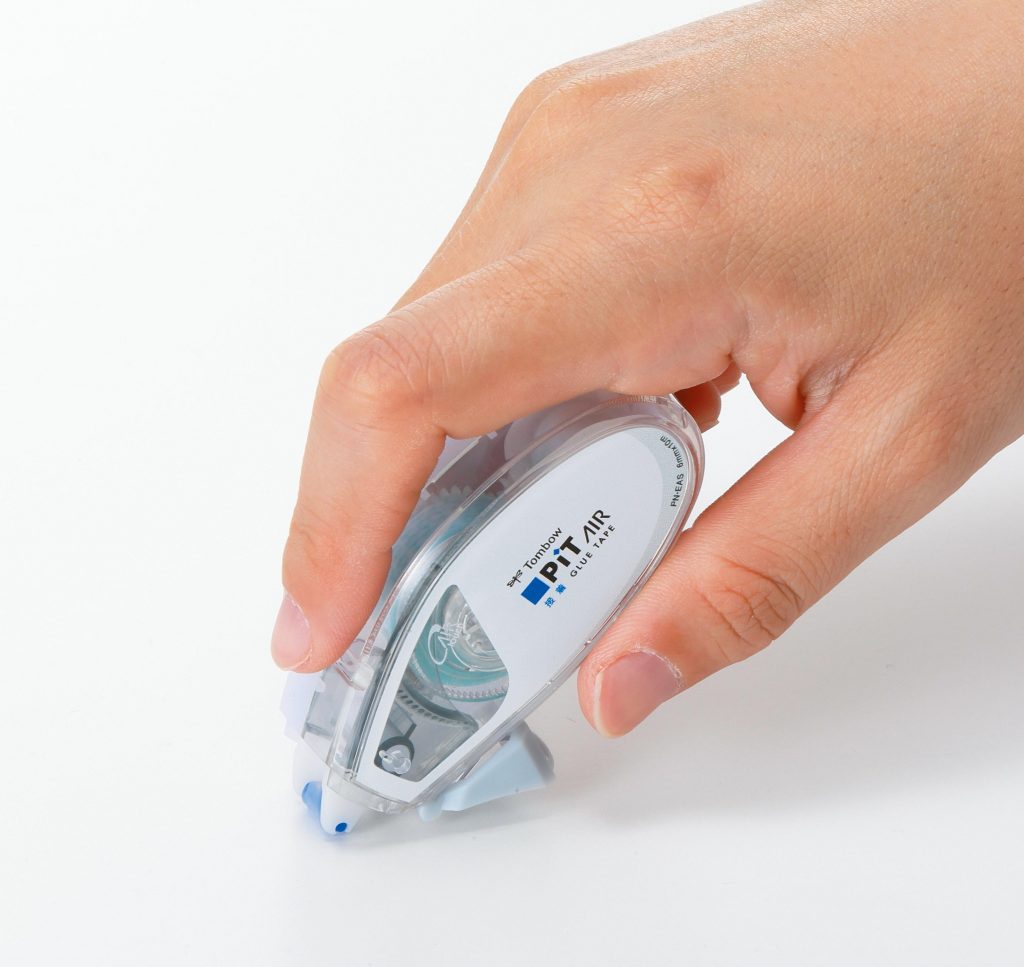 Equipped with the innovative tape control "Air Touch" System to reduce tape application effort.Pressing the applicator head down on the paper surface unlocks the tape; relocks when the head is lifted up.Resistance (weight) that is normally applied to the tape reels is halved for improved glue cutting.The structure of the "Air Touch" system used in this product has been patented. (Refer to "Air Touch" system illustration below)
Adopting tape with strong adhesion to flat and curved surfaces
Uses a mesh pattern glue with excellent adhesion on both flat and curved surfaces such as gluing prints into notebooks and remains attached over-coming the repulsive force of paper. (Patent pending) Curved surface adhesive strength is 5 times that of our conventional products; the strongest compared to similar competitor products (our survey) "Pit Air" is the industry's first to enhance curved surface adhesion to withstand the repulsive force of paper.
Mesh pattern tape is called "Power Net Tape" with appealing strong adhesive strength and good glue cutting.
■Silent design can even be used in a quiet library
The ticking noise of conventional glue tapes has been reduced by half (compared to our conventional products).This has been made possible by adopting a mechanism that is less prone to generate noise from parts such as the reverse rotation prevention mechanism. (Patent pending). Suitable for clerical work in quiet places such as libraries, classrooms, lectures, etc.
■Full head cover prevents glue from getting dirty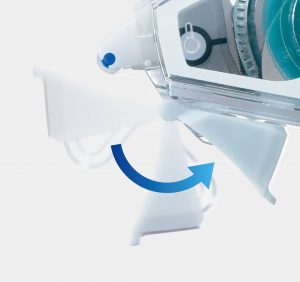 Newly designed full head cover that prevents intrusion of dust when carried but does not interfere with use. Easy to open and close.
[Supplemental Information] "Air Touch System" for low effort application and easy glue cutting
The "Air Touch System" mechanism controls tape application using the force required to press and release the head against the paper surface. It switches to "Run" when in use and "Stop" when not in use.
(1) Unlock the supply reel by lightly pressing the head against the paper.
(2) When the head is lifted off the paper the supply reel is locked, the tape stops the glue cuts off.

<Other Pit Air Mini Features>
■Main applications include gluing prints into notebooks, sealing envelopes, gluing memos into notebooks, gluing documents, scrap booking and clippings, gluing photos, wrapping, etc.
Adopting air fit head, a roller type that follows paper and can apply glue smoothly without unevenness.
■ ACID FREE: Uses materials that are resistant to discoloration caused by oxidation of the glue itself as well as of the bond.
Wide variety of designs as your personal glue tape.
The basic patterns are Standard, Blue, Pink, Border Blue, and Dot Pink. Soap Blue, Snow Navy, Clover Pink, Wave Green, and Yellow Stripe available in limited quantities.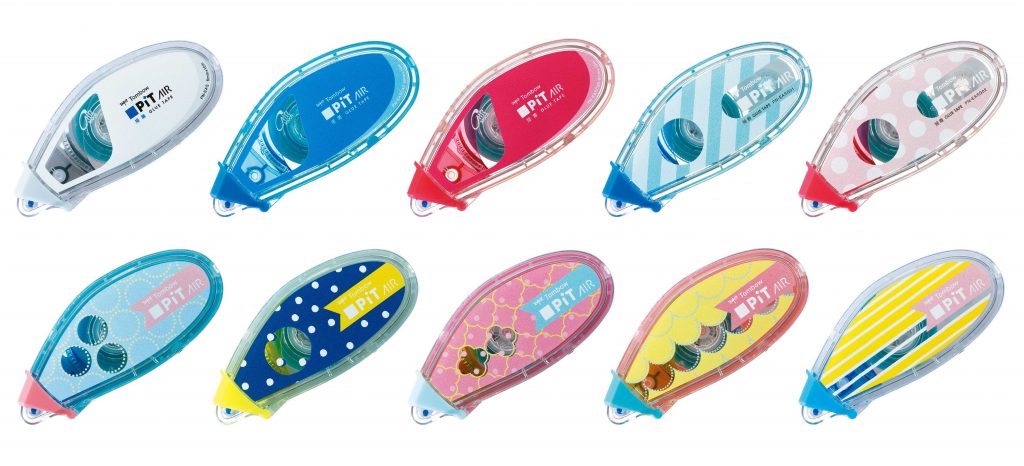 From the upper left, Standard, Blue, Pink, Border Blue, Dot Pink From the lower left (Limited Pattern),
Bubble Blue, Snow Navy, Clover Pink, Wave Green, Yellow Stripe

Enliven glue tape sales space with all 10 colors to stimulate personal use