Tombow Pencil Co., Ltd. ., Ltd. will carry out "pit air launch commemorative gift campaign" from the launch date of pit air until the end of April 2020. I will promote the repeat purchase of the glue tapes "pit air" which is surprisingly lightly draw to the end, and aim at the dissemination.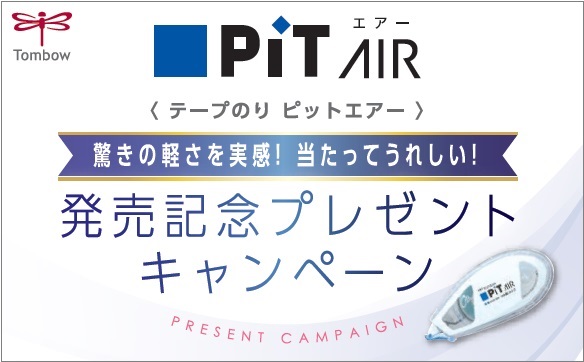 The campaign will collect the barcode in the packaging of pit air (5 kinds *) and apply it with a dedicated postcard. In the case of a one-piece barcode course, the prize will be awarded to 1,200 QUO cards in a lottery. For a three-bar code course, a lottery will be awarded to 120 people with a catalogue gift of 10,000 yen. In the lottery of both courses, you will also receive a lottery with the equivalent of 3,600 yen for a Tombow Pencil product as a w chance.
(The application deadline is the end of July, the second in the end of October, the third (2020) the end of January, and the fourth end of April.) )
In the pit air display set for the store, the campaign application postcard is offered in the user fair other in the package (with this product and the replacement tape). You can also download it at the Pit air campaign site.
Campaign site URL: https://tombow.com/cp/pitair/
The new glue tapes "Pit air" adopts the air touch system, and realizes the lightest tape running in the industry, and strengthens the curved adhesive strength that a thick envelope can be firmly sealed with a new blended glues , glue tapes It is a new product that greatly enhances the comfort and reliability of the tape paste.