Tombow Pencil Co., Ltd. (Head office, Kita-ku, Tokyo, President, Akihiro Ogawa), the brush pen type of the Water-based, pigment color twin marking PEN [ABT] (an agent/trade name) is added to the new color 12 colors in all 108 colors. We will launch our own hand lettering (called modern calligraphy) and art to a new art boom that exchanges the world through SNS.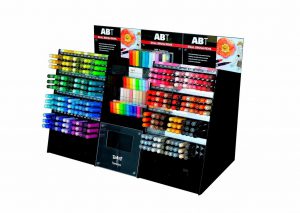 The product form and the set product are as follows.
1. "ABT monochromatic" (108 colors)/300 yen per tax (324 yen including tax)
2. "ABT12 color basic"/3,600 yen by tax (tax 3,888 yen) *
3. "ABT12 color pastel"/Price ditto *
4. "ABT12 Color Portrait"/Price ditto *
5. "ABT24 Color basic"/7,200 yen by tax (tax 7,776 yen) *
6. "ABT36 Color basic"/10,800 yen (tax incl. 11,664 yen)
※ One of the set of the mark is a color-less blender (a brush that makes colorless ink/gradient)
All species are available on November 9th. The annual sales plan for this product is 210,000, 63 million yen (retail price).
■ Abt pen features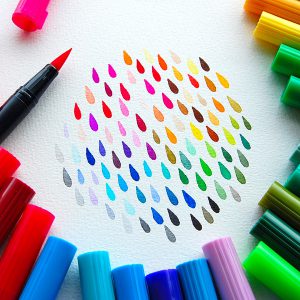 This product is a twin-marking pen with two pens with the same brush core as a traditional Japanese brush and a narrow core that can write 0.8 mm lines.
The brush core is a nylon fiber core which is hard to crumble, and the tip is about 12mm in length. You can also brush and delicate expression as well as dynamic brush. The thin core is a polyester core that the line of 0.8 mm is stable and can be had enough sense, and it is suitable for the expression and the character writing which wants highlight and edge feeling. Both caps are breathable caps.


■ ABT ink and blender features
a new color of 12 colors (below) to enrich the expression in the rich color variations of all 108 colors.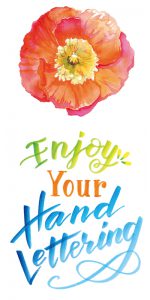 The ink is an Water-based, pigment ink and the color is familiar with the paper. Since the water-based Water-based, pigment ink is a property of mixing ink with each other, and the nature melts, the color is superimposed and the color expression is unique = the right illustration, and the "colorless blender" (colorless ink) also gives a gradient effect. Right hand lettering.
I set the color-less blender to blotting out colors in this set product, and expanded the width of the expression.
[New color 12 colors]
Lemon Lime, Alice blue, Jade Green, Aqua, Bright Blue, Tiki teal, Jet Blue, Mauve, Pink Punch, Opal, Warm Gray 8, Cool Gray 8

The brush pen marking
abt in the spotlight in ■ SNSwas released in 1984, it was established in the art students, designers, designer, etc. in Japan and abroad as a basic art pen, Sales have been favorable for several years mainly in Europe and the United States.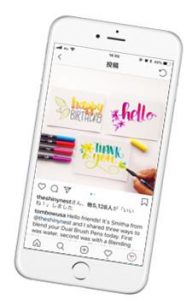 The background is the birth of social media that anyone can join on Instagram, Facebook, Twitter, Pinterest, etc., and the new art boom that exchanges by posting the hand lettering and illustration work of the desire. The boom is taking place because these influencers and opinion leaders recommend color brush pens. Inspired by the art boom in SNS, greeting cards, notebooks, and pocketbook by conventional handwriting are also popular again.
With the fusion of digital and analog, we have expanded the boom of hand lettering and art at a speed without examples in the past, and since the same boom is being visited in Japan, we have tried to enrich ABT.

(Typical social media where hand lettering and art are posted)
ARCH DAYS (Domestic) Https://archdays.com/party
Better Letters (Europe) https://betterletters.co/
Little Miss Rose (USA) https://littlemissrose.com/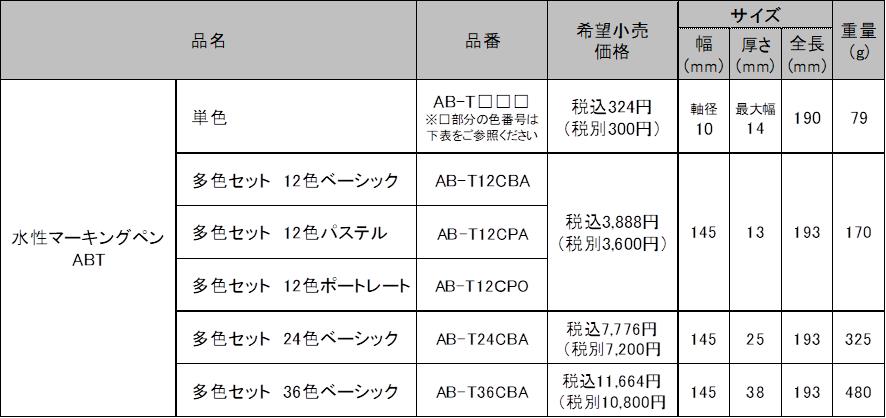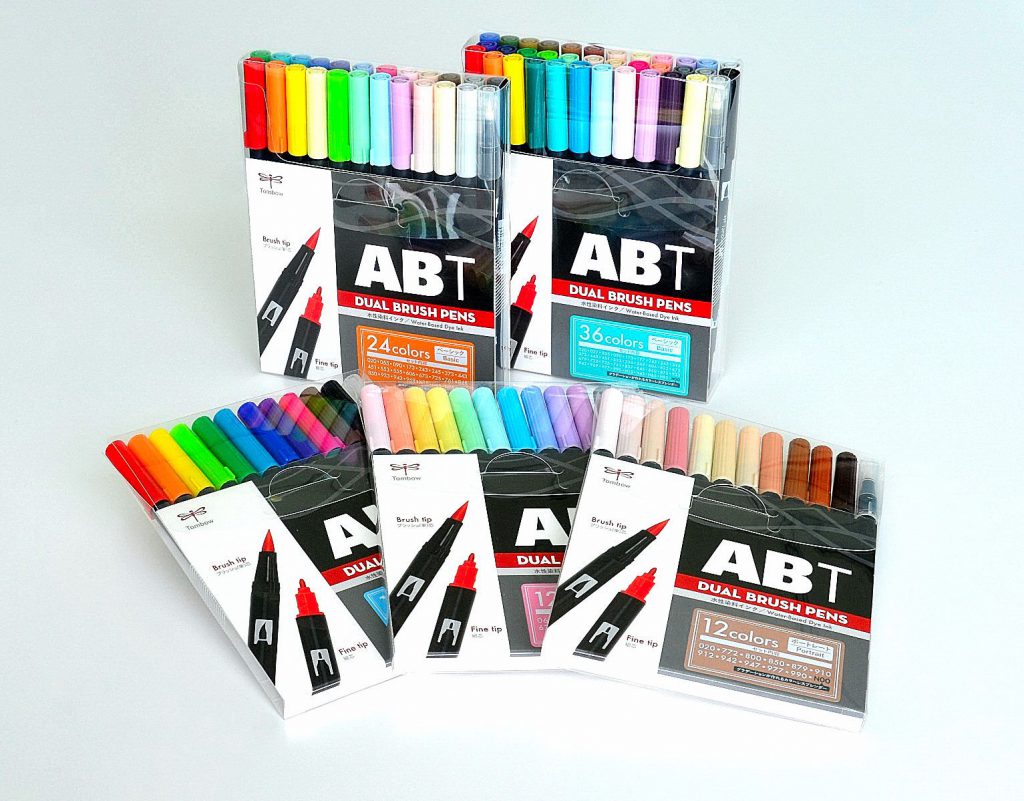 "Abt 12-color basic", "abt 12-color pastel" and "ABT 12-color Portraits" from left
"ABT 24 Colors Basic" and "ABT 36 colors Basic" from left back row
■ Single color (108 colors)
Because this product is a common commodity in the world, the color display is made a number display systematically applied.
The right of the color number is a supplemental idiomatic name that conveys the origin of the color image.
In addition to the new color 12 color and the color-less blender (AB-TN00), this product becomes all 108 colors.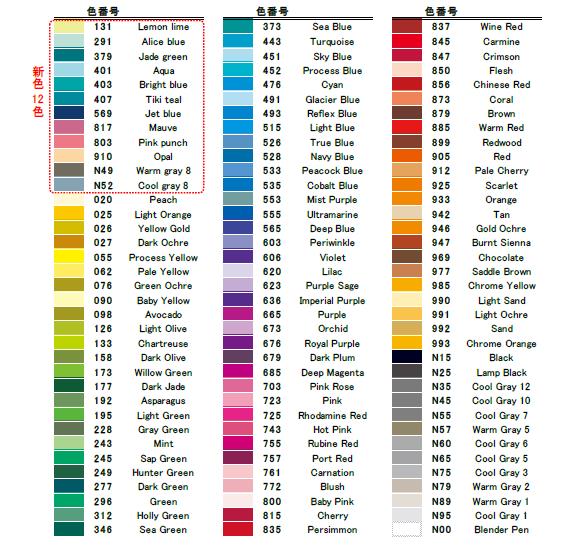 ■ Multicolor set
in any set [colorless Blender (AB-TN00)] has been set one.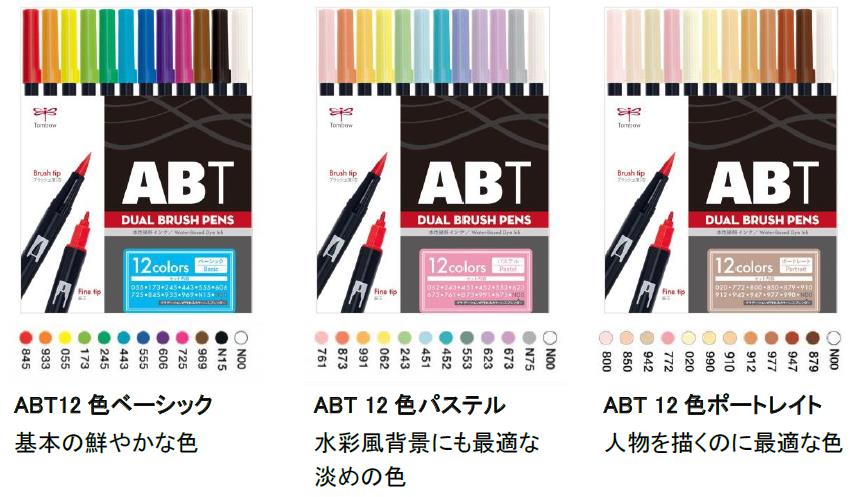 Examples of modern calligraphy and art by ABT