Tombow Pencil Co., Ltd. (Head office, Kita-ku, Tokyo, President, Akihiro Ogawa), the water-based pigment brush character sign pen that can write a brush character with a intonation like a small brush, " FUDENOSUKE (Fusuke) soft-tip " I will expand multicolor as a color pen.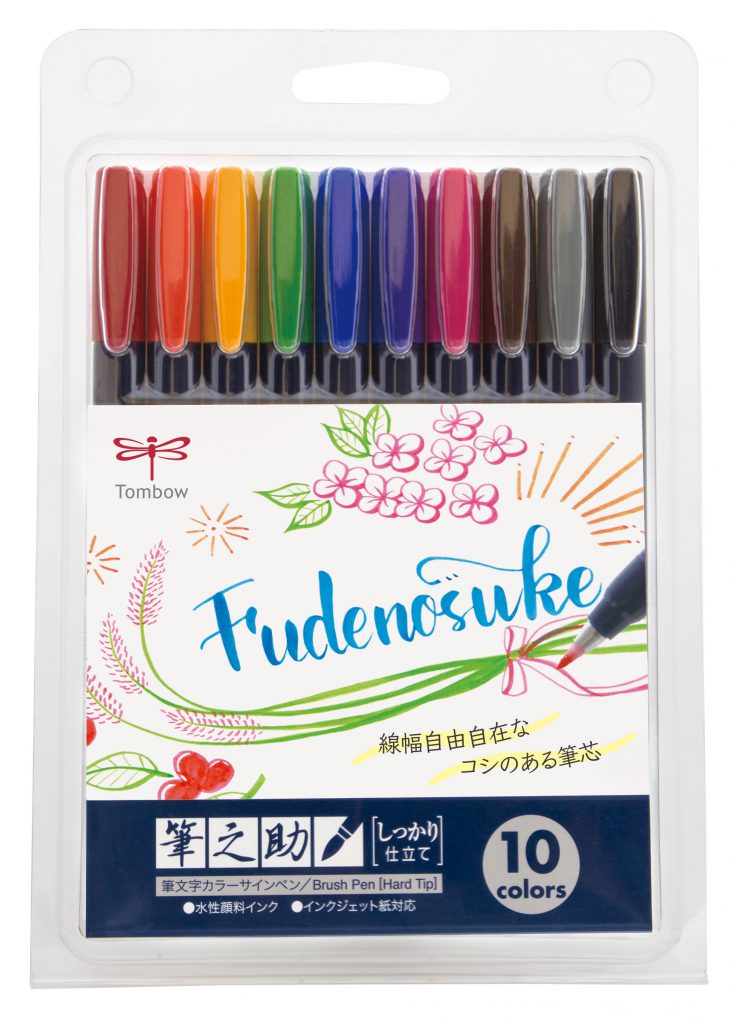 In 2001, this product was released in Japan as a pencil-letter sign pen. Since 2015, we have expanded our sales channels in Europe and the United States, and received requests from overseas hand lettering and art fans to "color It", blue, orange, red, pink, etc. 9 colors are added, and all 10 colors are released at about the same time in Japan and US.
The name of the product is " FUDENOSUKE soft-tip ." The colors are all in 10 colors, and in addition to the traditional black ink, the new nine colors of yellow, green, blue, purple, pink, red, orange, brown and gray are newly developed.
The sales form is a 10 color set and a monochromatic sale, the MSRP of 10 colors set is 1,620 yen (tax not more than 1,500 yen), a single color (1) Price is 162 yen (tax 150 yen). The domestic release date is October 5, United States is early October, the EU will be released in mid-October. The Sales plan (domestic) is approximately 300,000 (this unit) and approximately 45 million yen (retail price).
(Features of " FUDENOSUKE soft-tip ")
It FUDENOSUKE soft-tip is a product that the brush character is devised so that even the person who is unfamiliar with the brush pen can write the brush letter in a pen sense. The tip is a hard elastomer (resin) core with special processing, and can write even about 250g of the average pressure when writing with a ballpoint pen . There is little that the tip can be rose or collapse even with the pressure of more than it, and it is devised to write the brush character with the taste in the rough even brush beginner.
The shaft shape can be portable as a pen with a clip with a diameter of 10 millimeters and 142 millimeters in length almost similar to a ballpoint pen . The weight is 8 grams and lightweight.
(Usage and color of " FUDENOSUKE soft-tip ")
Since FUDENOSUKE soft-tip The ink is an aqueous pigment ink with excellent water and light resistance, it is possible to express various expressions such as thick, thin, and Hane. It has been welcomed by people who enjoy hand lettering and art easily (called Modern calligraphy) using brush pens in English-speaking countries. In order to broaden the scope of our creations from these fans, we were asked to "try to make color."
Multicolor marking pens are common in dye inks and are rare in the use of pigment inks (this product) that are hard to bleed. A variety of expressions can be combined with dye ink marking pens and watercolor paints.
In addition, since the logo type of " FUDENOSUKE " by kanji of this product trunk axis is familiar in the West, we will follow this as it is when the overseas release.


【 Main features of the FUDENOSUKE soft-tip 】
■ Vivid all 10 colors
Color rich and colorful. Suitable for hand lettering and sketching.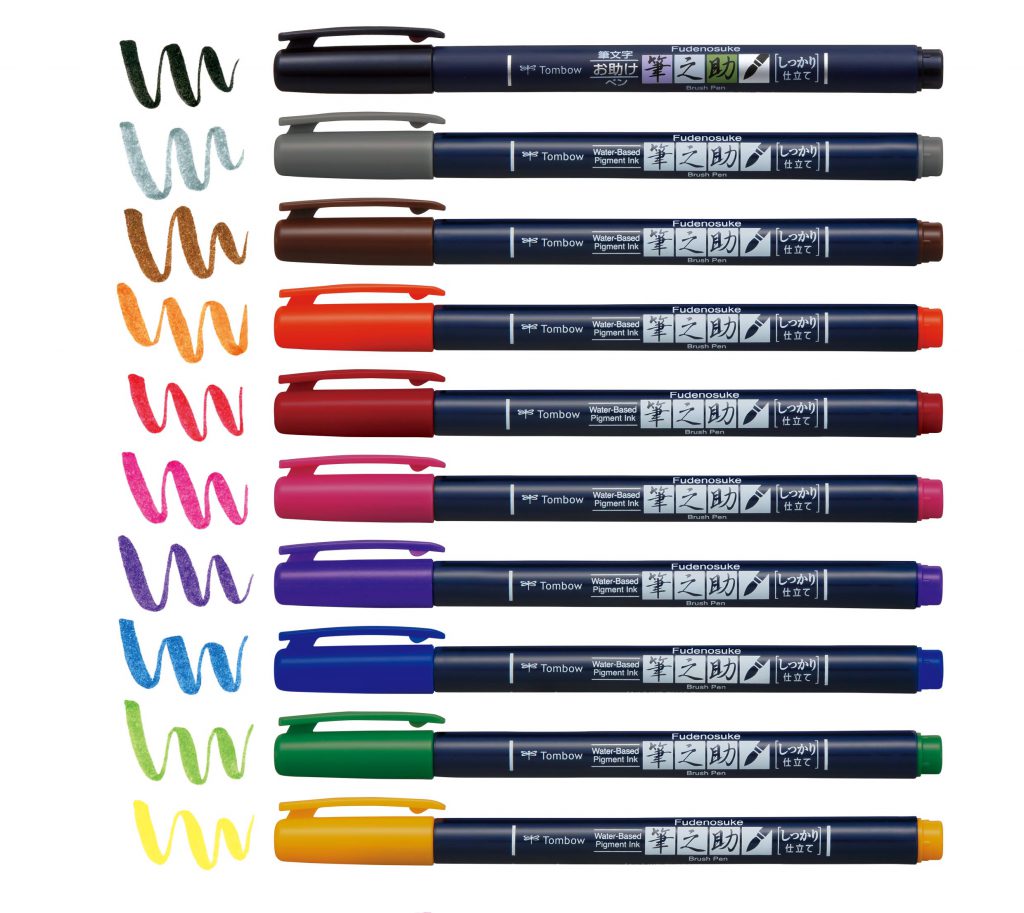 From top, black/existing color, gray, brown, orange, red, pink, purple, blue, green, yellow
■ Hard elastomer Brush Core adopted
Hard Elastomer Brush core that is easy to control pressure and strength. Wide range of expressions ranging from bold thick lines to delicate fine wires.
■ Water and light-resistant pigment ink (all colors)
Since there is water resistance after drying, it is safe to use for mail and preservation. It does not bleed even if I draw with an Water-based, pigment marker from above. Inkjet paper correspondence.
■ Shaft shape is easy to carry in diameter 10mm, length is 142mm, almost the same shape as the general sign pen and knock mechanism ballpoint pen .
The ■ Writing distance is about 4,000 characters in a four-letter manuscript paper.