Tombow Pencil Co., Ltd. (Head office, Kita-ku, Tokyo, President, Akihiro Ogawa) has enhanced the ability to write with a precise pen tip and convenient knock mechanism . In addition, the high-grade version of the mono graph "Mono Graph Grip Model" ( MONO trade name), which also enhances the MONO ability to erase by mounting a hollowed Plastic Eraser , is released on July 27.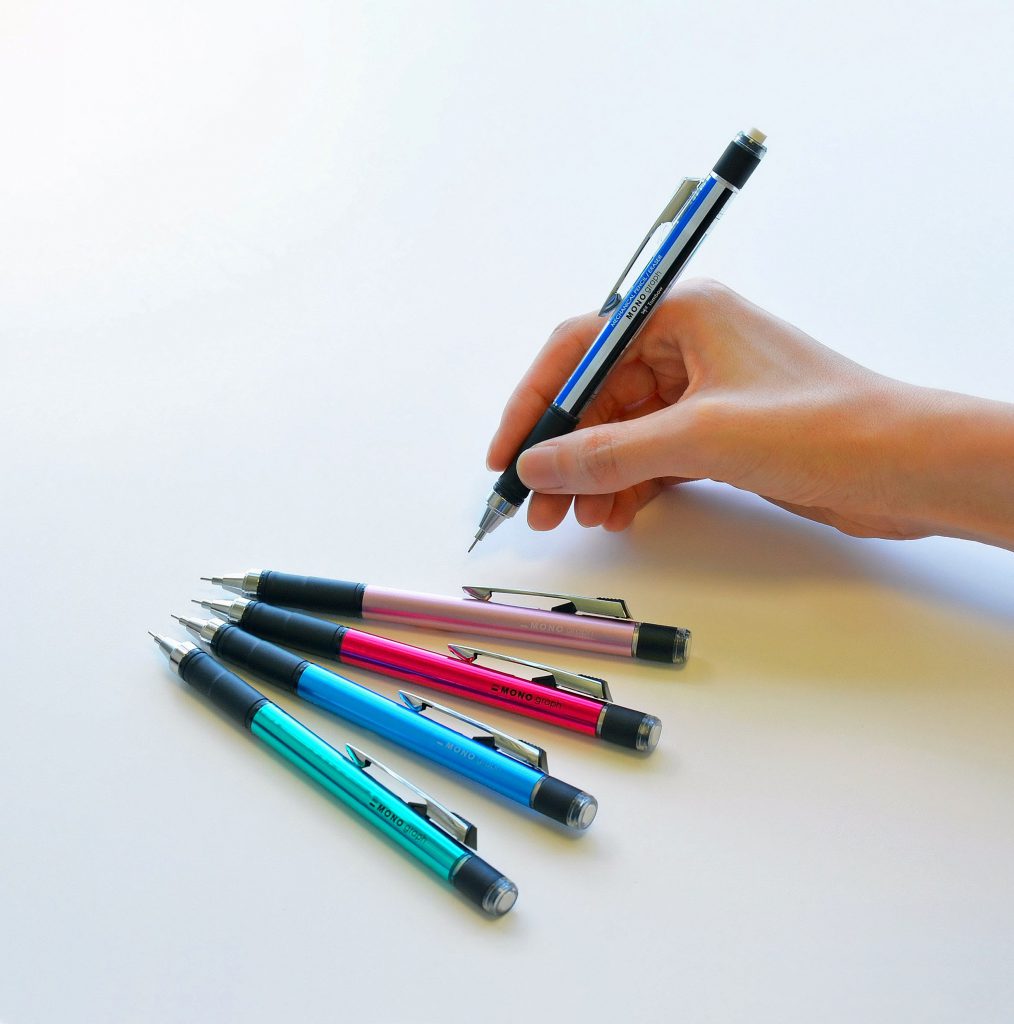 Based on the basic performance of " MONO graph" (350 yen by tax on sale in April 2014), this product adopts a new (1) Popular Shine color for students, (2) Rubber grip, and (3) metal clip. It is a high-grade version with these three charms. The suggested retail price is 450 yen per tax (486 yen including tax). The annual sales plan is about 590,000 books, about 270 million (retail price).
The body color of this product is a glittering shine turquoise, shine pink, the light blue of the calm luster, light pink, a total of 5 colors of the popular blue black and white MONO color 1 pattern = Photo =. With a rubber grip of 30mm length that is easy to become familiar with a new hand, and a stylish clip to clothes and a pocketbook, I adopted a metal clip with excellent durability.

Features of mechanical Pencil >
It is equipped with a " shake-mechanism (function name)" mechanism that can be ■ in a standard size of 147 millimeters. You can wick without dimensional worlds. The shake-mechanism mechanism can be stopped by sliding the clip in the Plastic Eraser direction (for mobile). You can also put the clip in the core by knocking the slide.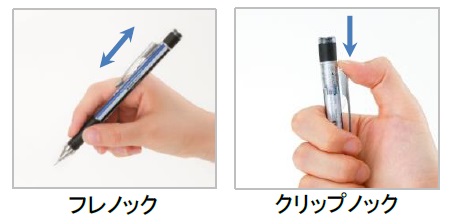 The tip of the ■ 0.5 mm core mechanical pencil has an external diameter of 1 millimeter and a length of 4 millimeters. It is a standard pen tip of the mechanical pencil for drafting and can be a stable and precise writing. In addition, it is suitable for the writing and the drawing of a small character, and writing using the ruler to keep the pen tip and the brightness of the paper well.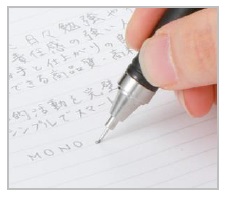 ■ Newly adopted rubber grip. Suitable for long-time writing.
■ Low center of gravity design with a sense of stability.
Plastic Eraser Features >
The Holder Eraser of the ■ rotation type is mounted on the pen tail. The Plastic Eraser is 5.3 mm in diameter and 26 millimeters in length (16 mm practical). A new combination of synthetic Plastic Eraser suitable for word and erasing. It is excellent in practicality with the Plastic Eraser of the nature that less deflection is difficult to crack. The Plastic Eraser replacement eraser is 108 yen Plastic Eraser (100 yen by tax) including "Replacement eraser MONO Graph/3 pieces" tax.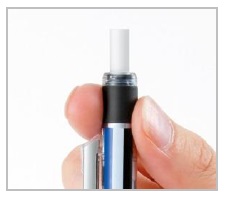 About half of the users had complained about the Plastic Eraser of the mechanical pencil, such as "low capacity" and "wide surface is hard to erase".
※ 2012 Survey/target: A total of 330 people/web students using sharp accessories Plastic Eraser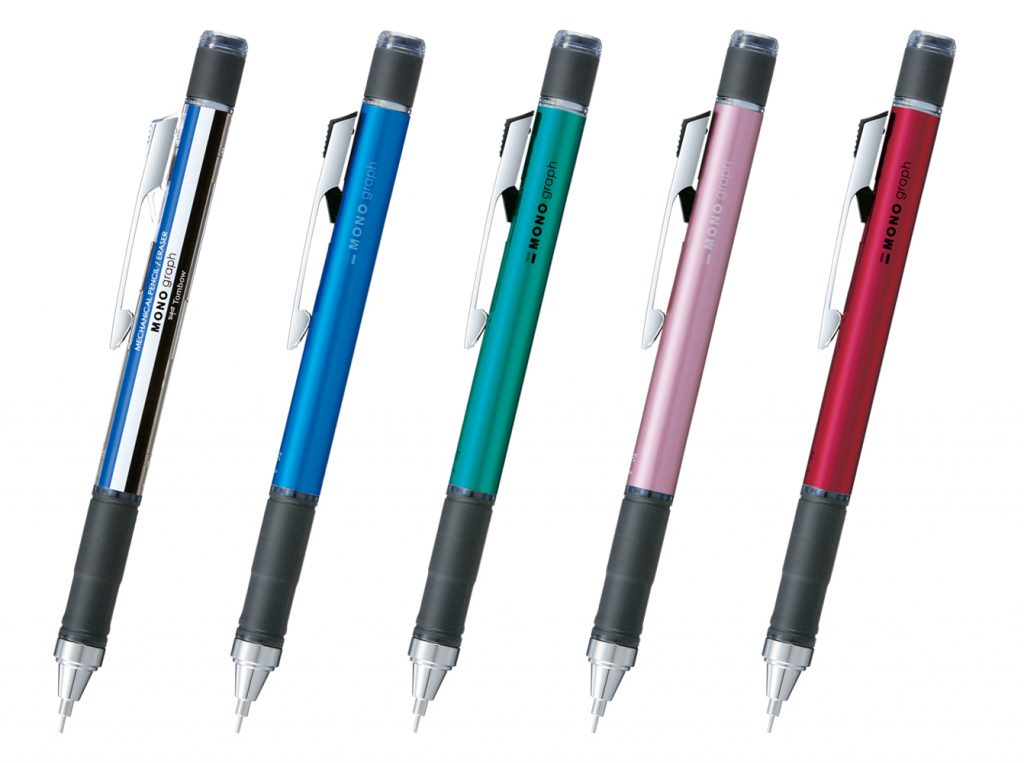 From left, MONO color, light blue, shine turquoise, light pink, shine pink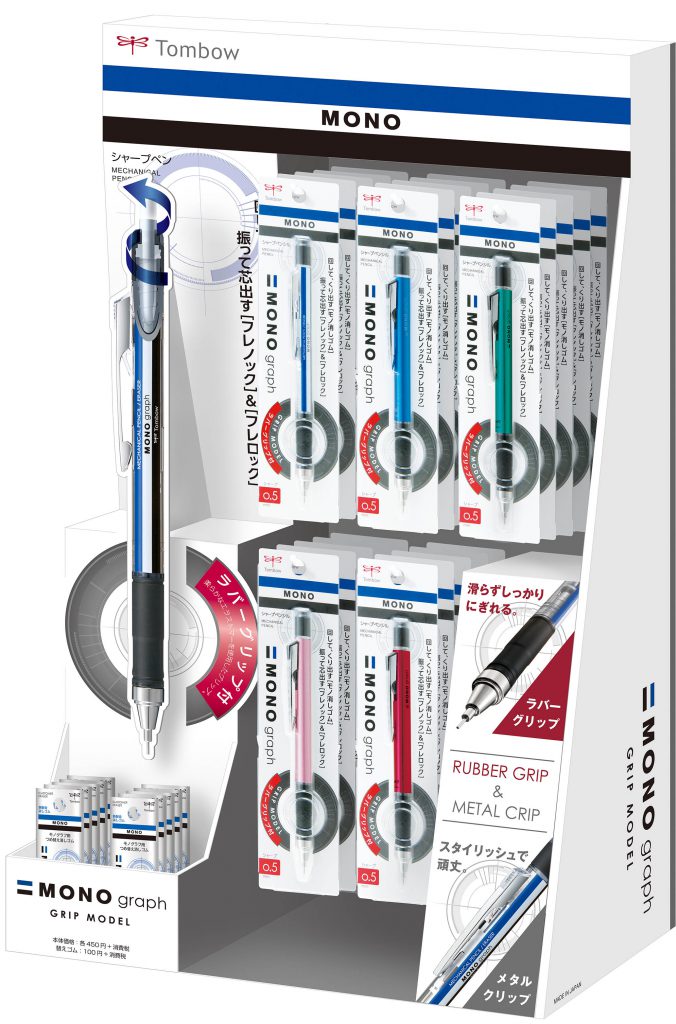 MONO Graph series is a Writing series that enhanced both functions of "write and erase". In 2014, the first model of the sharp pen [ MONO graph] was released, 2015 [ MONO graph one ], in 2016 [ MONO graph zero ], sharp Pen & twist eraserWe have been expanding the lineup by releasing the multi-function pen " MONO graph multi " of the Eraser + red and black ballpoint pen . As of July 2018, we have added a high-grade " MONO -Graph Grip Model", which has surpassed 9 million in total sales of the series, attracting expectations from a wide audience.