Tombow Pencil Co., Ltd. (Head office, Kita-ku, Tokyo, president and Akihiro Ogawa) received the "Eco Mark Award 2017" (sponsored by the Japan Environment Association) award for Excellence.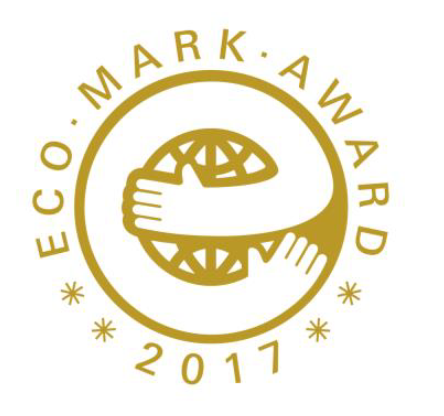 "Eco Mark Award" is an award system established by the Japan Environmental Association in 2010, and we publicize excellent cases about the spread of environmentally friendly products, and through the expansion of eco Mark products, etc. We aim to contribute to the realization of a sustainable society. In the "Excellence Award", the purpose of the ECO Mark business is to select products that are conscious of the consumer's environment, and to improve the environment of the company, by manufacturing, selling or disseminating awareness of environmentally friendly products, including eco-mark products, in the corporate, public and private sectors. Companies and organizations that have made significant contributions to the formation of a sustainable society. (From the organizer's data)
In 1992, the company launched the industry's first eco Mark-certified pencil "tree Story", leading the industry in environmentally conscious product development. In 1997 and 1998, we launched ECO Mark Certified products using recycled plastics such as ballpoint pen pens, Spare Leads , sharp pens, highlighter pens, and stick pastes. Thereafter, the new products, such as Correction Tape , tape pastes, stick pastes, pencils, and Spare Leads , are continuously certified for eco-mark, and the sales, promotion and Through public relations and other activities, we have been advocating for environmentally friendly consumer life.
These initiatives were highly valued and selected as the award for Excellence in the ECO Mark Awards 2017. The reason for the selection is as follows.
We will continue to make further efforts in pursuit of matching with eco-mark activities under the management philosophy of "by innovating common sense and customs through products, we deliver exciting discoveries and joy to our customers."
The "Eco Mark Award 2017" award will be exhibited at the Eco-Mark Secretariat booth at the Japan Environmental Association eco-marks office in Tokyo Big Sight on December 7.8 and 9, and at our booth (East 5 Hall "5-037").
Japan Environmental Association
Reasons for selecting Eco Mark Award 2017
Excellence Award
Tombow Pencil Co., Ltd.
Continued sales of ECO Mark products.
Since its founding in Taisho 2, Tombow Pencil Co., Ltd. ., Ltd. has actively developed environmentally-compatible products in a wide range of products, including school stationery, Writing instruments, Correcting , and glues . In 1992, the first eco Mark was obtained with a pencil which was reused by connecting the wood end material which had been discarded by "finger joint technology". Since then, we have been continuing to acquire Eco-mark for a longtime. In a small, large-size, difficult-to-modify field of stationery, efforts have been made to expand the possibility of environmentally friendly products through steady product development. The marketing method that emphasizes the environment is unique, such as manufacturing a product catalogue that summarizes environmentally friendly products. It was also highly praised for the development of information dissemination for the next generation, such as the publication of " Tombow Kids" Web page for children who transmit environmental information, and the implementation of environmental class trips.
Main Eco Mark products of Tombow Pencil