Tombow Pencil Co., Ltd. (Head office, Kita-ku, Tokyo, President, Akihiro Ogawa) will launch a pack of 18 pieces to be put together in a drawer-shaped paper box handy for storing MONO Plastic Eraser on July 20. It features a large box with a blue and black-and-white design of MONO Plastic Eraser .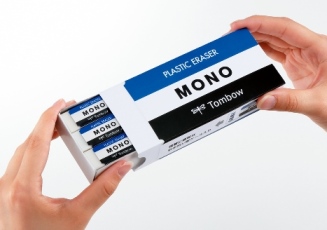 The product name is "mono box MONO " and CONTAINS 18 mono Plastic Eraser (PE-01A/Unit price 60 yen). The MSRP is ¥1,01,000 (the main unit price is 1,080 yen). The annual sales plan is approximately 30,000 pieces in quantity and approximately 30 million yen (retail price).
In addition to the sales form of MONO Plastic Eraser , there are two, five, and ten pack (in the case of pe-01a), which is a good selling I want to buy collectively more because it is the one that I use much more "there is a demand, and adds 18 pieces of box with a convenient device to store a lot of capacity. By storing it in the box of the MONO pattern, it becomes convenient to understand the brand and the use and to store equipment.
On this occasion, we aim to expand the use of MONO Plastic Eraser as a gift and a freebie.
(Large MONO stripe pattern adopted)
Mono Box adopts a mono stripe of blue and black and white which made the MONO Plastic Eraser Large as it is. The surface area is about 10 times the Plastic Eraser (PE-01A). The usual use of the MONO Plastic Eraser was aimed at a kind of trick effect that aroused surprise and interest by the appearance of unexpected size.



[Contents of the MONO box] MONO Plastic Eraser PE-01A (unit price 60 yen/17 × 11 × 43mm) 18 pieces
※ The Plastic Eraser body does not have the individual wrapping by a transparent film.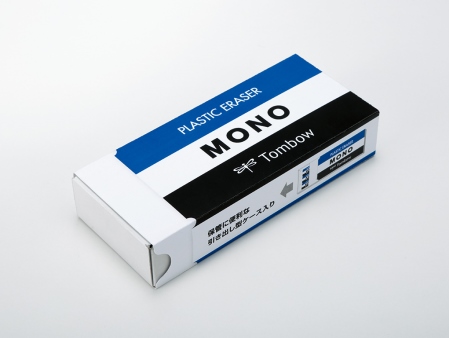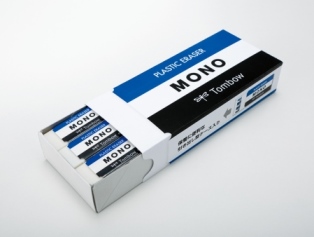 [About MONO Plastic Eraser ]
MONO Plastic Eraser launched in 1969. A product that has been developed into a standard article with a plastic-shaped eraser superior to the decolorization of conventional rubber. Will celebrate the 50th anniversary of the launch in 2019. The MONO PE series (excluding MONO black) is the origin of the product and currently sells five PE-01A (60 yen), PE-03A (80 yen), PE-04A (100 yen), PE-07A (200 yen) and PE-09A (300 yen).
The blue black and white MONO stripe of the sleeve (paper case) has been followed by the design, and is registered as the first "trademark consisting of color only" in the protection system of a new type of trademark (March 10, 2017), Blue-and black-and-white three-color patterns have been certified as trademark with source display function and quality assurance function. In the future, we will actively engage in brand protection activities to enhance the value of the MONO brand and to help spread the protection of new types of trademarks.