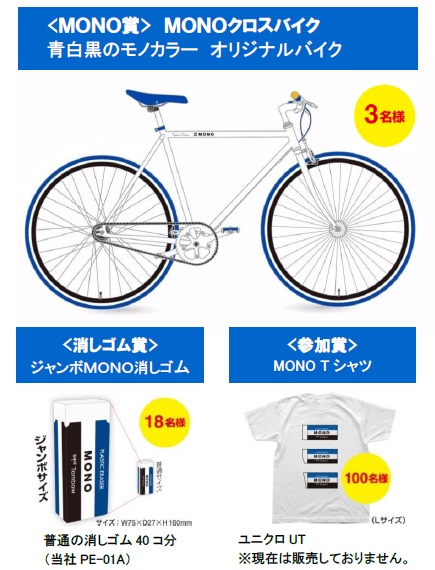 Tombow Pencil Co., Ltd. (Head office, Kita-ku, Tokyo, President, Akihiro Ogawa), in order to further up the brand power of "MONO" became the first color trademark registration, MONO Plastic Eraser voting event " MONO The poppy general election 2017 "will be held for 60 days from July 3 to August 31, 2016.
In the Open Sweepstakes campaign that anyone can participate in, customers will try the MONO poppy nine species in the " MONO Poppy general election 2017″ display set, which will be displayed from July 3 to dealers, etc., I vote on Twitter the "high spec MONO Poppy" that I choose from among them.
There are three prizes, as follows. The best "MONO Award" will present a MONO cross-bike to three guests. There are only three original bikes in the world called MONO color of blue and black and white from the frame to the tire
Runner-up " Plastic Eraser Award" will present a jumbo mono Plastic Eraser of 75 × 27 × 160mm to 18 guests
In addition, we will present a MONO T-shirt to 100 people as the "Participation Award".
■ " MONO -Poppy general election 2017″ target products are as follows.
(1) MONO Mono (PE), (2) MONO Mono-Black, (3) Mono- MONO Smart , (4) Mono- MONO Air Toucht , MONO (5) mono-dust catch, (6) MONO -Lite, (7) MONO NON DUSTMono-Non-dust, (8) MONO one series, (9) MONO zero (square type, round type).
I vote for "high spec MONO Poppy" which I choose from this on Twitter.


How to access the ■ campaign site
1. " MONO poppy election set" that is set up in stores from July 3 to stationery shops and stationery booths nationwide = printed on the photo BELOW = qr code (http://www.tombow.com/cp/monokeshi/ Access from.
2. Access from the official homepage of Tombow Pencil
Http://www.tombow.com (From July 3)
3. Tombow Pencil Official Facebook and Twitter announcements
4.Twitter Advertising Announcements
5. Announcement by curated site advertisement

The ■ Voting period is from Monday, July 3 to Thursday, August 31, 2017.
Note: The campaign site will be published on July 3.
■ Voting method is said to be accessed by either way, the official Twitter of Tombow Pencil
Follow your account and vote.
The results of the ■ Election will be announced around mid-September 2017. Tombow Pencil official site,
The official Twitter of the Tombow Pencil including the campaign site is announced.
■ Winners will be replaced with prizes.