Tombow Pencil Co., Ltd. The product site "MONO AIR Special Site" (head office, Kita-ku, Tokyo, president and Akihiro Ogawa) has recently won the International Web Design Award 3 Award, which evaluates and honors excellent websites.
*Http://www.tombow.com/sp/monoair/
The "MONO AIR special Site" is a product site published at the Correction Tape same time as the press release of "Mono Air" (2016/06/01), which is surprisingly light. In order to experience the lightness of "MONO AIR", the entire site is produced by the "sense of Speed", and the movement is achieved with a light motion to detail by creating a CSS animation.
The "MONO AIR Special Site" was produced by Craiteps Co., Ltd. (Shibuya-ku, Tokyo).
The award is the next three prizes.
"Awwwards" Honorable Mention Award
A WEB design award based in Spain Valencia. It is judged by the item of design, creativity, usability, content. The award is considered to be one of the most accessible, popular and high quality WEB design awards.
URL:http://www.awwwards.com/sites/mono-air-tombow-pencil-co-ltd
" CSS Winner " Site of the day The
award-winning Ireland is headquartered in Dublin and has been operating since 2010 with the aim of introducing the world's innovative web design and the like. URL:http://www.csswinner.com/details/mono-air-tombow-pencil-coltd/10647
" CSS DESIGN AWARDS " Website Of The Day This is the world's leading web design award, which has been run since 2010.
Award sites that have access to tens of thousands of users every day. Site of the Day will be selected from the website of the Month. It is reputed to be a worldwide award for introducing innovative technology and design WEB sites.
URL:http://www.cssdesignawards.com/sites/mono-air/28810/
MONO AIR Special site http://www.tombow.com/sp/monoair/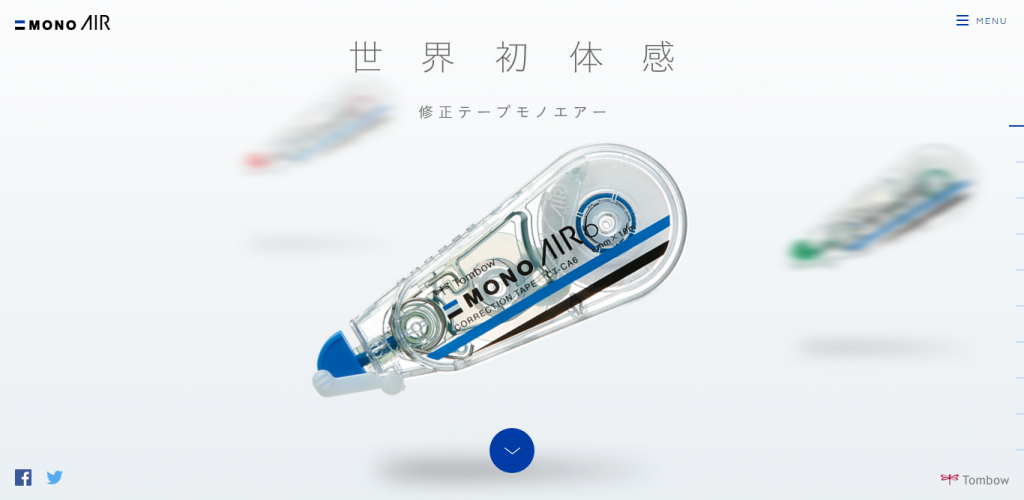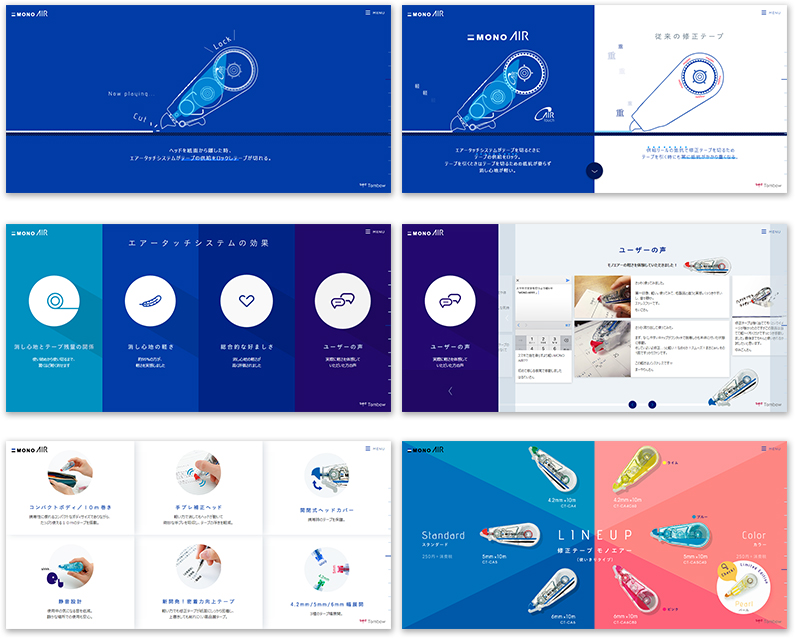 MONO AIR Product Documentation
"MONO AIR" Correction Tape surprisingly lightly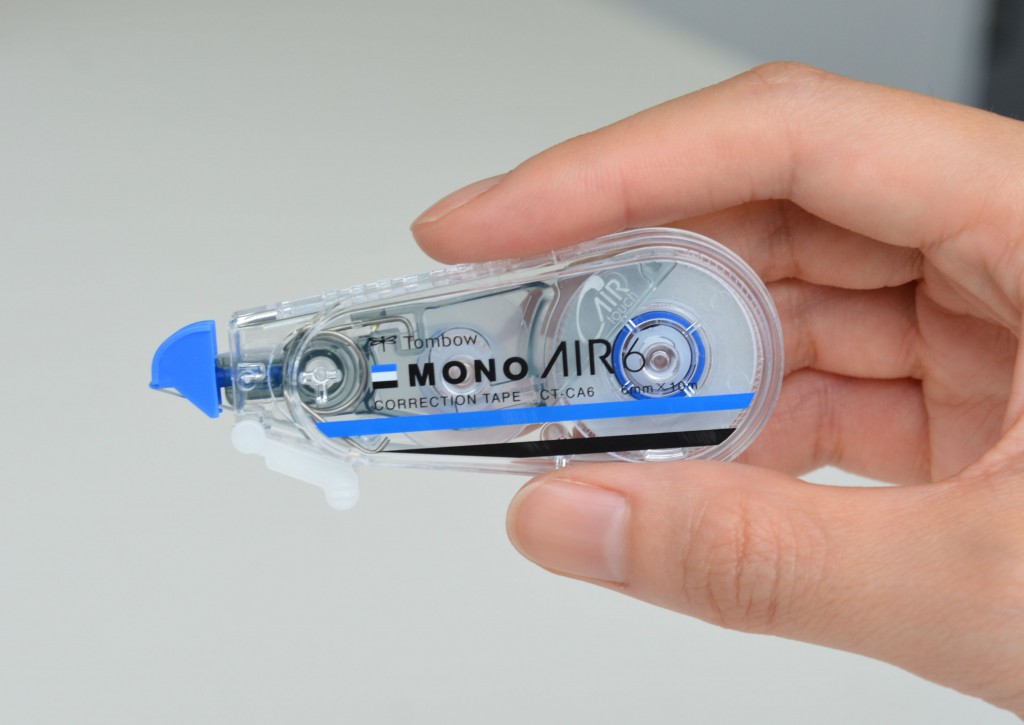 The feature of "MONO AIR" is that the ability to pull the tape with the air touch system is lightened to less than one-half of our conventional products. I can fix it without stress quickly by the sense to trace the correction part lightly.
What is the "air touch system"?
The air touch system of this product is a mechanism to control the tape running by using the force to push and release the correction head to the paper. When used, it switches to "run" and "stop" when unused.
(1) Release the lock on the supply reel by applying a slight force (from 100g) to the fixed head on the paper (left below).
(2) When the head is released from the paper, the supply reel is locked and the tape drive stops (right below).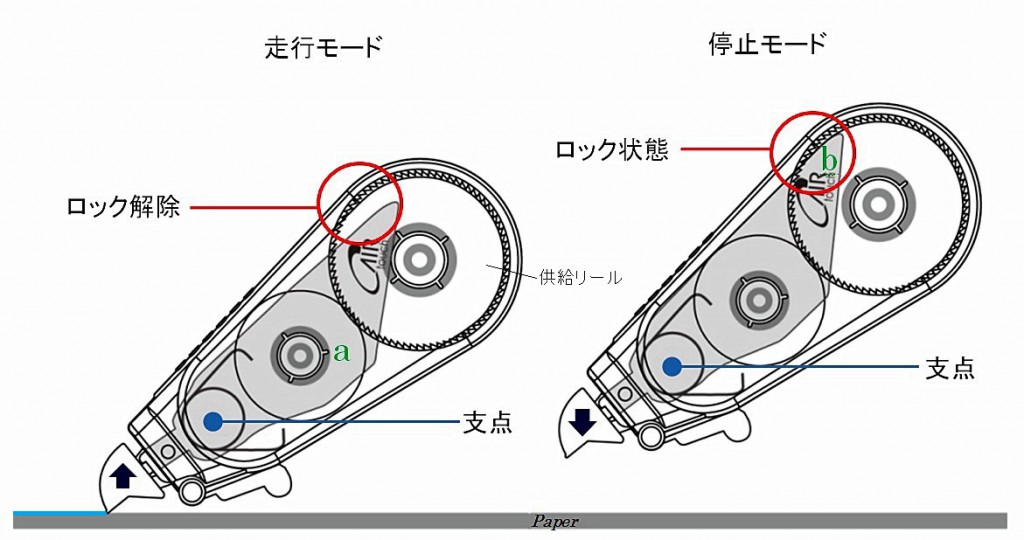 Previously Correction Tape were used to prevent the tape from sagging when the head was released from the paper by weighting the tape drawing force. Therefore, as the diameter of the supply reel becomes small with the remainder of the tape remaining amount, the tape running becomes heavier and more and harder to use.
This product is novel in that it is satisfied by using the mechanism which drives the usability that the confrontation is technically a light drawing power (a lightweight draw force), and the tape does not sag (heavy drawing force) by the air touch system.
MONO AIR Other features and specifications
■ Compact shape
A compact body with a thickness of 17mm (maximum) of 785mm. Closure to the pen case.
■ 4.2 mm/5mm/6mm width and all kinds of 10m rolls
It is a 10m roll that can be used for a long time. Use-only, vertical-pull type.
■ Unobtrusive, quiet operation
There is no driving sound when using. I took care of the use in the classroom and the library.
■ Stabilization pivoting tape head adopted
Even when it is pulled by a light force, the shake is corrected and the tape float is reduced. I fix it comfortably even for the first time use.
New development tape with improved ■ adhesion
It is a high quality tape that is hard to scraping even if it writes from the tape even if light power adheres firmly to the space.
■ With Head protector
Guard the tip when not in use.
■ All nine color lineup
Three types of standard type and color type for each tape width, three kinds of pearl color of the tape width 5mm (limited quantity).
■ Manufacturer's suggested retail price: all types tax incl. 270 yen (250 yen by tax)