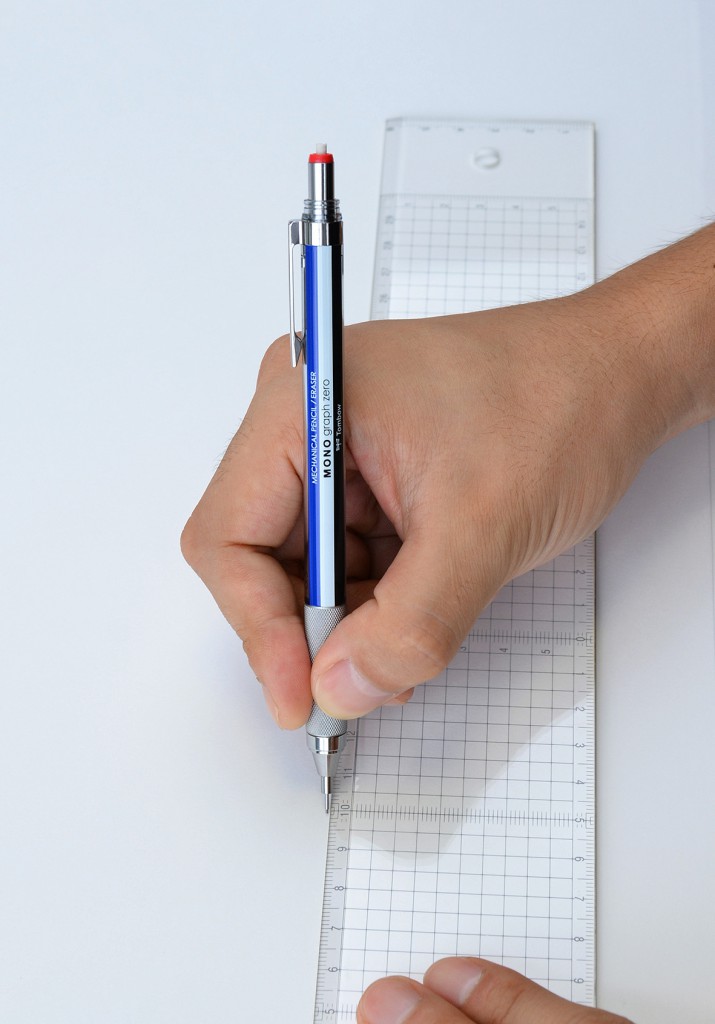 Tombow Pencil Co., Ltd. (Head office, Tokyo, Kita-ku, President, Akihiro Ogawa), the mechanical pencil for drafting can be precise writing, sharp pencil equipped with an Plastic Eraser of ultra-fine diameter 2.3 mm that can be a dense ERASE [MONO graph Zero ( MONO graph zero ) "(trade name) will be released on August 8.
The sharp pencil part is a so-called "sharp for drafting" which is suitable for precision writing using guide pipe and low center of gravity knurlet grip. In this new, it was equipped with a twist eraser feed Plastic Eraser with a diameter of 2.3 mm and a length of 25 millimeters in the knock section. Precisely written and finely modified, meet the needs of both in one book, to double the pleasure of writing (draw) by hand.
The two types of 0.5 mm Spare Leads core support and 0.3 mm Spare Leads support are released simultaneously. The MSRP price is 600 yen (648 yen tax). Body color is MONO color = photo, light blue, pink, lime, 5 colors of silver, 0.3 mm core is MONO color one color. The annual sales plan is 500,000 and 300 million yen (retail price).
Features of ■ Mechanical pencil
This product is a professional mechanical pencil used for precise writing, and it is the "sharp for drafting" which had been used when creating using a drraster (drafting table) in the design drafting and industrial design.
Features (1) ultra-fine stainless steel guide pipe . With a diameter of 0.85 mm (0.5 mm core) and a length of 4 millimeters, the pen tip and paper contacts are widely lightened, (2) A metal knurlet (uneven processing) grip, a diameter of 9.5 mm, length 30 mm, weight 6.4 g to achieve a low center of gravity ideal for precision writing, (3) The knurly surface is hard to slip and has been subjected to a fine network finish that does not wedgie on the skin.


Our company has commercialized a lot of sharpening for drafting from around 75 to the early eighties, but since these operations have shifted to CAD (Computer aided design) etc., it has been removed from the product line.
Because the tendency to demand the sharp pencil of a high quality is increasing for the student and the social person now, I propose the "Sharp for drafting" for the general writing again.
■ Ultra-fine 2.3 mm Plastic Eraser Features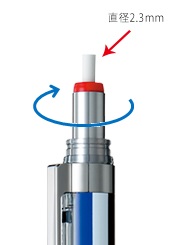 This product was equipped with a twist eraser feed Plastic Eraser with a diameter of 2.3 mm and a length of 25 millimeters in the knock section. When the knock part is turned to the right, the Plastic Eraser is repeated and used at any length. It does not return even if it takes the erase pressure. When unused, it is housed in the knock part.
The Plastic Eraser is a rod with a diameter of 2.3 mm and 25 millimeters in length and can be erased with the same hold as the writing, so you can make precise corrections such as erasing only the decimal point and erasing one hair line. The effective length that can be erased is 20 millimeters.
This Plastic Eraser is a synthetic rubber Plastic Eraser developed in "Mono MONO zero " (350 yen), the pen type knock mechanism type Plastic Eraser that was released in 2007. This is a special combination Plastic Eraser that is difficult to break or break even if the pressure is applied. The refill Plastic Eraser is 100 yen (+ tax) with three pieces.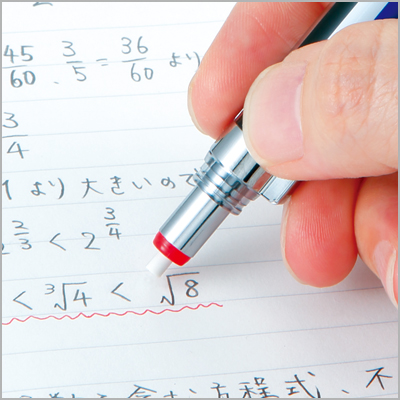 ■ Other features
You can choose 0.3 mm core for ultra-fine precision writing, 0.5 mm core for general writing.
・One knock pitch is 0.5 mm sharp, 0.5 mm, 0.3 mm sharp, 0.3 mm.
32 mm short size metal clip is adopted. The writing is the highest priority, and consideration not to be put on the back of the hand when writing.