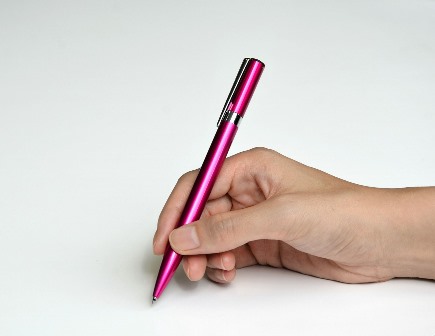 Tombow Pencil Co., Ltd. (President, Akihiro Ogawa, head office, Kita-ku, Tokyo) will release a new, high-quality ballpoint pen and mechanical pencil with a fresh and fine feeling suitable for the newly-designed people from mid-grade design Writing Series Zoom on November 5.

The product name is "Zoom L105" and is a single functional pen for ballpoint pen pens and mechanical pencils. The MSRP is 1,944 yen (1,800 yen per unit). We cater to the needs of frechers and gifts, which are intended for "a little fine pen".
With a multi-layered coating and finishing coating on the body, the pen has a trendy shiny color that is attractive in color and luster. The color which receives the surrounding light and enriches it is fresh. The color of ballpoint pen is silver, champagne gold, black, blue, green, pink = photo right. The mechanical pencil has three colors: silver, blue and pink.
The body axis is a simple shape with no irregularities except for the clip parts, with a diameter of 10.3 mm, a total length ( ballpoint pen ) 142 mm, and (sharp pen) 145 mm. A smooth taper is drawn from the tip of about 30 millimeters and a sharp pen tip is achieved. (The sharp pen has a part diameter of 9.5 mm for the knock function).
The body shaft is made of brass, and a moderate weight stabilizes the writing. The ballpoint pen is a twist eraser and employs a 0.5 mm ball refill with ultra-low viscosity oil. The mechanical pencil is a knock mechanism 0.5 mm core sharp.
It is released for the self of the new society who starts the office life, and the gift to celebrate the new society person and the entrance and advancement. The annual sales plan is approximately 70,000, approximately 126 million yen (retail price).