Tombow Pencil Co., Ltd. (President, Akihiro Ogawa, head office, Kita-ku, Tokyo) is a portable Correction Tape of the Plastic Eraser size "MONO CC "will be released from November 7, the anniversary Premium version (limited edition) from the 10th anniversary of the release in 2015.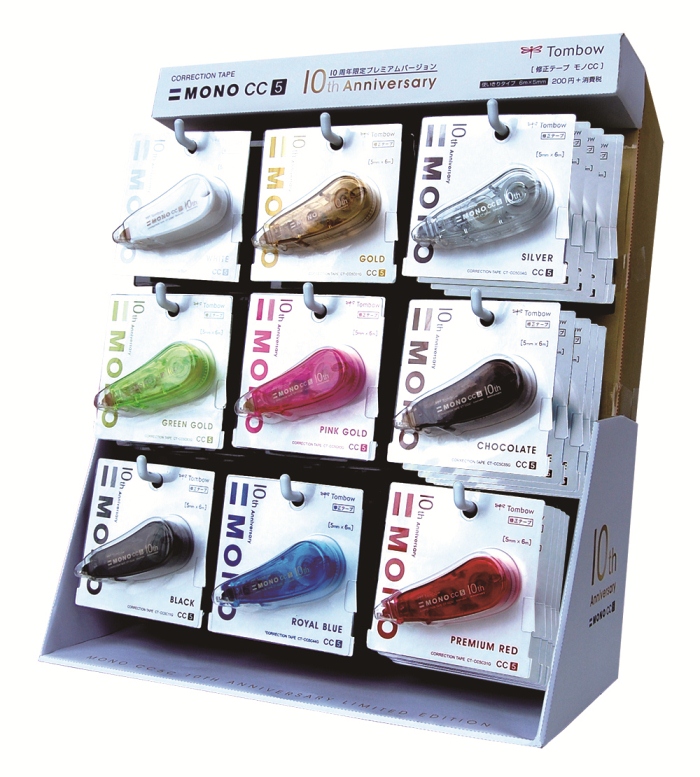 "MONO CC" was released in 2005. It is a monumental product to expand the Correction Tape to the student base, and to personalize it by the feature of 200 yen (body price) which is easy to carry in small size and to purchase. Since its launch, it has been a hit product that has been updating sales annually, with an estimated cumulative sales of more than 25 million.
This release "10th Anniversary Limited Premium Version" will be released in a limited amount of nine special colors. The color is gold, silver, black, white, premium red, royal blue, chocolate = under photo, green gold, pink gold.
Based on the form of the classic skels Tombow di, body color, body color print, modified head color, enhanced premium feeling devised to package color. The premium version has a total of 270,000 units sold.
Sales form is two types of "single Item sales" and "3-pack (3-color)". The "sold separately" is a total of nine colors and the suggested retail price is 200 yen + tax. There are two types of "3-Pack", (1) Gold collection (gold, pink gold, green Gold/Part number: KPA-325A), (2) Silver collection

(silver, premium red, Royal Blue/Part number: KPA-325B). The suggested retail price is 600 yen plus tax. In addition, the 10th Anniversary Limited Premium version is 5 mm × length 6m of tape width.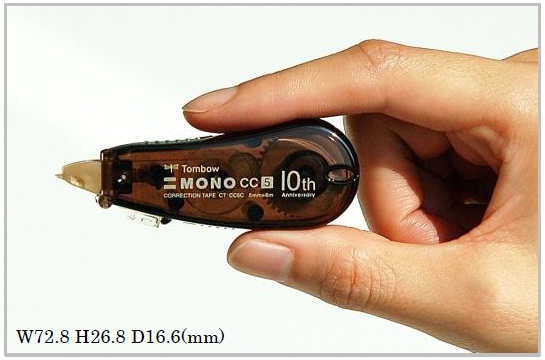 ■ Overview of "MONO CC" (Standard products)
Tape width 4.2, 5, 6, 8.4 mm, four types of Correction Tape . "8.4 mm" is our first wide tape. The tape length is 6 meters.
-A shape with a feeling that is easy to modify and a compact that is easy to carry. The size of approximately the same 72.8 × 26.8 mm as the outer shape of the Plastic Eraser , 16.6 mm (4.2, 5, 6 mm tape), the thickness of 17.8 mm (8.4 mm tape). Weight is 17g (4.2, 5, 6 mm tape), 18g (8.4 mm tape).
Adopt a movable head. The head is made of a special soft resin, and the head is adhered to the paper by correcting the shake.
With head cover. Protect the head, such as when the mobile. I adopt a retractable that does not disappear from the outside.