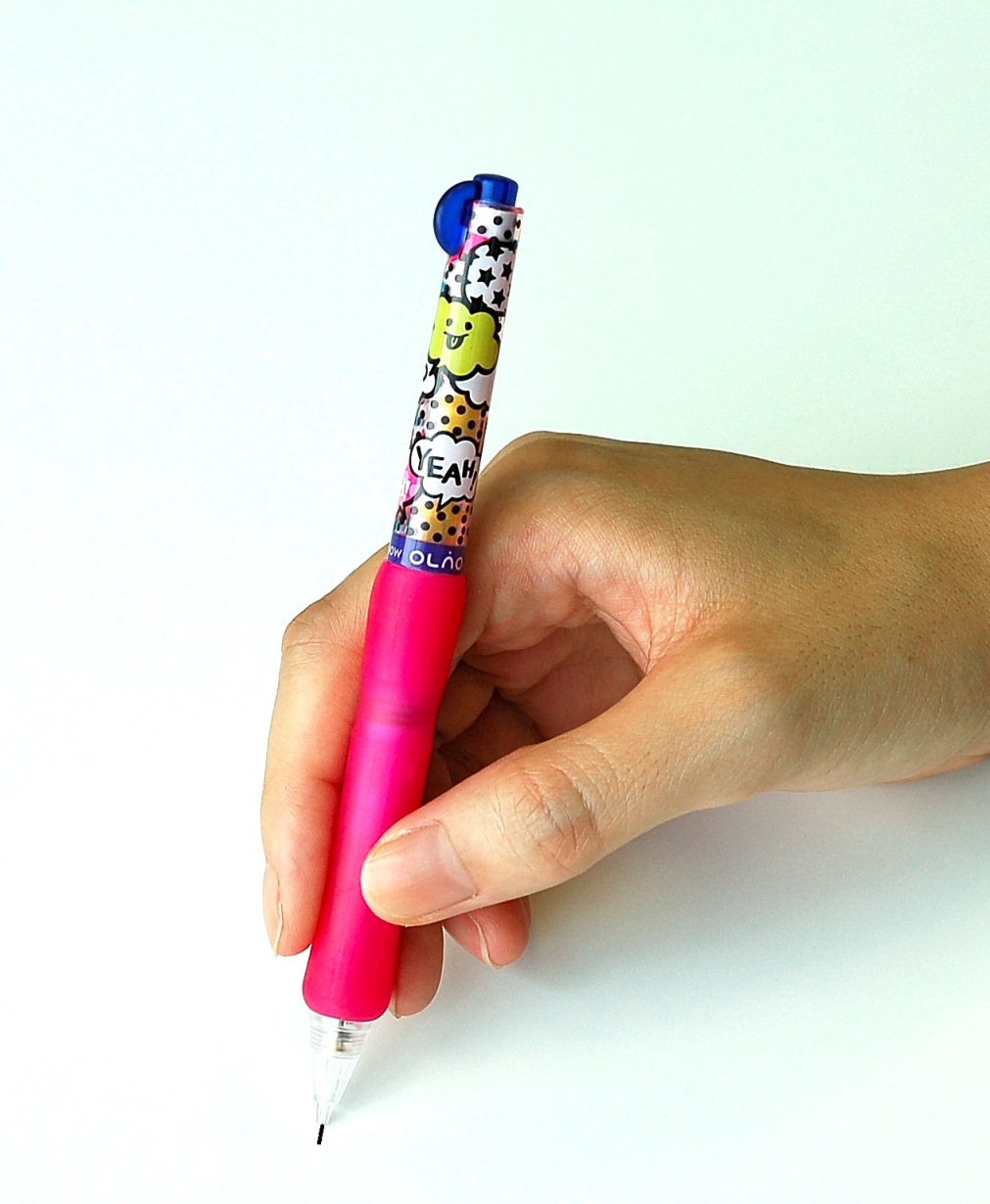 Tombow Pencil Co., Ltd. (President, Akihiro Ogawa, head office, Toshima, Kita-ku, Tokyo) will release a limited pattern of the topic of the Body knock -Sharp pencil " OLNO " to high school students who can knock while holding held from October 31. The product name will OLNO be released at the same time "Orno Lovely Collection" (Olno Lovely Collections) and 6 patterns. The suggested retail price is 350 yen + tax per bottle.

OLNO is a Body knock type that the core goes out when pushing the constriction of the body, the student's sharp pen revived this at the teens price. It is popular among girls and junior high school students. Then, the "lovely Collection" which remade the OLNO in the girl color is planned, and limited release.
The pattern is a colorful and active design with 6 patterns (star, leopard, heart, lace, easy-to-use, pop), new color for pen nib and grip etc.
(Released in March 2011, the classic OLNO sale)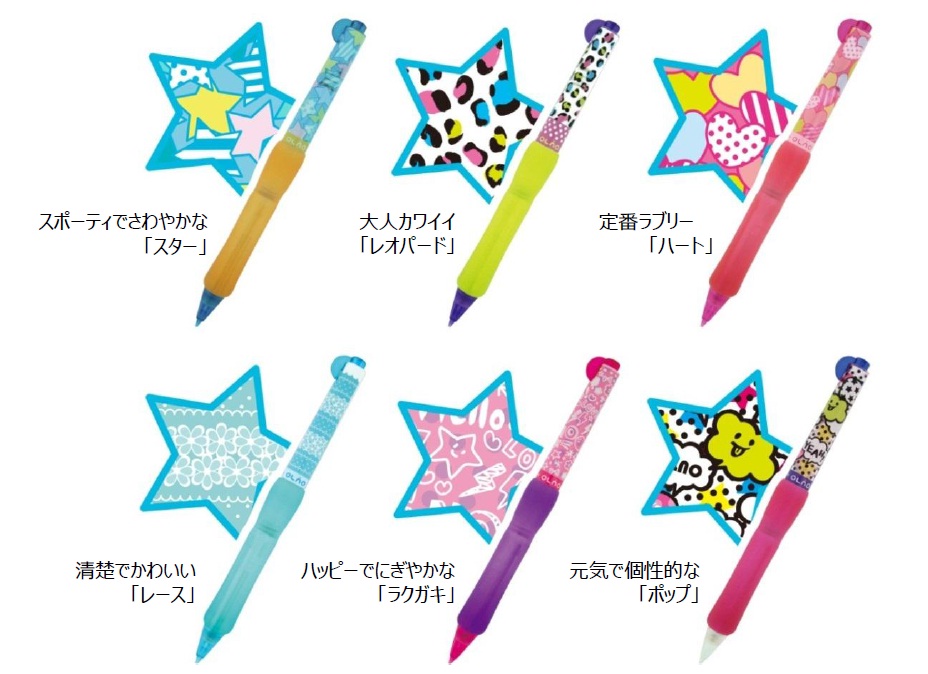 Body knock Mechanical pencil OLNO features >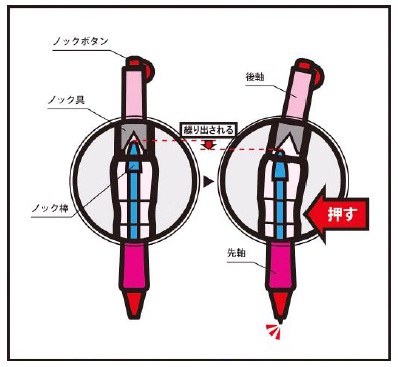 ■ Body knock function
The Body knock is a mechanism which can knock while holding a pen. There is a joint in the middle of the body axis, and the body axis bends to the "character" when I add power with the thumb to the neck = photograph right =, and a small knock sound that clicks can knock. You can dimensional worlds in the state of writing. There is no limit to the direction of adding force, you can knock from all directions 360 degrees. When the power is released, the trunk axis returns straight. Also equipped with the same knock-button as the normal mechanical pencil on the crown , it was a two-way knock.
■ OLNO 's newness
The method of knocking by pushing the joint of the inside of the trunk axis is nicknamed " Body knock " in the industry, and the principle is a known technology (1960 's). Since the sales price of conventional products was 1000 yen, we devised a production method to release it at a price suitable for the demand layer of the sharp pen. The first edition of the OLNO was released in March 2011, which was more than one million hits per year.

Other features >
The shape of the ■ body is rounded without a kad.
■ Long resin grip that is difficult to slip and fatigue.
■ Not disturb the writing clip-less
(In order to rotate the pen at the time of writing, there are many voices that students do not need a clip.) The cell phone is a pencil box. )
■ Replacement core is 0.5 mm core
The refill of the ■ is replaced by rotating the forward and rear axes and put into the internal metal pipe.
■ crown knock-button built-in Plastic Eraser inside.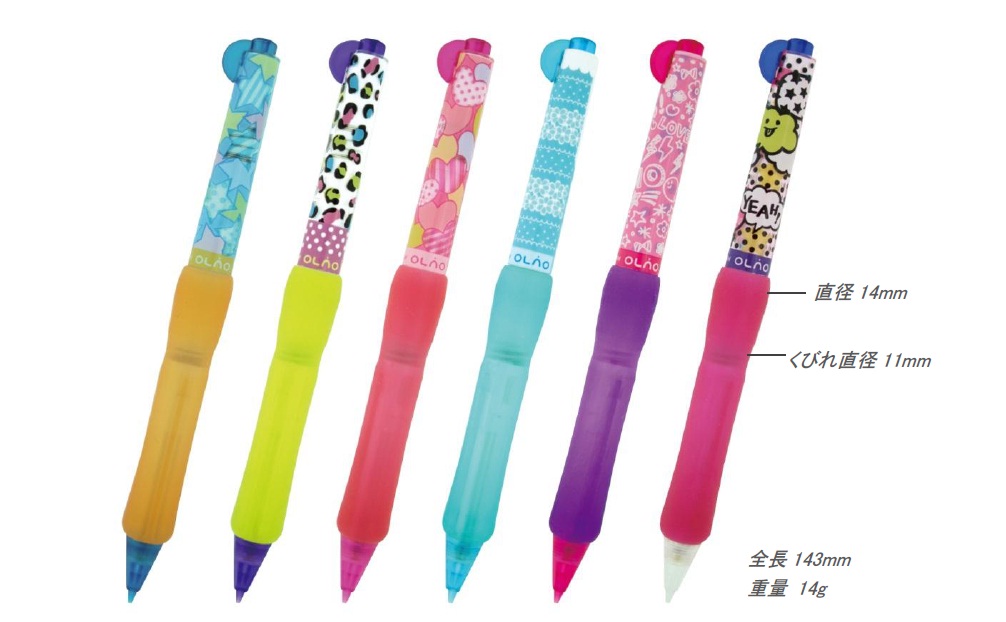 Star from left, leopard, Heart, race, punk, pop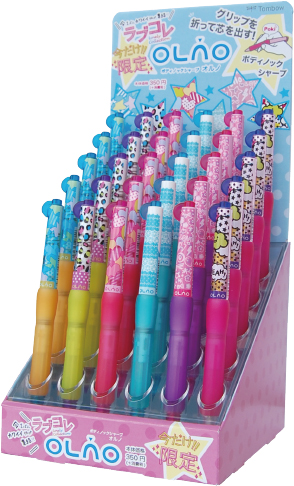 Storefront display