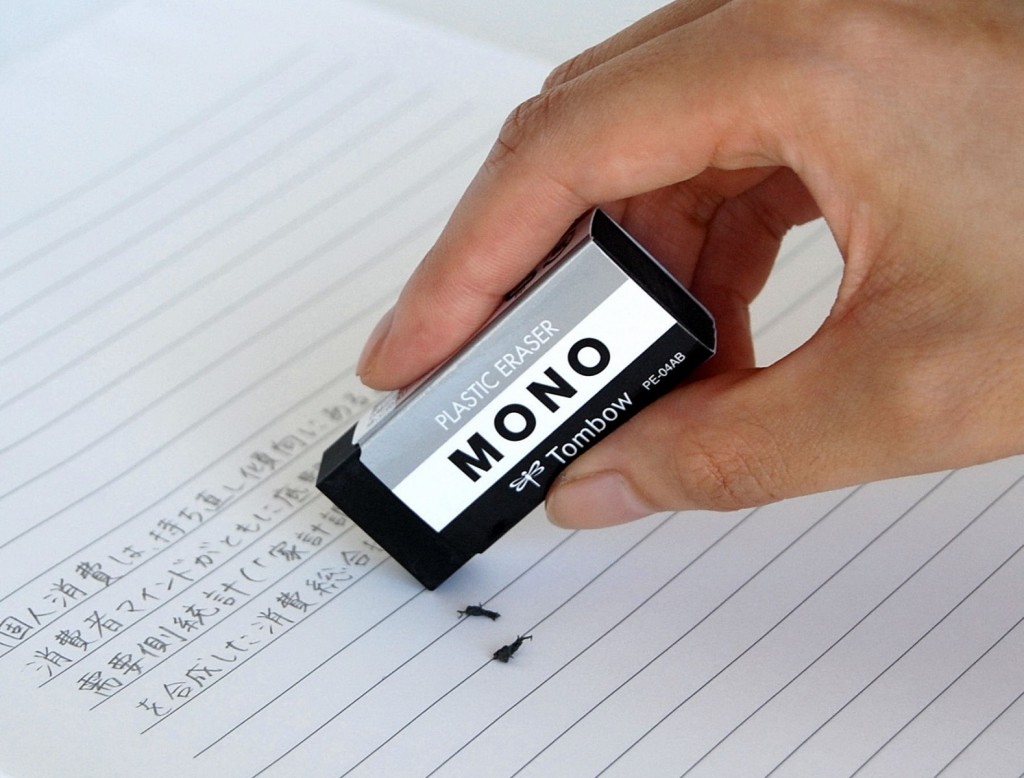 Tombow Pencil Co., Ltd. (President, Akihiro Ogawa, head office, Kita-ku, Tokyo), the black type of the eraser body from Plastic Eraser the plastic Plastic Eraser "MONO" series will be released from 10 October.
Product name is plastic Plastic Eraser " MONO pe01 Black" (width 17, thickness 11, length 43mm/11g) and " MONO pe04 Black" (width 23, thickness 11, length 55mm/19g = Photo =). PE01 's MSRP is 63 yen (body Price 60 yen) and PE04 's retail price is 105 yen (body Price 100 yen).
The annual sales plan is about 2 million in total and approximately 150 million yen (retail price).


Dark spots and stains on the surface are not noticeable.
The main feature of this product is that it is made black by mixing a colorant that mainly contains black pigments on the base of the eraser. Therefore, darkening and the dirt after the character is erased are not conspicuous. As a point to be worried about using the Eraser (general), there was an answer that "erasing a character and erasing the eraser" (28.1%) (surveyed: 62 Middle and high school and female students/conducted in March 2011/Our survey). In addition, because the eraser stands out in black, this product is smooth cleaning and cleanup. (Precautions for use it is not a problem in normal use, but it may stain the paper in black depending on the type of papers such as inkjet paper)



The same as the white MONO Plastic Eraser
This product is the top class in the black type of the market, in which the rate of dereading is 96% (according to the Japan of the Industrial Association). The touch is the same as the conventional mono-eraser. The sleeve (paper case) design follows the design face similar to the conventional mono-eraser because it messages that the standard performance of the thing is secured, and the color is made silver, white, and black.
※ Green Purchasing Law compliant products. The sleeve is 100% paper pulp, with U-cut processing.