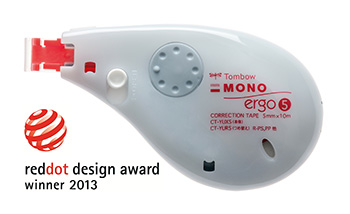 Tombow Pencil Co., Ltd. (President, Akihiro Ogawa, head office, Kita-ku, Tokyo), the ergonomics design Correction Tape "MONO ergo" was awarded the 2013 RedDot Design Award.
This is the first time to use the ergonomic design as a Correction Tape so that anyone can be used accurately and comfortably.
The designer of this product, which shines in RedDot Design award, is jointly developed by the following two people.
Creative Design Division
, Dragonfly Pencil Product Planning Department Hiromi Kuronuma
Kanazawa University (medical Health Sciences, health sciences, occupational therapy, PhD)
Prof. Katsuyuki Shibata
Varieties
The tape width of "MONO-ergo ( MONO -ergo)" ™ is 4.2 mm, 5 mm, and 6 mm, and there are three color variations of blue, green, and pink for 5 millimeters of tape width. It is all ten meters winding. The MSRP of the main unit is 315 yen (body 300 yen). The cartridge replacement type (refill type), the desired retail price of the cartridge is 189 yen (body 180 yen). Green Purchasing Law products, Eco Mark certified products, GPN (eco-Products) is published.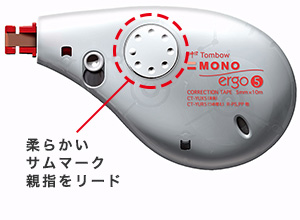 Features
An ergonomic body
that leads to the best way to hold the ■ the position of the thumb, index finger, and middle finger are marked and shaped, and the head is in close contact with the optimum angle (45 to 60 degrees against the paper) and leads to stable travel. The thumb-leading is a round "thumb mark" made of soft resin (elastomer) that you want to touch. Leading the index finger and middle finger in the raised body (back), by stabilizing these three fingers, it is possible to run the Correction Tape well.
This ingenuity was jointly developed by Prof. Katsuyuki Shibata, a specialist in ergonomics (ergonomics), specializing in medical and health sciences, health sciences, and occupational therapy sciences.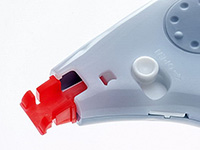 The newly developed traceable head that absorbs the ■ shake and the small irregularities of the paper is adopted.
The entire head was moved flexibly, and the head tip was added to the 3-millimeter position to increase the flexibility. The head is adhered to the paper like a soft spatula.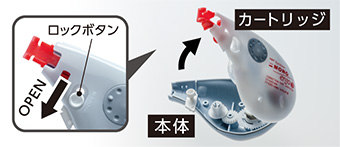 ■ Economical cartridge replacement type (refill type)
All types of cartridge replacement. Tape width 4.2 mm, 5 mm, 6 mm, compatible with all consoles. The correction cost per centimeter is 0.3 yen for the main body and 0.18 yen after the cartridge is changed.

With retractable head Head protector to protect the head with ■ retractable head cover. It protects the head when storing and carrying, and prevents the tape sticking to the circumference.
※ This product is for the right hand.


Reference information for RedDot design
According to the organizers ' announcement, the number of entries for "Red Dot Award: Product Design 2013" was 4,662, the Red Dot Award was awarded to 1,065 works, the best of the best of the 58 works.
Organizer URL RedDot Design award: http://en.red-dot.org/