Hello! It is "the child" of the Tombow web Staff ♪
This weekend is Mother's Day.
How about the original card which I added a lot of time to convey a daily thanks to mother? (^^)
This time, I will introduce a cutting-style card made by Mr. Tomoyuki Okamoto of illustrator.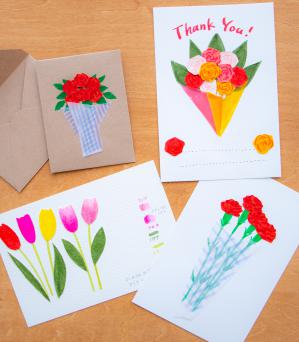 Use the Brush pen "ABT" of the Tombow and your favorite paper of postcard size, scissors & glues .
Using ABT, draw a circle in the rough and draw a line of petals in a dark color.
When you cut it with Zaku, put it on the postcard and the envelope which I had drawn a leaf and completed!
Even if the border is a little kakak when you cut, it gives out a reasonable handmade feeling conversely.
If you do not want to fail, glues such as card making, I use the glue tapes paste " pit retry C" which can be repositionable for one minute.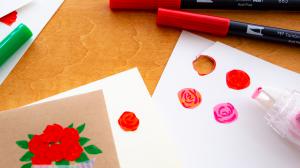 It is easy to do, and it is recommended to give the atmosphere different from the hand-drawn card drawn directly ♪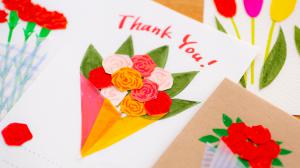 The cutting-style card that is active in various scenes besides Mother's Day.
If it is handmade card, feelings seem to be transmitted more and more.
Please try it with the color and the flower which you like by all means.